We went to this moon cake festival in Royal Sumatra a few weeks ago. It wasn't the best festival I have ever been to nor was it the worst one. The entrance was quite promising, you know, celebrating the spirit of mid autumn festival, with red decoration, red paper lantern and all. Plus, the location was in Royal Sumatra, so I thought, "Royal must be good."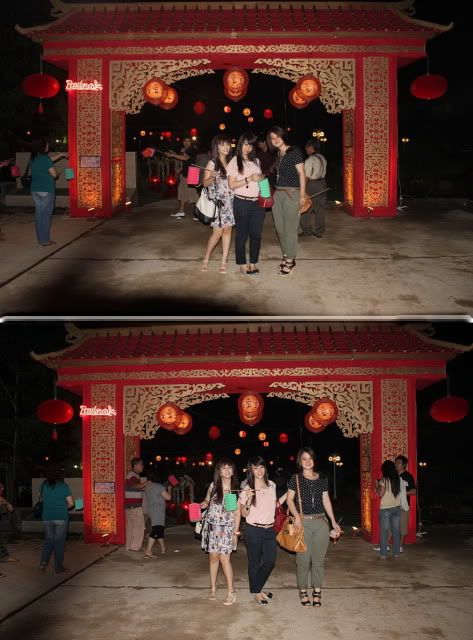 Us three posing before entering the field, with Angela and Angel holding THE lanterns - small, unsteady, ugly lanterns.
Angela wore the dress I bought for her from Singapore. It looked real nice on her.
My sister wore the blouse and the cigarette pants from my online shop. Pretty......
I wore a side ribbon dotted top from Forever21 and khaki tailored pants from Zara.
In the beginning I was pretty excited about all this, but.... .I should have known that Medan is not that competent yet in organizing any fabulous events. This one was no different. In fact, it was such a bummer, imo.
The field where they held the event itself was the biggest disappointment of all, followed by the food , the minimal if not little decoration and the lack of seats and entertainment.
It was raining some hours before or the day before, I'm not sure and as a result the filed was still wet and muddy by the time the visitors arrived.
Well, one can't control the weather, can he? Yes, but at least shouldn't they consider every possible circumstance before throwing an event? So, no excuses. Period.
Girls who wore their best shoes that night must have cried blood. Mud and dirt and just more mud everywhere. And thank God I didn't wear my new heels that night. I almost did.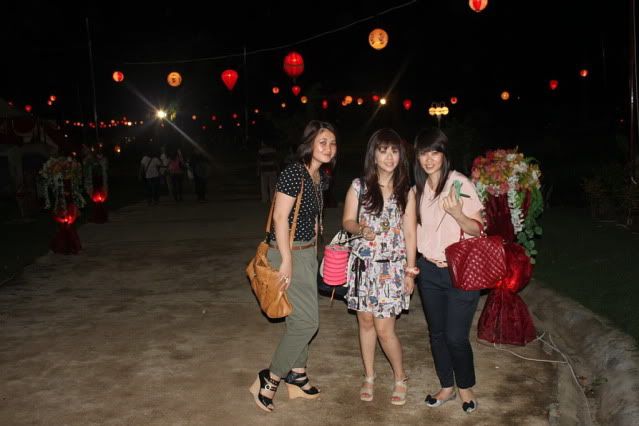 Pre-entering the disastrous field. Look at our pretty footwear. Absolutely flawless.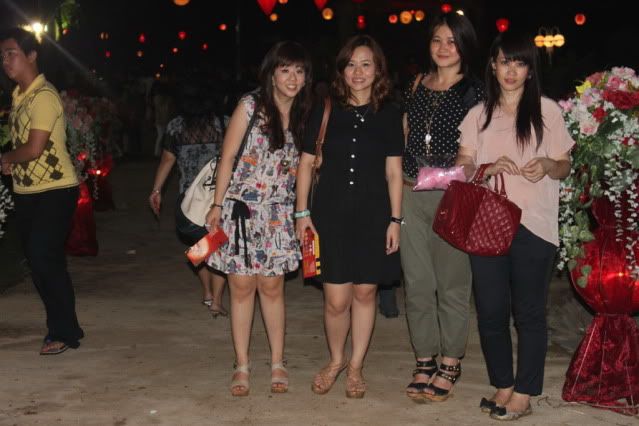 Post-entering the mud-trapped field. Look at our brown mud-covered shoes. The mud was thick, gooey,sticky, smelly (at least I think it's smelly).
Our shoes got a free mud spa treatment. Yay......
(Angel even didn't mind tucking in her blouse any longer. Hahaha)
Oh one more thing, it was freaking hot that night.
Heat and mud should make a sexy combination, yet we four weren't even an inch close to "sexy" at all.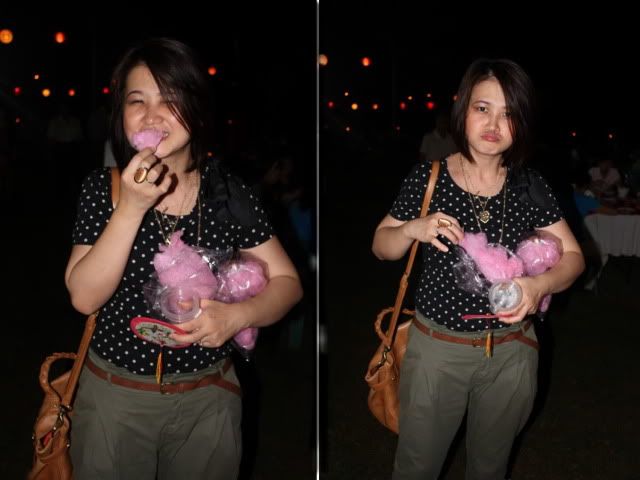 I didn't have enough to eat that night. The food was served in a very very shy portion. Teeny weenie little bits of this and that. I had to chomp down on the candy floss - something I never like in my whole life - because I was so freaking hungry. An hour or so later,we fled to a real place to eat. Didn't even bother to wait for the firework show to begin. I wasn't even curious what it would be like. Nothing spectacular, I can imagine.
Useful tips :
-Before deciding to attend an event, festival, or whatever show, find out who or what the event organizer is. This is THE most important thing you should check.
-Get ample information about the location where the event will be held. Is it in an open field? Is it in a room? And the most important of all, JENG JENG JENG.............. Is it in a muddy wet grassy rodeo field?
That's all for now. Adios.