This will be the only entry for November. Loads of pictures though. :)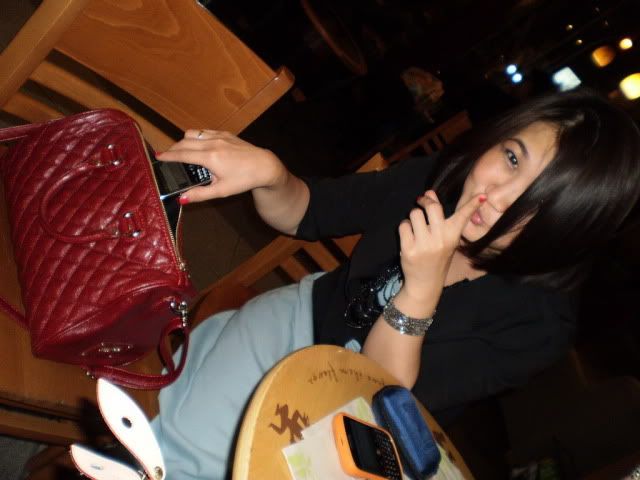 Didn't really steal anyone's cellphone. Just want to know what I would look like being a cute thief. LOL.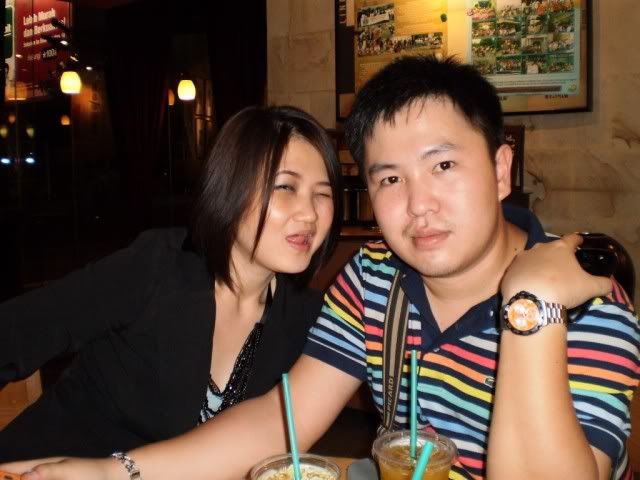 He's sort of cute, huh? Hahaha.
I AM too!!!! Hauahauaha.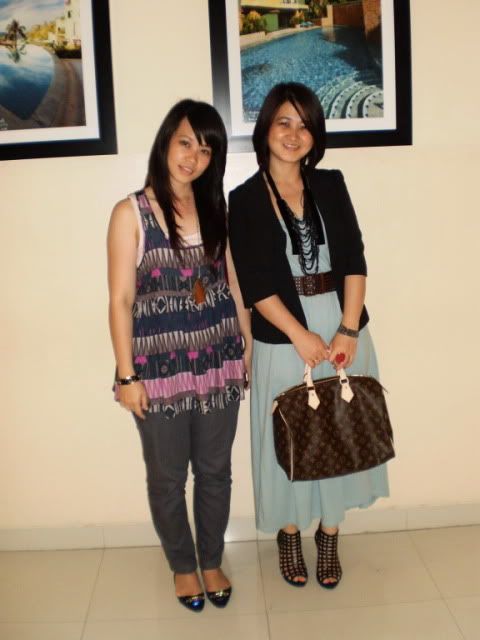 The only pic with my sister. No choice but to use it despite its asymmetry angle. Blame the amateur photographer. :P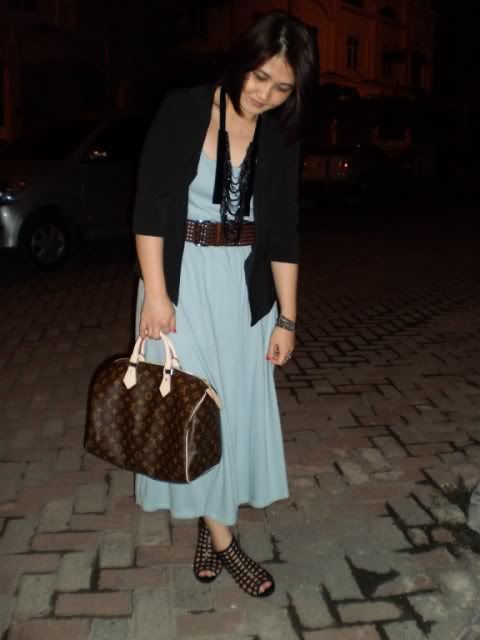 Must camwhore for sure!!!!!
On another occasion. Posing like nuts. So, who's the winner for the elastic pose? LOL.
Our neighbour saw us doing this. He was a nice middle-aged man and he just passed an un-judging smile while saying," Ahh.. taking pictures huh."
He has been young before, hasn't he? Apparently he gets our nutty act.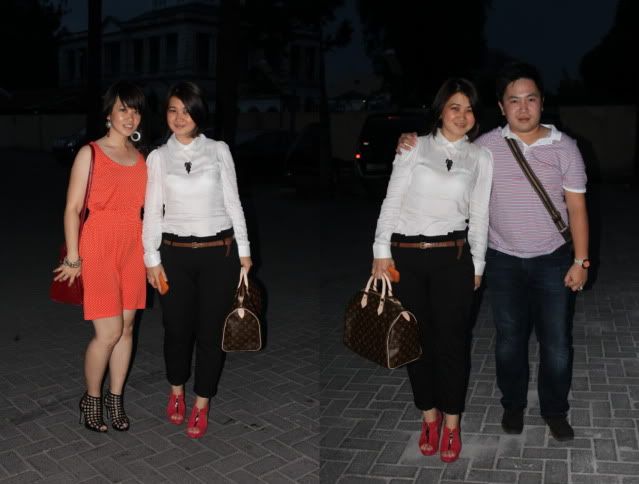 On my aunt's birthday dinner, at the car park. Girls can do anything narcissistic almost anywhere (sigh......).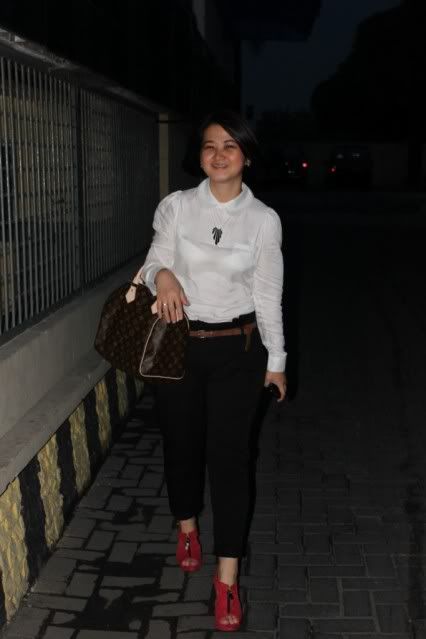 This is the 'IT' blouse in my wardrobe at the moment. The collar, check. The long sleeves, check. The vintage feel, check. The fabric, check.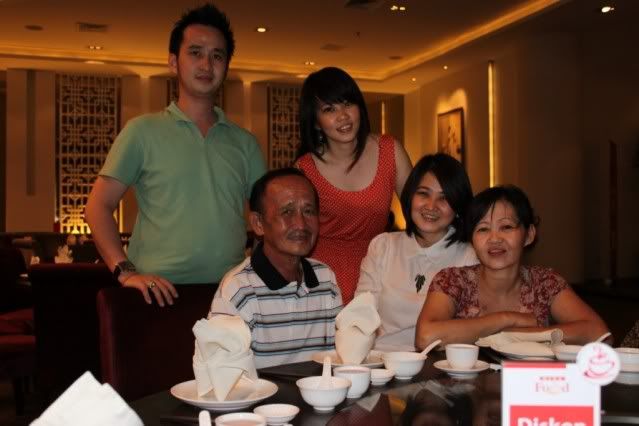 My family :)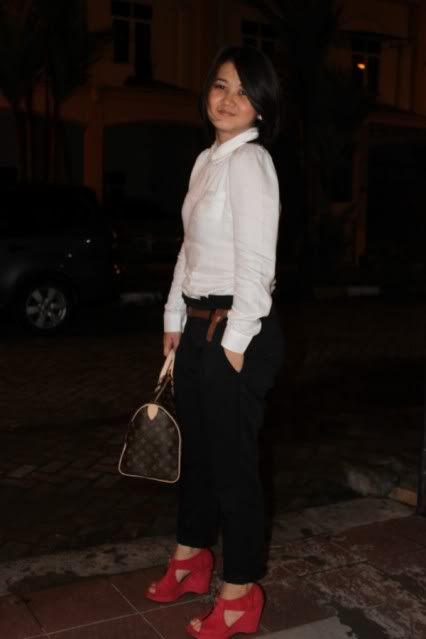 Infinity cam-whore queen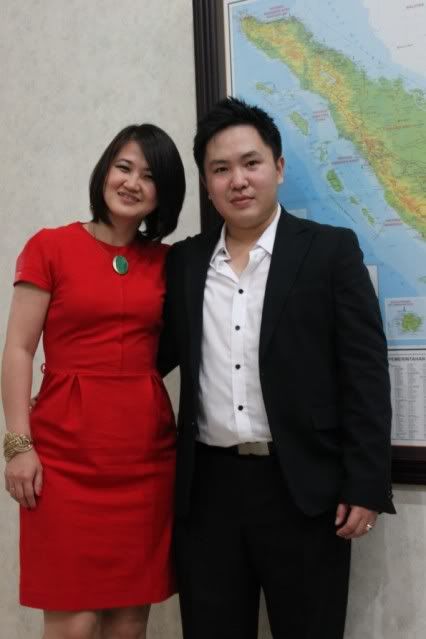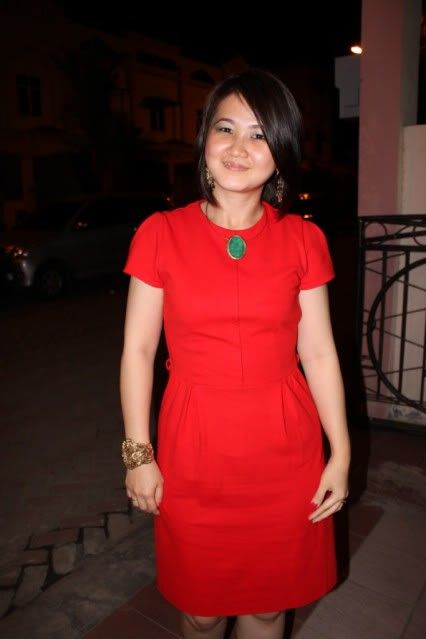 Coming home from a relative's wedding. Again, MUST camwhore!!!!
Just close-ups.
I usually pair red with blue. But then I thought, why not green once in a while? I don't have any green shoes or purse, so I opted for this jade necklace and applied green eye make-up.
Green shoes are on their way, well not really, but yes, I can make them coming my way. :D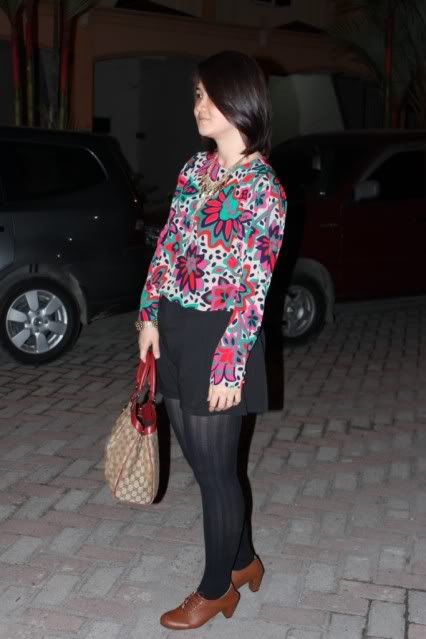 Going out on another regular weekend dinner nite out.
This blouse, ladies and gents, is not new. I bought it from one online shop selling vintage clothing.
It cost 50,000 IDR or 60,000 IDR I don't remember. A bargain!!!!
I know there are pros and cons about buying 2nd hand apparel, but as long as you have the clothes properly washed, there shouldn't be problems. They have flee markets overseas and people buy and hunt antique stuff there. So why can't we?
Anyway, this satin blouse is still in perfect condition. No one will know it isn't new if I didn't tell. And the plus point : the pattern. Perfecto.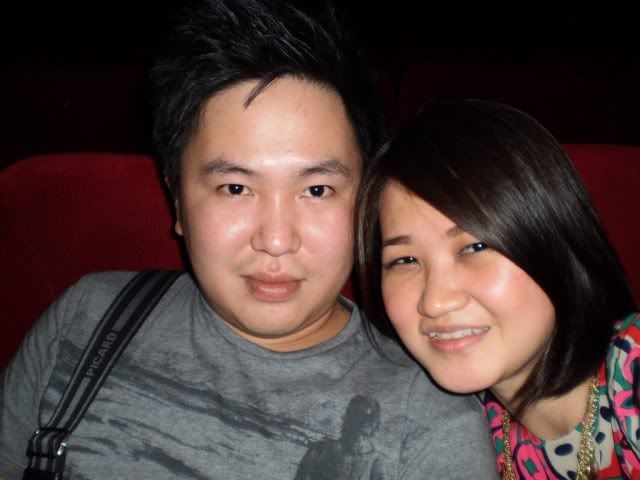 In the cinema.
He seldom smiles broadly, does he?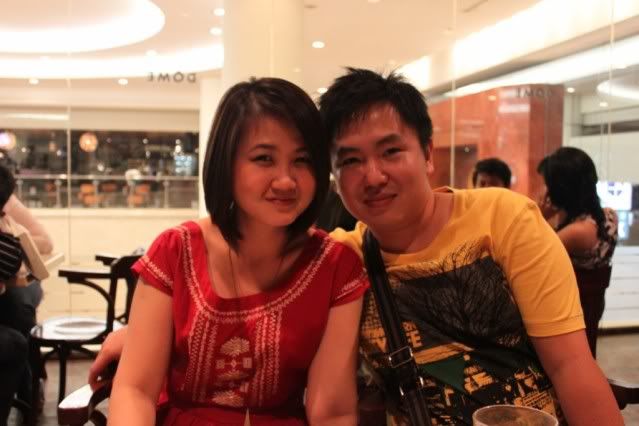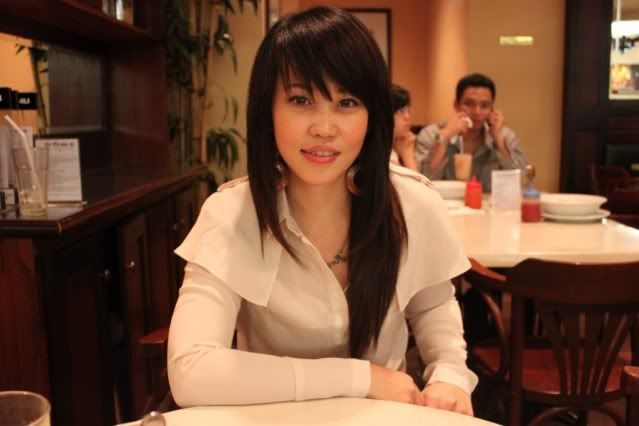 At the restaurant we visit almost every weekend, Dome. I don't know what is special about it. In fact, nothing is. I just like the chicken fettucini and the potato skin, never grow bored of them. I am very conventional when it comes to eating, meaning I don't like trying new stuff.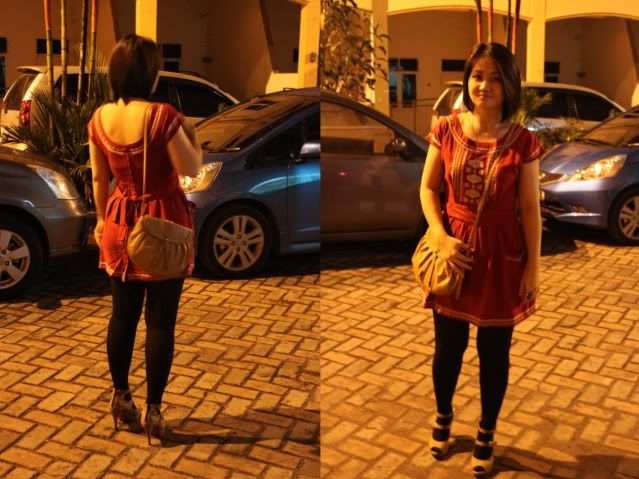 Pictures taken without flash. The red looked so unappealing under the yellow street lights.
This is taken with flash. The red pops out!!!
Red is the new black, okay people. Note that.
I don't really like wearing dresses with stockings, but since I live in Medan (where most of the male citizens ogle at girls in mini skirts) and this dress is very short (I can't risk showing off my ass to the entire population of this city), stockings are the sole answer to my problems.
The shoes are very comfortable to walk in despite the height.
She doesn't want to be left out, certainly.
The poncho shirt she's wearing is one worthy buy. Really. It flatters your figure, be it lean (like hers) or round (like mine), very well.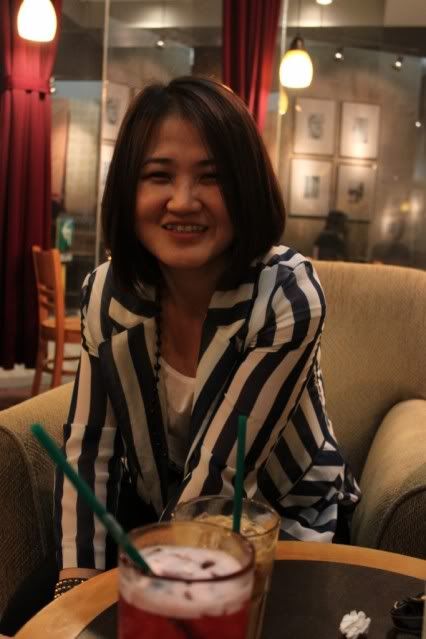 Starbucks-ing.
This chiffon striped blazer adds up to my blazer collection. I have always liked wearing blazers. The one that I am eye-ing on now is a leather biker blazer (faux or genuine, not a problem, preferably genuine leather though).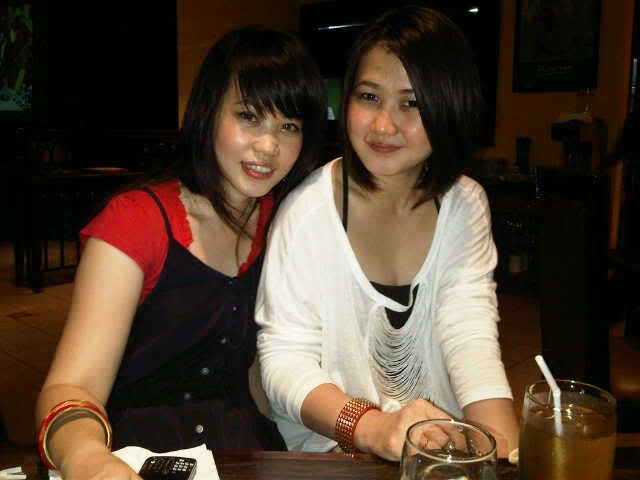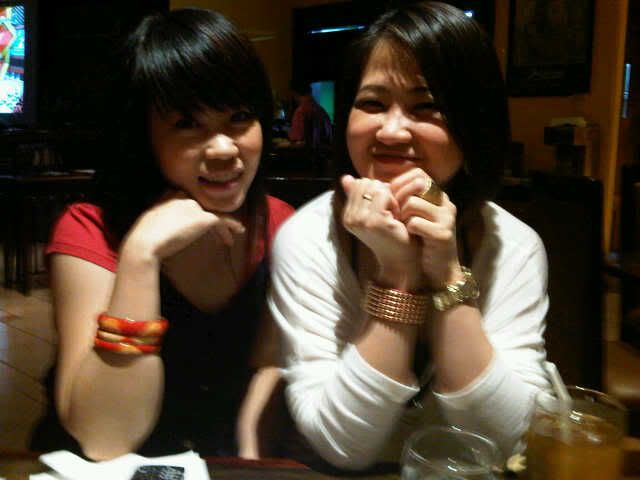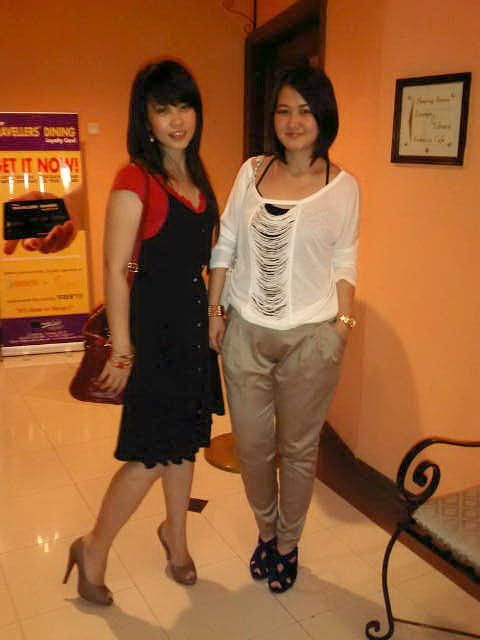 Taken at Kaka Tua Cafe. Didn't bring one decent camera, and just used Blackberry camera, which explains the lame quality of the pictures. But, again, girls must camwhore!!!!
Everything became blur and all the colors fade desperately. Even my cute cobalt blue heels looked so shitty. LOL.
In modern era like now, a 2-mega-pixel camera is ancient. So, peeps, get yourselves a decent camera of at least 10 MP if you want to be camwhore queens.
Last but not least, I finally had my hair cut. :D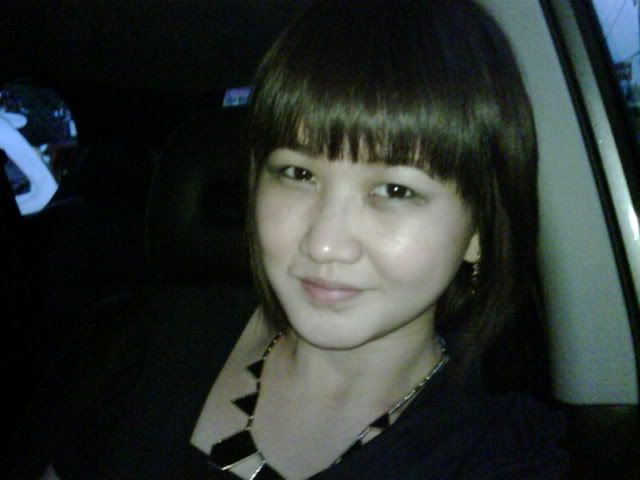 With Dora The Explorer's signature bang.
Well, it wasn't my plan to have it cut like this, but now that it has happened, I have to live the bang to the fullest!!!!
Viva Dora's bang!!!!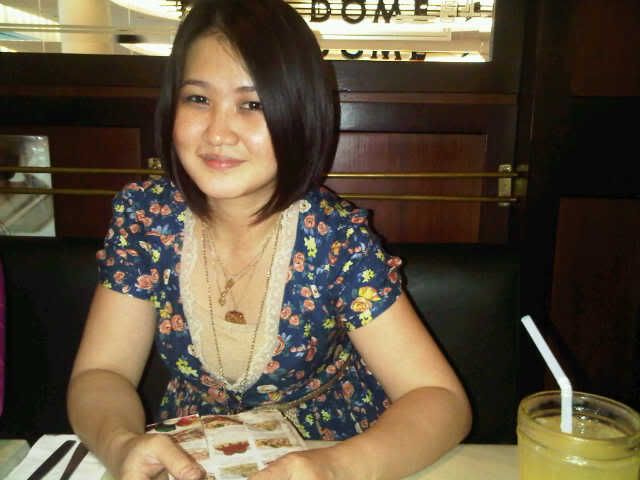 No more of this hair in upcoming posts. Kinda miss my old hair (sob....).
Bring back o bring back.... o bring back my old hair to me.... to me...... (singing My Old Hair Is Over The Ocean a.k.a. My Bonny Is Over The Ocean)
I guess that's all for now. Till the next post. Adios :)