I haven't had the chance to post these pictures yet, until now. They were from one wedding to another movie night to another window shopping afternoon. Simply put, random.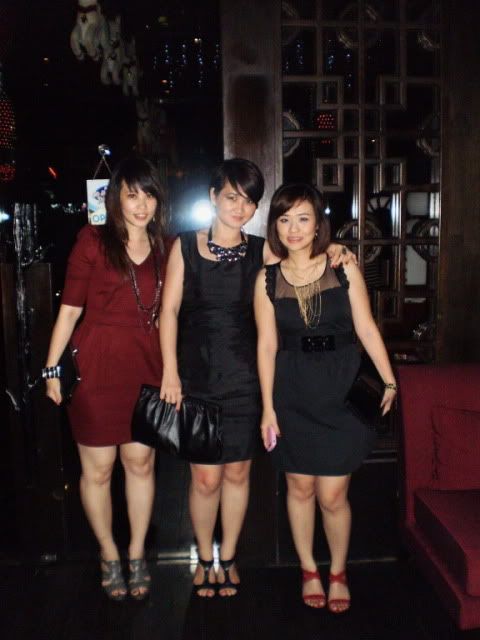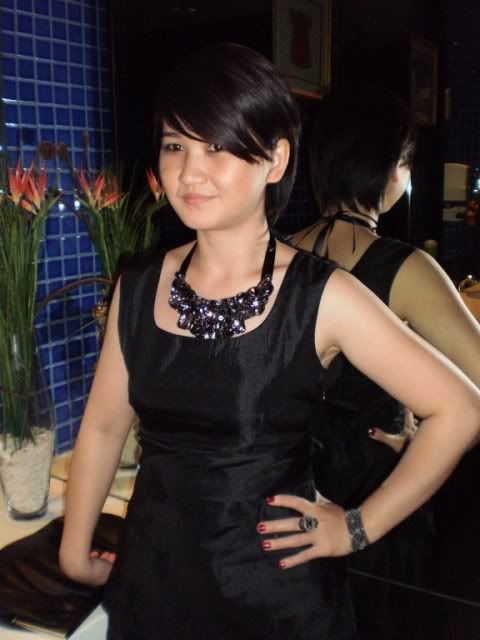 At a friend's wedding party
Didn't get a chance to take Devia's picture. She wore a full sequined dress with a cropped blazer. It was outstanding. She rushed to another party before I had a chance to capture the look.
Angel was wearing a maroon padded dress and Fran was wearing a cute dark blue mini dress with see-through accent on the upper part.
I don't invest in formal dresses. In fact, I hardly ever buy formal dresses.
So yeah, I know, boring..... Black dress, again??
Now, Fran, on the other hand, always manages to pick up various look on wedding parties - different dresses, different make-up, different hair style.
And my sister, Angel, she always.... always.... prepares things to the minute detail when it comes to attending events. New dress hunting, hair styling, and she will get ready like some hours before, like 2 or 3 hours prior the events.
I am constantly amazed by their effort.
Kudos to the girls!!!
As for me? I am the lazy bum. It is very often that I'm not aware that I have nothing fancy to wear, until the last minute. It is then that I'll start to panic (but I pretend to stay calm). And I know what's gonna happen next : ransacking my sister's wardrobe.
And I also know what I'm gonna pick : black dress, with that black over-sized MNG clutch. Now, that clutch is really a worthy investment, people!!! It's been to wedding parties, birthday parties, clubs, malls, movies, bottom line is : everywhere.
So, the only way to make my look less boring, is to accessorize. One important thing to note is, accessories have a longer life span than dresses. They are good investments.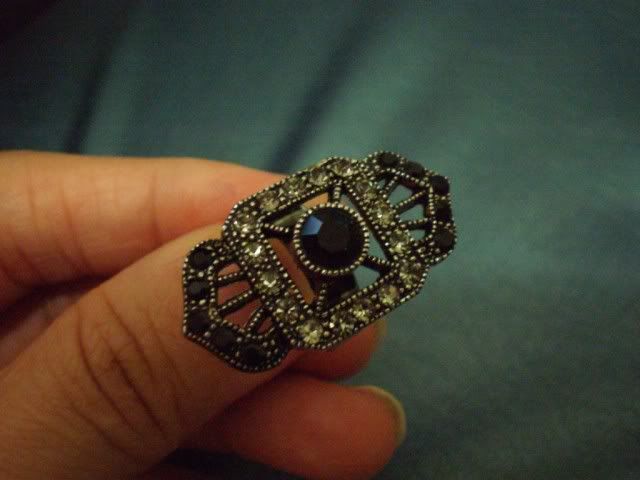 This square black diamante embellished ring, purchased around eight years or so ago, and is still wearable today.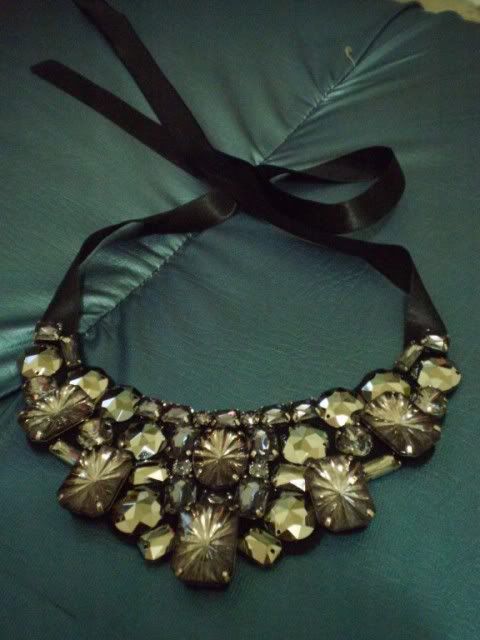 This heavily embellished necklace, bought two months ago.
Life span prediction : timeless.
:P :P :P
(the necklace is available to purchase at
The Chicks' Dollhouse
)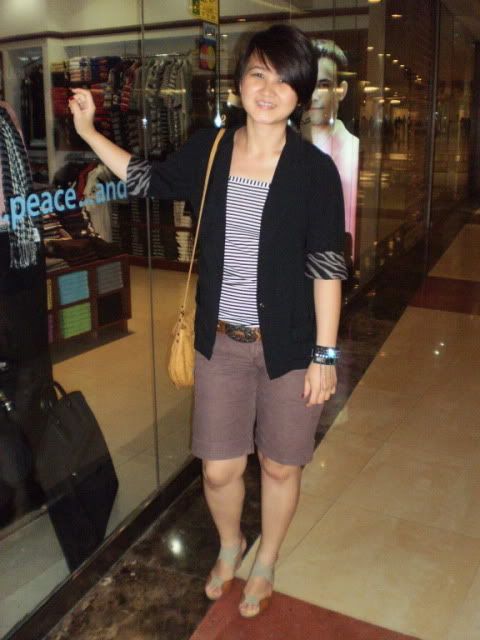 Movie night.
Went to watch Sherlock Holmes with my boyfriend and my sister. What I love from the movie is Sherlock's white shirt that he worn in one of the scenes, which is like the most perfect white shirt ever. And I decided I have to find myself a decent and fine white shirt, with nice cutting, preferably slim fit cutting, with long sleeves and most importantly, with comfortable material.
I am still searching for one (fingers crossed).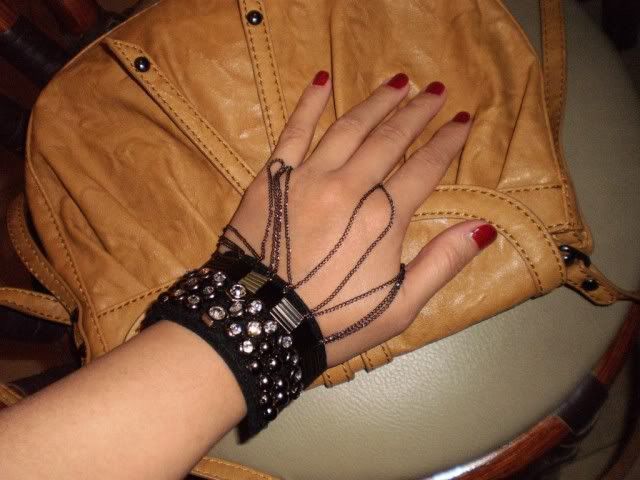 Lovely camel sling bag, MNG, purchased at a very reasonable price. It was on sale. Couldn't think of a reason why I shouldn't buy it. Hahaha.
And the bracelet. Edgy. And is also available to purchase from
The Chicks' Dollhouse.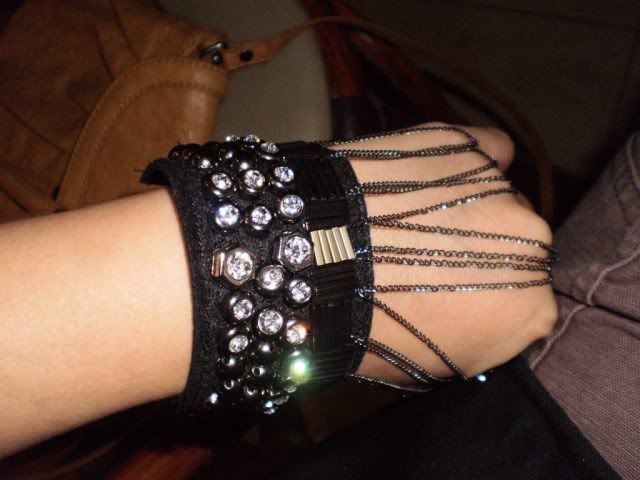 E.D.G.Y
Just say yes, even though you guys might think it isn't, will ya? I insist, period.
:D :D :D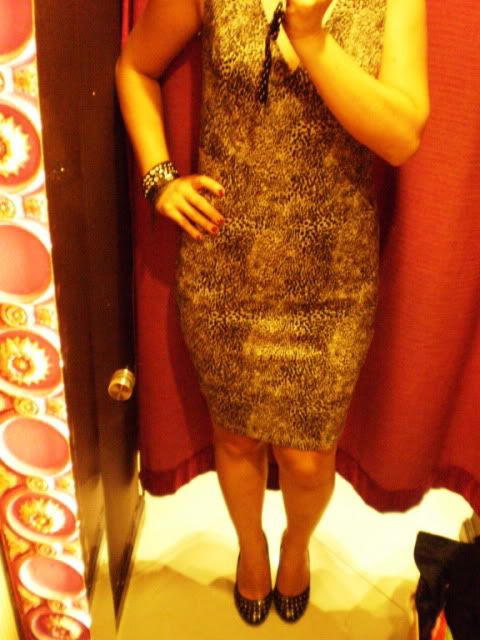 Tried this leopard motif dress on. Was tempted to take it home, but my sister stopped me with just one sharp comment.
"Do you want to look like an auntie with 3 kids?"
Well............that...........uhmmm.............okay.
.
.
.
.
(speechless)
Well, I do hope she meant a hot auntie. Hahaha
This dress is exceptional. No,wrong. Motif dress is exceptional and not everyone can pull it right. I think I could have pulled it quite right, if I had the body, and the attitude.
So, my verdict on motif dresses, leopard in particular, is : Shun it!!! Burn it!!!
(But it was so...... pretty.......!!!!!! Sighhhhh..........)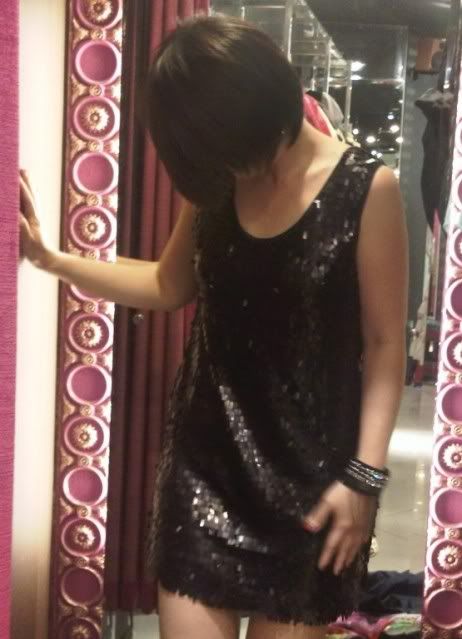 Okay, now this dress is almost the same as Devia's dress, the one that I mentioned just now.
I know that I am not gonna buy this dress. I tried in on simply out of curiosity, to see how sequined dress would look on me.
The verdict is : not bad, but a wee bit short. With these fat thighs of mine, there's no way I am ever gonna wear this dress. But honestly, I really love love this dress.
You know there's a scene in Gossip Girl TV series, where Serena wore a sequined dress or something like this. This is so IT.
This dress has the "Serena" feel, so obviously.
And do note it. The "dress" alone. Not "me in the dress".
Sometimes, there are dresses that you can buy and wear and look pretty and cute in them. And other times, there are pretty dresses that you just can't buy, even though you do look cute and pretty in them.
( I am not saying I looked pretty in that dress, okay? This is only an illustration of a life fact. Again, note that!!!
Nevertheless, if you think I looked divine, then it would be awesome!! Hahaha )
The reason is I think you don't want to spend a sum of money on something you can only wear once, to a function you will probably go only once in your life.
Okay, say that there will be more similar events in your life, but you certainly don't want to show up sporting the same look, do you?
.
.
.
.
But still, I want the dress!!!!!
>__<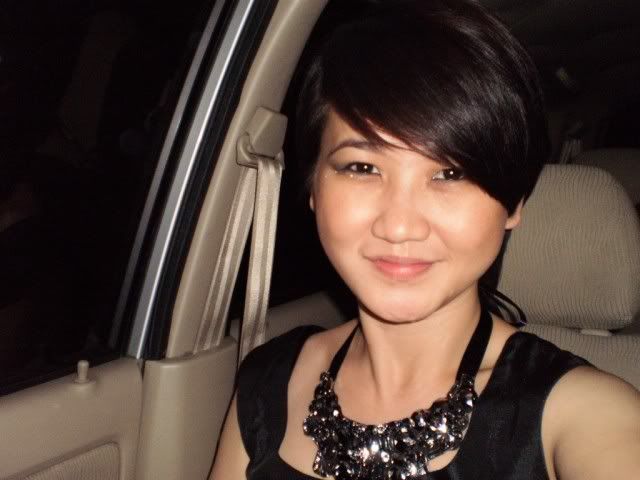 That's all for now.
Adios, people.