They say that you are what you eat and you are what you wear. This is heard like a hundred or thousand times before, but do you ever really sit and think how true the saying is?
I am very picky when it comes to things that I chew and swallow. I can't help it cause it is just a part of me. I used to think that I was an easy going person,with no expectation or whatsoever. However, recently I have learnt that I was not that easy going after all. And I also do agree that these changes within myself now is simply the proof that I am growing, in a good way, I hope. Apparently, one thing I know that was a part of me and is still a part of me and I desperately hope it will no longer be a part of me in the future is my hoarding habit. Oh yes, that is so true. I hoard. I procrastinate. I lack the discipline.
Take this blog for example. I don't blog regularly and I wait till there are three or four ideas swirling inside my head before I finally sit and type. Not that blogging is a necessity in life, but I do believe that once you've decided to do something, you owe it to yourself to stay committed to it. There are 2 more posts to come after this one. From last weekend.
So I am thinking, perhaps it is my habit of being so picky results in me as a hoarder. Do you see any correlation?
I don't. What was I trying to say?
.
.
.
.
Well, whatever.
Now, let's talk fashion.
I have long stopped questioning what trend is all about. I believe, and although it is my self-defined definition, that there is no such thing as trend.
Who creates trend? Who decides that this season floral takes over the crown from studs or bold shoulders or latex or leopard? One thing to remember is that it is essential to build your own style and explore it, regardless what is vogue at the moment.
When I was tidying my wardrobe, I came across an ivory hobo purse which I purchased like 5 years ago and guess what? It's a studded bag. Lame gold studs. I remember that I treasured the purse so much!! Then there's this floral dress I bought like 3 years or so ago on a sale, green tone with little red flowers. I remember regretting having purchased such dress. It's mostly because I had to be so extraordinarily thin in order to be able to put it on. It was life tormenting you know, not able to eat and have to limit your food intake!!!!
Moreover, when I took it home, I didn't really get a comforting remark from my sister, who said that the dress looked old and other mean stuff like that. :(
I was a bit disappointed, but I knew I loved the dress. I still do. And I still wear it to this day.
Well, that was then. Now, it is the other way around, and I never agree with the "old" remark. It should be addressed as "vintage". :)
I'm pretty sure that it is only a matter of time before she wears that dress. Floral is sort of in, I suppose. It's everywhere the eyes can see.
So now, my point is, pick the stuff that you like, that reflects your personality. Not because they're in or out of the season, but because it is you. Now, studs are in (or out already?), floral is very likely on its way to be the next big thing. I kinda feel relieved that I didn't dispose or give them away to my cousins. And especially floral, I can't seem to get enough of it. I always love brightness and pattern anyway and am constantly attracted to pattern and colors.
Enough crap, here are pictures from last two weekends ( hoarder..............)
Can't believe it actually takes me like two weeks before I finally get to the bottom of it.
Was wearing a floral mini dress with studded suede vest, with camel sling bag and a pair of shoes of almost similar tone.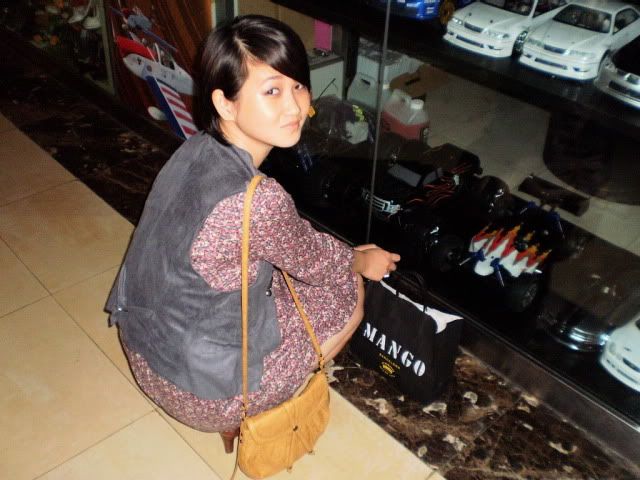 Squatting outside a remote-control store.
Look at my lack-of-balance face. Hahaha.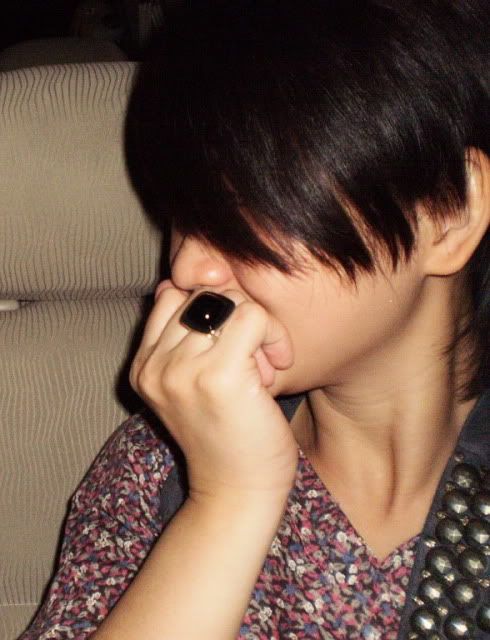 Desperately long and uncontrollable hair.
The ring is a bargain, though. IDR 45,000. Sogo.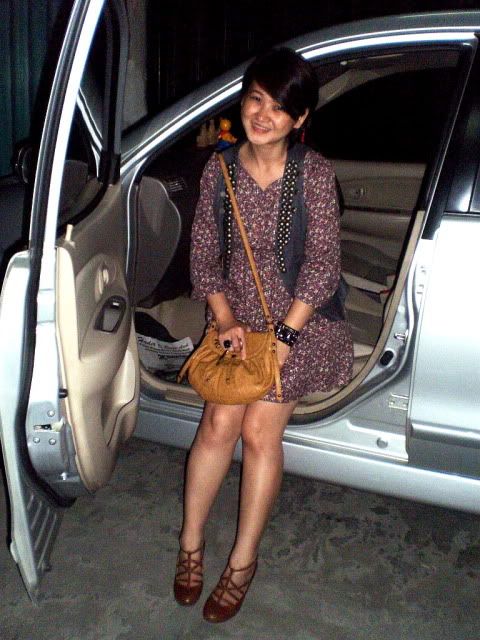 :D :D :D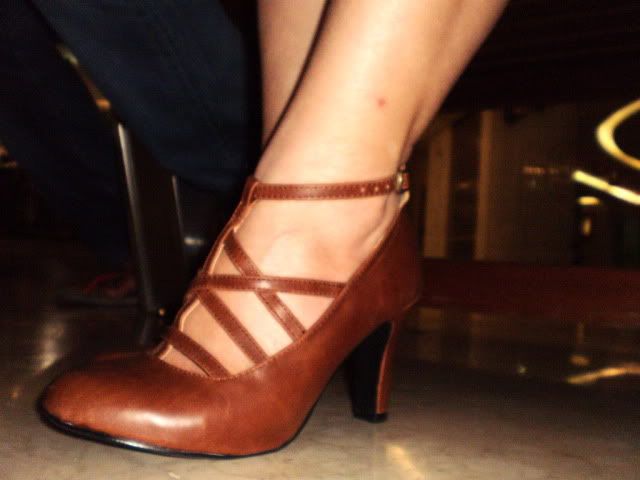 Despite the tightness, these pair of shoes do look good in pictures and in reality.
Beauty is pain, that is true, although after some time, they are not that tight anymore. And again, I am relieved I didn't re-sell them. I thought they were too small for me and I didn't really feel excited having purchased them, until now. Anw, my shoes are perfect, I think. Hahaha
The photo quality is so bad, that it looked like it was taken in the 80's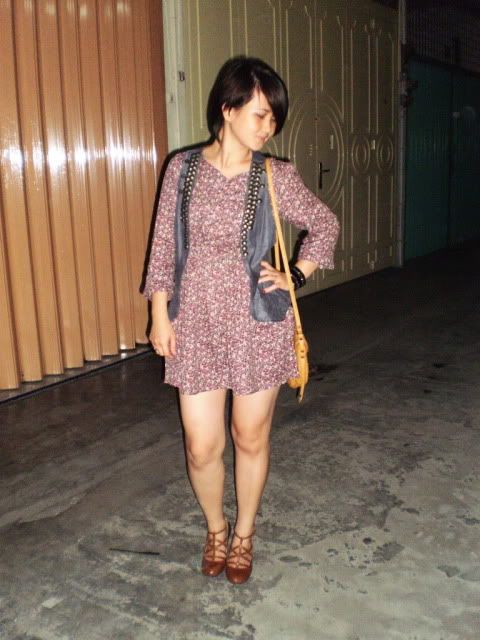 I love this one.
I didn't deliberately close my eyes and look down. It just happened and it was captured and boy..... don't I look fine? As if my cheekbones were perfect. As if.....
A.D.I.O.S
Sleep tight.