This latex snake skin pattern top is smokin' hot. Honestly, I was quite doubtful with wearing snake skin pattern at first, especially when the material is latex and the color is beige. It came in three colors: black, dark grey and beige. I was thinking of getting the black one, but it was selling so fast and all that was left was this beige. And the seller actually said this," Kalo mau eksis ya pilih warna beige",when I asked her which color was the best one. She insisted it was the best and recommended me to take it.
Well, I don't want to "eksis" and I am certainly not ready to be a "reptile" girl. So I decided to pass. Then, surprisingly, she sent me this top as a free gift, a complimentary for me as I'd shopped quite a lot from her.
I was thrilled the moment I saw it!!!! You know how happy you will feel, when you get what you really like. And I think it is very thoughtful of her to send me the top as the free gift. I was delightful.
:D :D :D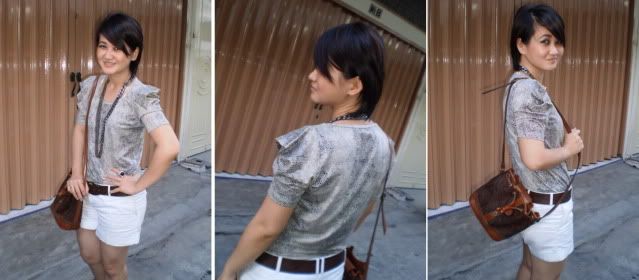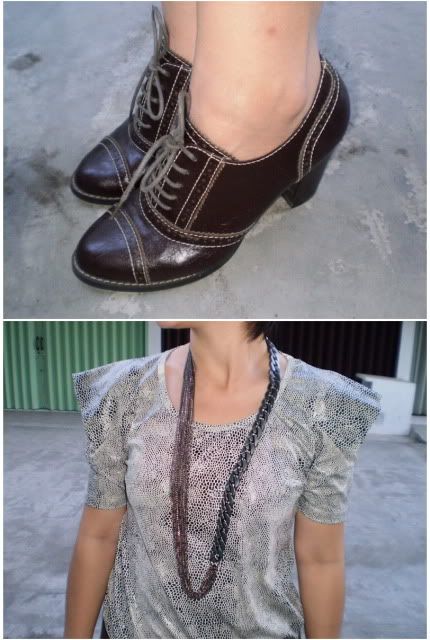 And I guess she was right at some point. It is pretty. It is latex, but it doesn't give the "too much" look. It is quite comfortable to wear, in fact.
The shoulders were supposed to be pointy, but here they were kinda limp. I have bought some shoulder pads and I'm gonna ask some tailor to sew them on both sides.
I wore it with a pair of white shorts, a pair of deep brown oxford ankle boots and my mom's bag. It is an old bag, I don't know if you can call it vintage. Let's just call it oldies.
Anyway, talking about vintage, I am hunting a vintage purse, but to no avail until this minute. What I want is an affordable and classy vintage bag. Nothing costs more than 200,000 IDR. Hope I can find one soon.
The necklace I was wearing was a bargain, only 40,000 IDR. Bought it at a boutique named "Diz Dress" in a local mall.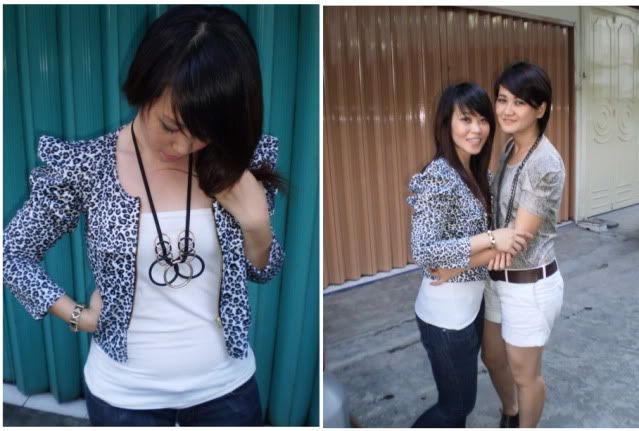 Angel was wearing a leopard motif blazer with cute necklace, from The Chicks' Dollhouse. Angel here proves herself very very useful when I need someone to take my pictures. She knows some good angles and lighting, you know. Got some quick tutorial from her photographer boyfriend, I guess. Well her boyfriend is not exactly a photographer, but he takes good pictures and he knows photography. Contact me if you need a photographer or a graphic designer service. :D :D :D.
I am serious, btw.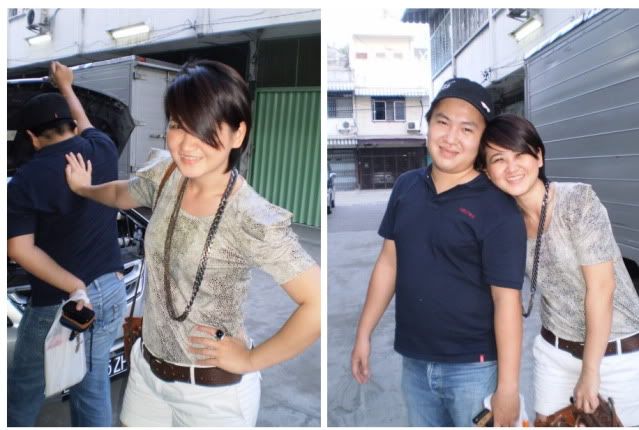 Then, my boyfriend here, also proves himself very useful in the task of taking pictures. He is indeed reliable. Thanks, honey. :)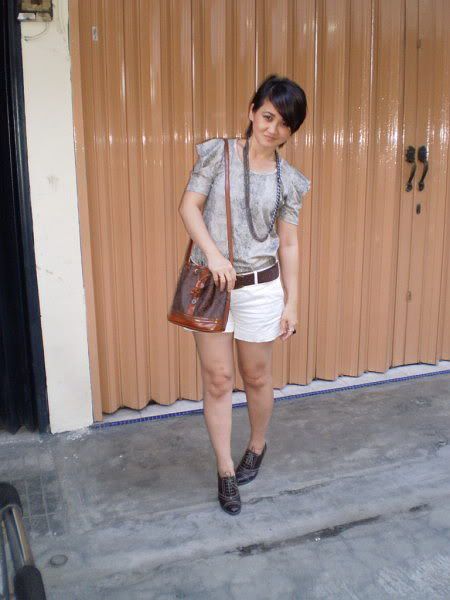 Enough for today, gotta hit the sack. Adios.....