I have been trying to alter my look into a bit more feminine and lady like, although I don't think I can ever pull the look. My mom often observes my outfit and remarks, " You are not as feminine as you used to be. You were much prettier back then. Where's the old you? And please lose that loose tops and weird stuff you often wear."
I can only laugh out loud, literally, upon hearing that. I told her, I can be all that again, but I don't want to be.
Yes, I used to be a feminine long-haired girl (or should I say, village girl or college girl) . Wearing flowy long skirt or knee-length skirts (it was very in those days), paired with frill chiffon tops, with very very delicate heels and oh-so-cute accessories.
LOL.
Gosh!!!! Creepy!!!!! I can be that again, but it is just so not me anymore. The other day, I put on a simple dress and a simple waist belt, trying to be all girly again, and when I looked in the mirror, I burst into laugh. It was ultra creepy.
Nevertheless, I think this is a challenge for me. I want to wear all those girly stuff, without looking too cutie and girly. Yes, that's my mission for now.
So, all must start from wearing very very soft colors. So, I start with beige and nude pink. I never like pink, I don't know why. Pink is just................ too pink and ...... soft. Fran, on the other hand, is a mad lover of pink. I told her, if we were couple, I would certainly be the man and she would be the girl. LOL.
Here are beige and nude pink combo :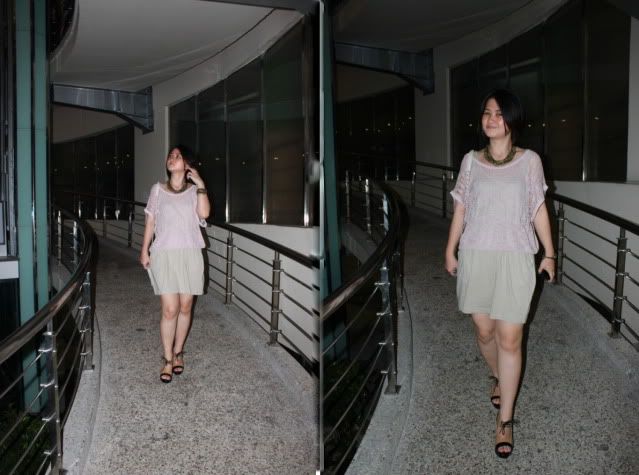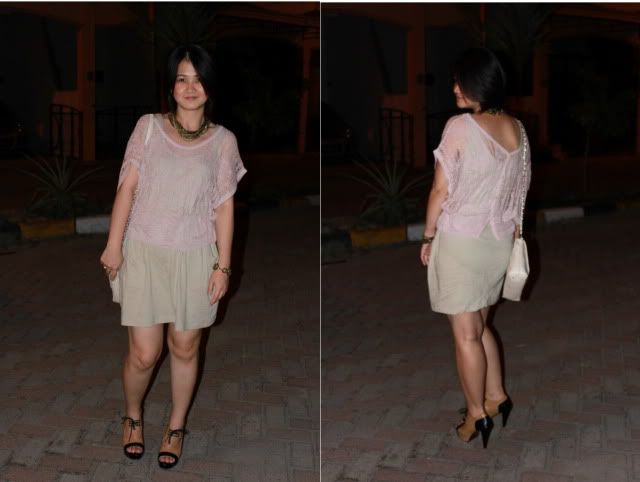 Nude pink shredded cardigan from Thechicks' Dollhouse, beige sleeveless dress from Gaudi, camel peep toe shoes from Just Wanderlust, ivory purse from Mango.
The cardigan can be worn two ways, with the buttons side facing front or facing back.
Those people in the fashion industry are never out of ideas, aren't they? When cardigan is not in fashion anymore, they create a new way to wear it.
:D :D :D
90's pose. LOL
The next day, I am back to my old me, red and blue combo :
Hahaha
A cropped top gives an instant face-lift to a plain unattractive dress, imo.
To avoid looking too plain, I opt for a pair of red suede wedge instead of flat shoes, accessorized with some dark silver necklace and beaded bracelet.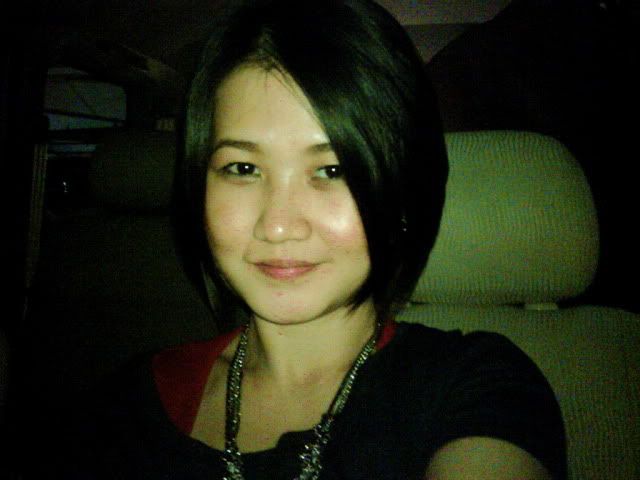 Meant to sport middle parting, but somehow my hair always find its way back to "semi-middle" parting.
Till the next post, exploring the other side of me. LOL
Adios :)