Another late post from me. It is not me if I don't procrastinate.
Went to Brastagi for some fresh air. There's nothing really special there, but still it is the main holiday spot for Medanese. Almost everyone goes to Brastagi during holidays. What a life, eh?
The striped shawl is THE most comfortable shawl ever.
And the red patent flat :Thechicks' Dollhouse.
Won two stickers and an ugly dolphin stuffed toy after spending like more than 100,000 IDR on some stupid games. People know that the chances to win the prizes are super slim, yet they willingly dig into their pocket to try their luck on the games.
Being hopeful is a good thing, isn't it?
Next, the randoms :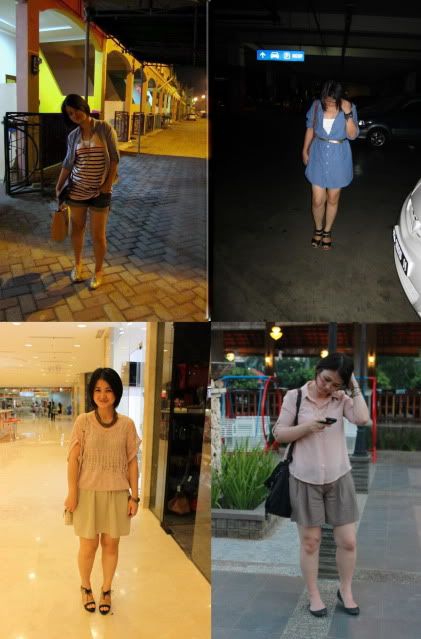 The fattest state of my whole adult life is pictured here. LOL and FTW at the same time.
All the outfit worn are mostly from my online shop. I seldom buy stuff from local boutiques nowadays, except from Gaudi, since it has the cheapest stuff among all.
With two angels
With cold Milo and three slices of Kaya toast, earning more fat layer, more and more and more..
LOL
The expression of mine that I hate the most. Ugh!!!!
This, I like. :D
This is an okay expression. Yeahh.... not bad.
This expression, I super hate. The smile is double ugh!!!!!!
Now, this one is much better. :D :D :D
The indy pink loose shirt is from Thechicks' Dollhouse. Superb!!!!!
This, I super duper like. It's never our fault we're cute, ain't it so?
Four thumbs up for this, two from mine and two from her ( In fact, I don't know if she would give her thumbs or not, but just considered she would). :D
Actually, I think I would give six thumbs up for this. The other two are from my toes. (Do we say "thumb" for those on toes?). Well, who cares. Six thumbs up!!!!!
The striped dress and necklace are from Thechicks' Dollhouse.
Love the shoes and the washed denim shirt and the classic brown belt. Thechicks' Dollhouse, as alaways.
The necklace is from Forever 21. My boyfriend knows my taste so well. He is that good, huh?
Marvelous!!!!!
Him!!!!!
Till the next post. Adios, gorgeous............