Fran told me that she read somewhere that two of the most essential items a girl should have in her wardrobe area pair of sleek cut tailored pants and a black blazer, cause these two items can never go wrong and last for seasons. Well, this sounds like very true!!!
So, this pair of tailored pants I am wearing in this picture will probably last for a couple of years?? Well, I'm not quite sure about that, cause every time I look at a piece of clothing and think," Woww, this is an investment, it is going to last for good." But the fact is, it doesn't even last for one good year in my case, let alone for good. LOL
I mean, we just have to face it that we girls grow bored very very easily. That explains why there are 20something pairs of shoes in our shoe racks and why there just never seems to be enough space in the wardrobe for all the jeans and shirts and tops and dresses no matter how many we have donated or given away. Well, of course NOT all girls are sinner like some girls, trust me I know some fraction of girls who seem to be untouched with all this madness. They truly win my respect.
So, again, I have a pair of good tailored pants now and I have two or three black blazers. Let me cross my fingers and pray I don't ask for more. LOL
P.S : I am so much in affair with androgyny style, btw. I am now looking for a pair of black and white oxford shoes, with some simple details and some fringes perhaps. I don't know, I just have this image in my mind, I will know the one when I see one.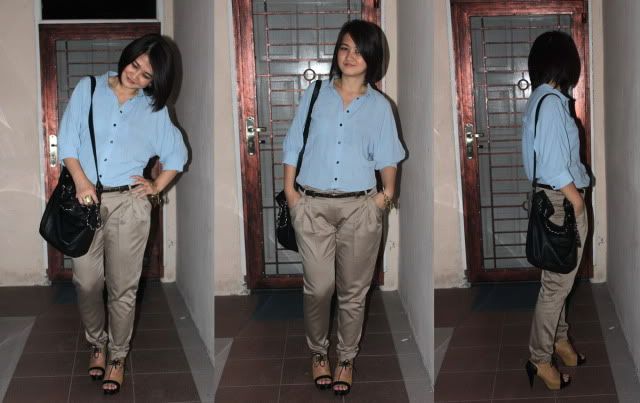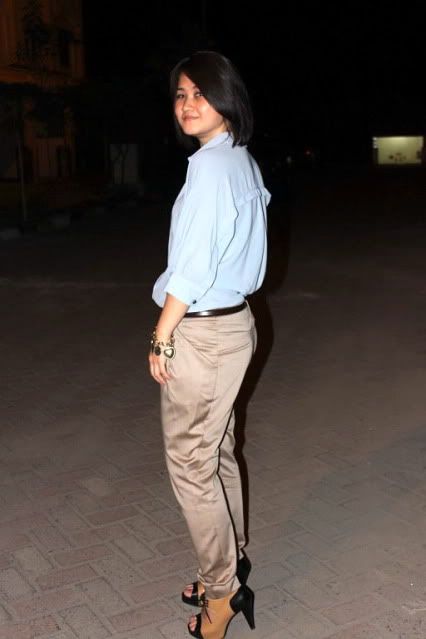 Both top and bottom are from Thechicks' Dollhouse.
Now, let's talk maxi.
I remember a couple of years ago, maxi dresses were huge, be it printed, ethnic, floral. Now, it is not as huge although once or twice we can still see models in runways strut around in designers'. So, I ransacked my wardrobe to bring my maxi dresses back to life. Well, some are still in perfect condition and wearable, although there are also some which just figuratively scream "UGHHH".
And I realized one thing, I have loads of printed dresses but I rarely have plain one-color dress. And that is why I bought this one, plain navy maxi or to be exact, calf-length dress.
This one is definitely gonna last for years!!!! Cause it's plain!!! Do you see what I see? An investment, not an "UGHH".
LOL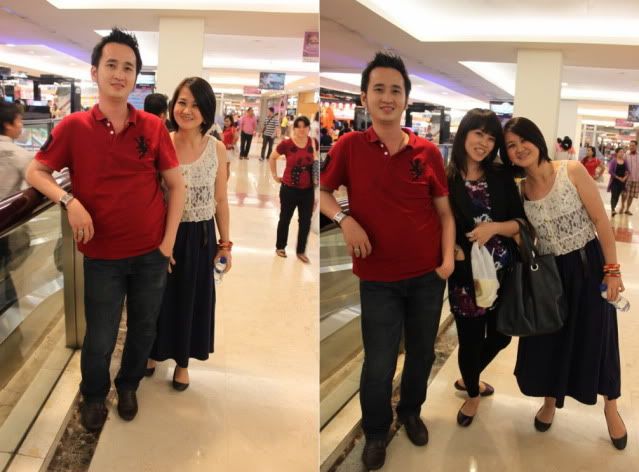 Introduce you to my not-so-little brother.
The only picture with Fran that night.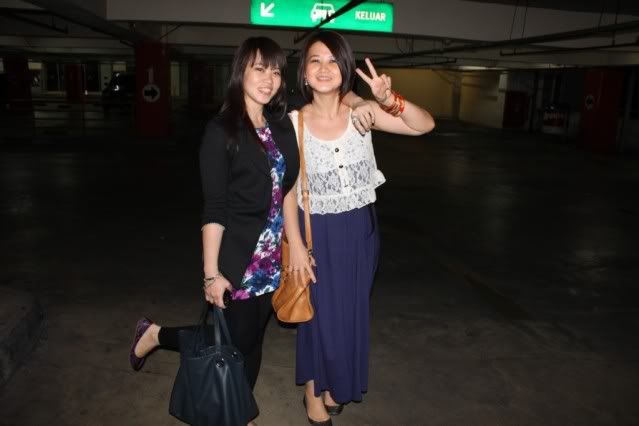 Angel in body-con floral dress and the everlasting black blazer.
And me in the everlasting harem pants. It has a side zipper and two side pockets. Side-zippered pants are perfect for concealing bulging tummy, you know.
The pink and black lace kitten heel shoes are from Fran. But honestly, among all type of heels, kitten heels are my least favorite, cause I seem to always lose my balance while walking in them, due to the weigh of my you-know-what. How can a "kitten" support me? LOL
Nevertheless, it's a sweet gift. I got it from our gift exchange last Chinese New Year. Ppl always remark "Hey, cute shoes!!!" every time I wear it.
Oh, one last thing. My birthday cakes and celebration were awesome!!!!
The one with ME as the icing, the one which is my most favorite avocado cake and the one which is a pizza cake. :D :D :D
And look at my face on the one with pizza cake. I got punked on my birthday with all the hand paintings from wannabe if not failed artists. It was a good one though, can't pretend I don't like it. LOL.
Thanks to Fran (smooch...hhh...hhh...) . Shudders...... But thanks. :D
Till the next post. Adios......