A couple of weeks ago, we four had fun at Kuala Lumpur. Although, it was a short trip -from Friday to Sunday-that didn't keep us from shopping like mad. Actually, I DIDN'T shop like mad, it was my boyfriend's sister in law did. Hahaha. She certainly made good use of all the time she had. :D
Three days is actually too short for me, cause I want to make sure all my purchase worth the Ringgit. So I shopped very little, seriously. Besides, I'm aware that it is just a thin line that separates what you ACTUALLY need and what you want. I no longer want to splurge on stuff I'm not sure I want. So, yes people, this is the (cough...cough....) sensible me speaking.
Well...... :D :D :D
So anyway, Kuala Lumpur is full in spirit of celebrating Lunar New Year. Lots of landmarks are decorated with bright red rabbit thingy ornaments, Barong lions, huge drums, lanterns etc etc. Wish Indonesia had the same spirit, in terms of decoration.
Pictures.... ladies and gents :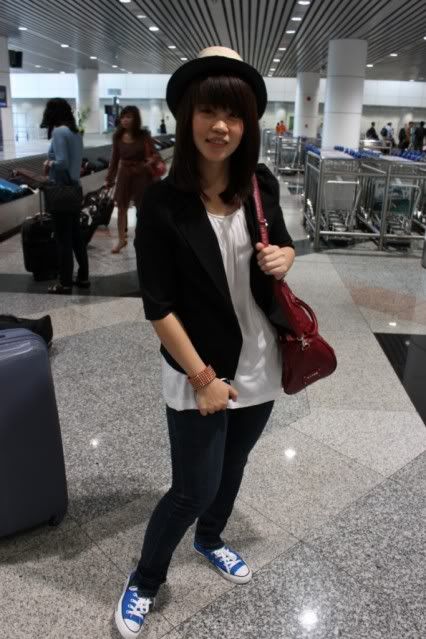 Angel upon arriving on KL airport. Waiting for baggage claim, camwhore to kill minutes (shake head). I love her outfit!!!!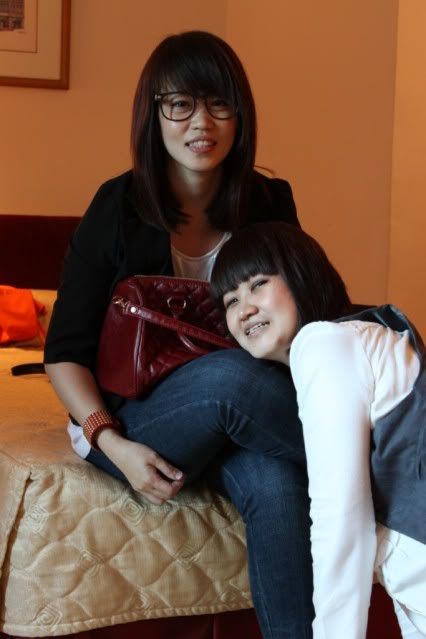 In the hotel room, resting up a bit before starting our shopping saga. Camwhore must do.
But, girls can't shop if no food to propel their energy. So, Nandos here we come.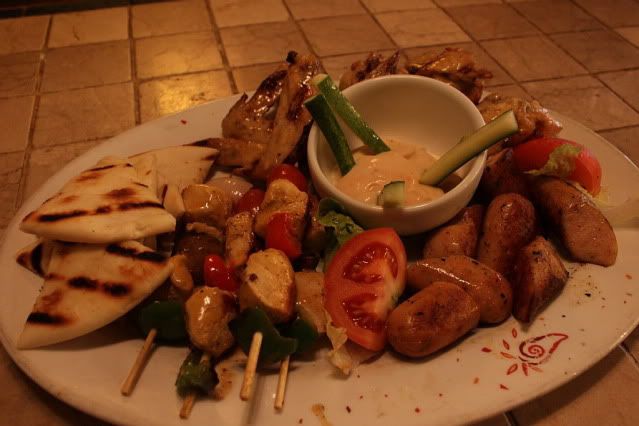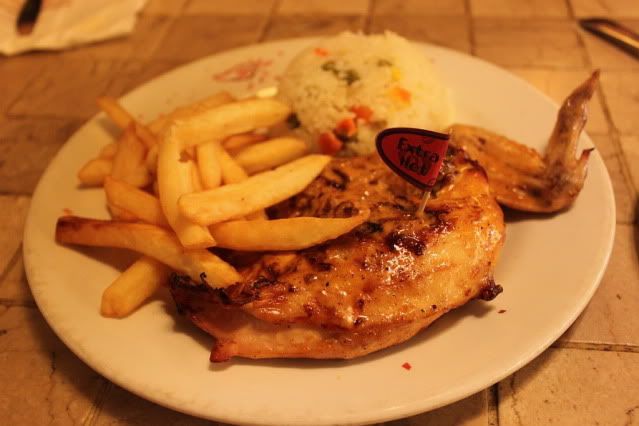 Boring people's choice of food. Chicken breast steak and some snacks.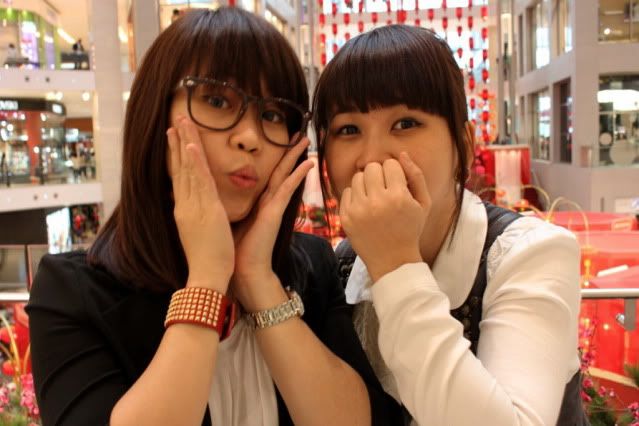 Oooo... the mall is so pretty!!!!
Rabbit xiao di di posing alone. Poor him...
So, we decided to accompany him.
Us girls in Converse are happy max!!!
Dong Dong Chiang!!!!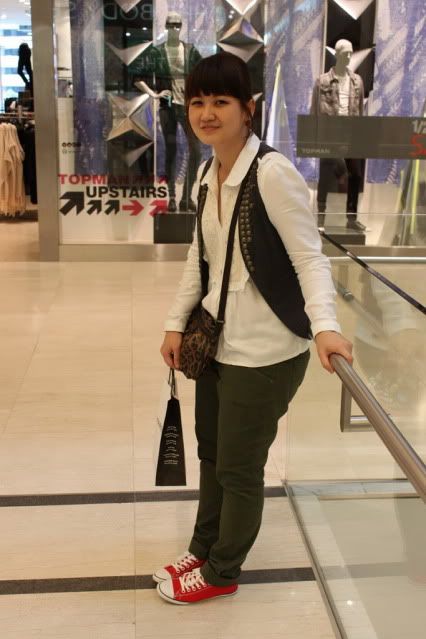 This was my outfit for the day.
Khaki green skinny cargo pants, with lace embroidered vintage shirt and leopard motif sling bag and red converse.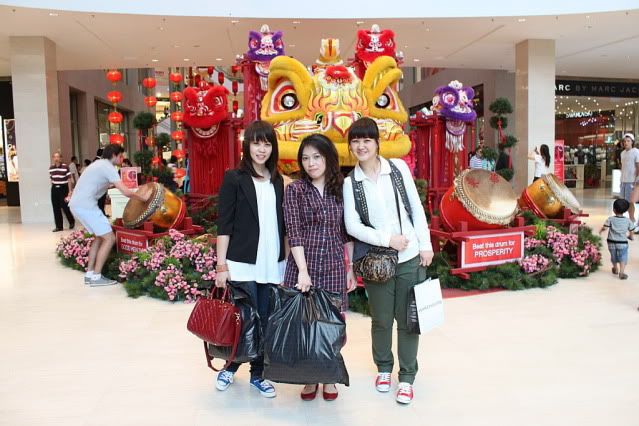 The drums in the background attracted many visitors to beat them.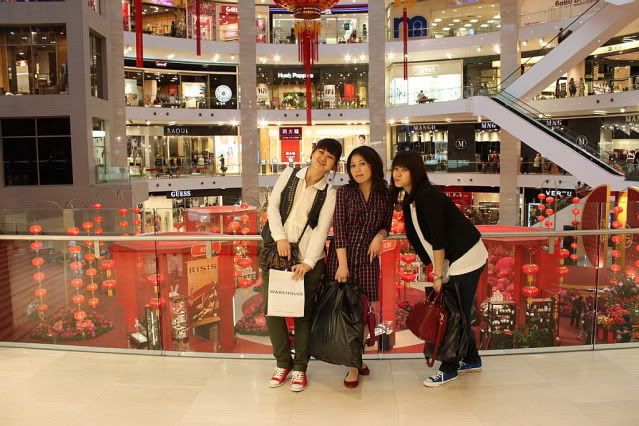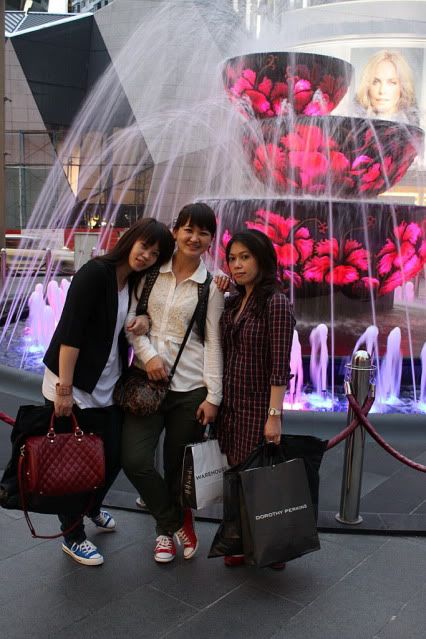 Lanterns were everywhere.....
Me doing my fave pose, The Crane pose. Hauhauahaa.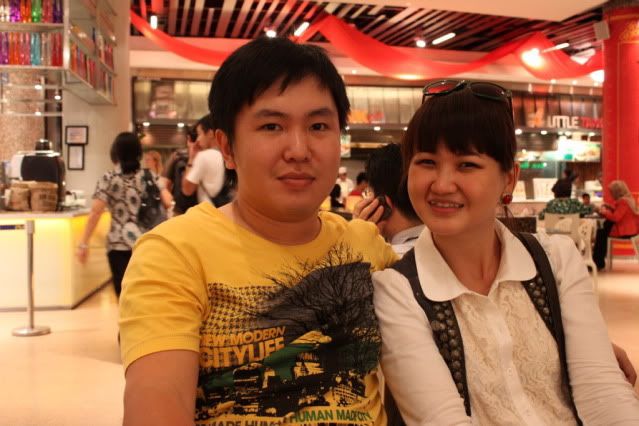 At Food Republic. And like always, I don't like foreign food. What looks good never tastes good.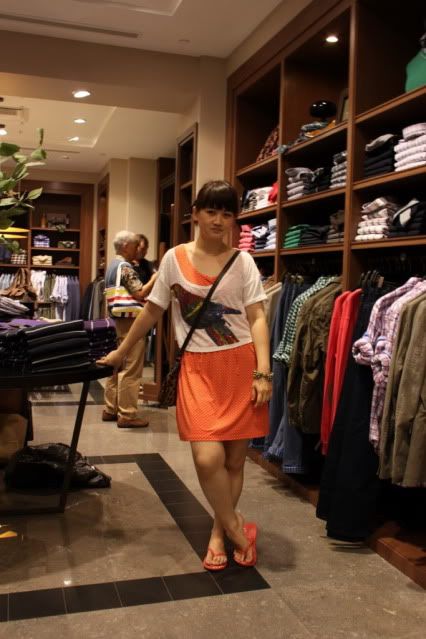 Second day, this girl couldn't stand wearing Converse no longer, so flip flop hopped in.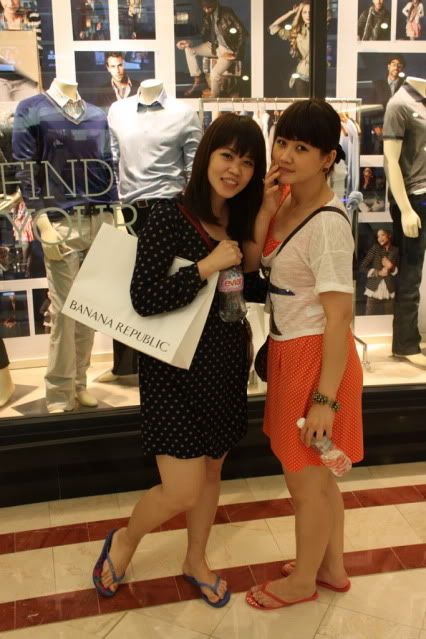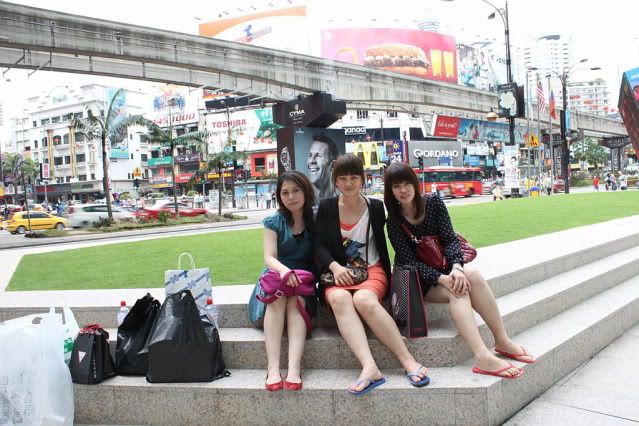 And I didn't feel comfortable taking pictures in KL streets. People keep looking at us!!!! I was like, wtf man? Never see girls camwhore before? Have you been living in caves?
Passers-by stared at us while we were taking this one. As if staring wasn't enough, some of them still felt the need to turn the heads after they'd walked past. Okay, I get it, you cave people never saw cute chicks before, especially we were Oh-So-Fresh-Like-Morning-Dew. That explains why we had so few pictures taken at KL.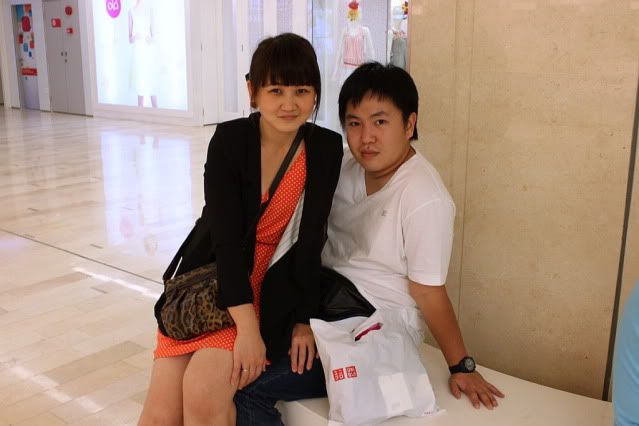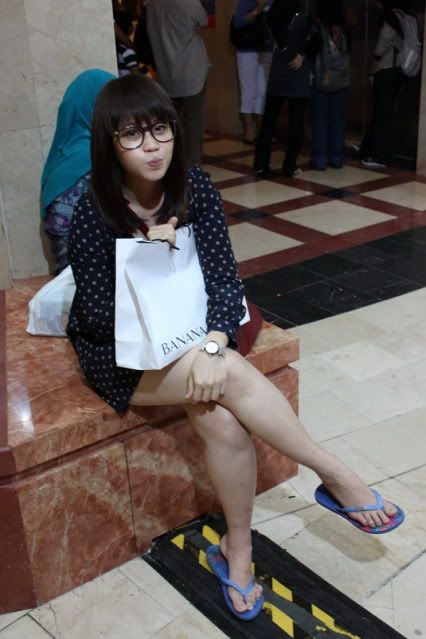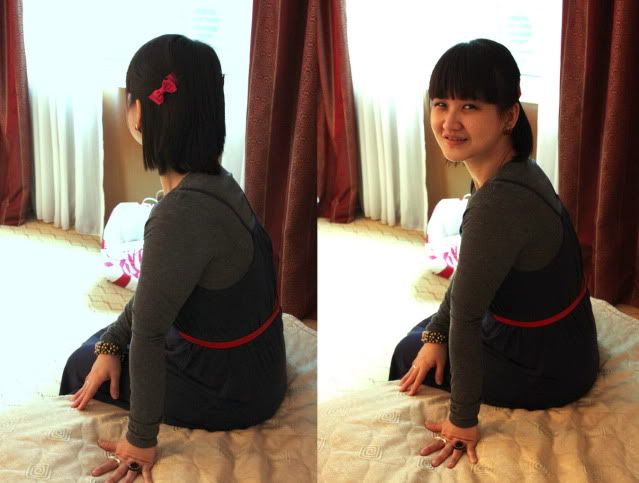 Last day. Waiting for the taxi to take us to the airport. Wearing pink hair clips I got from the other day.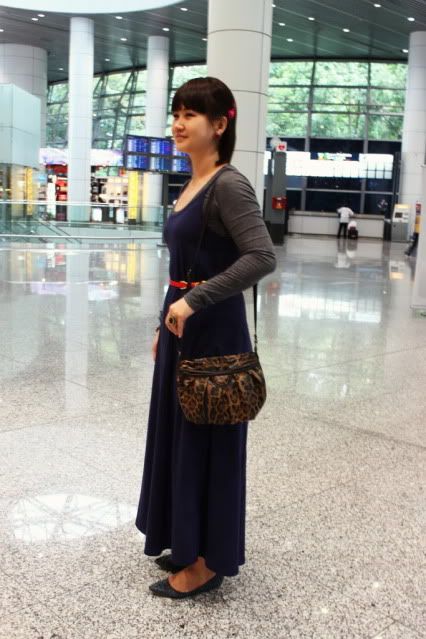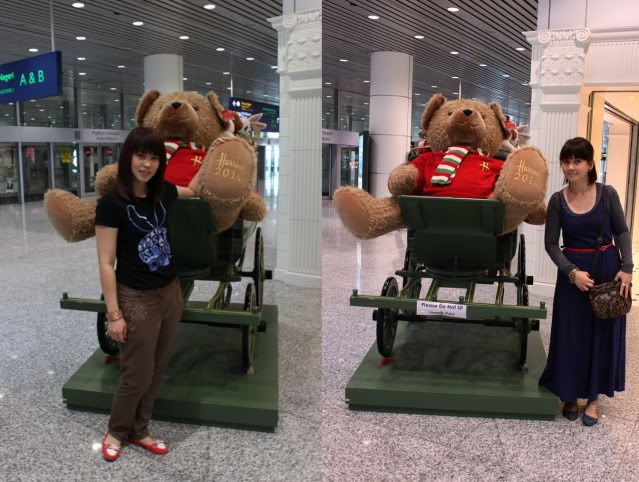 At the airport. I don't like the airport either. Chocolate stores are found in almost every corner of the airport, as far as the eyes can see. Boring max!!! And again, I can't help comparing everything I found in KL with Singapore. I miss Singapore badly. T_T
That explains why I sat at the entrance of a chocolate store, feeling so bored to death waiting for our flight announcement.
The only shoes I got at Fahrenheit Mall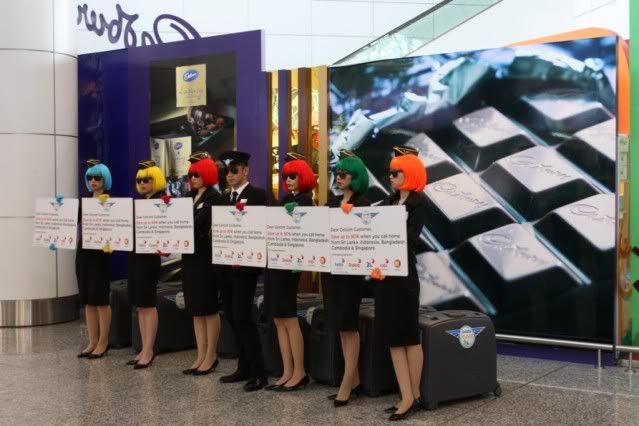 SIM card provider advertisement.