I love accessories and I hardly ever throw away my purchases because I value them very much. Every single piece has a history and although it's not a designer piece, I still love them all with all my heart.
But I do give some away when their time is due, meaning I am fully aware with my age. I can't stay young forever, so some which are no longer age-appropriate (for me) has to go.
I store my bangles (big and chunky ones) in a transparent box.
I made a bangle holder to keep them organized in the box.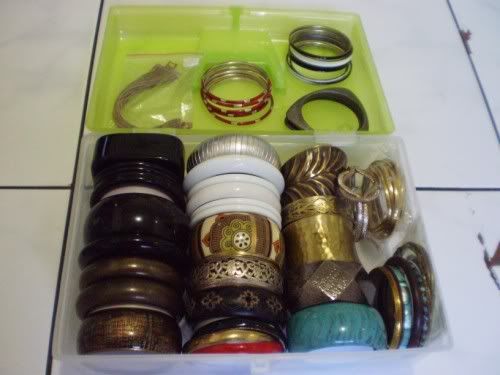 I now realize I am a conservative person when it comes to bangles. So lifeless. Monotone. I need splashes of colors. I am a colorful person.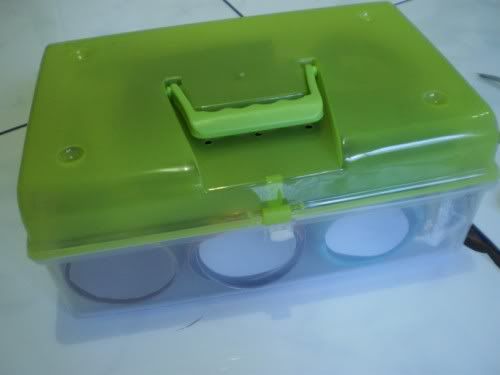 I keep most of my earrings (old, vintage, new...you name it) on these earring holders.
When three earring stands have reached their maximum capacity, I made my own earrings holders (as mentioned in the previous post).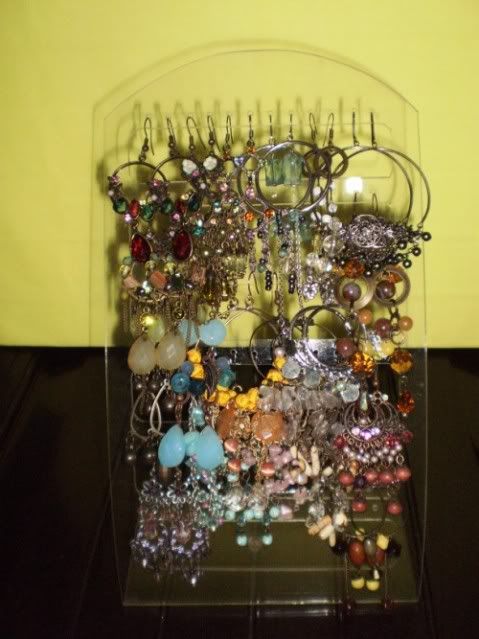 Rather old earrings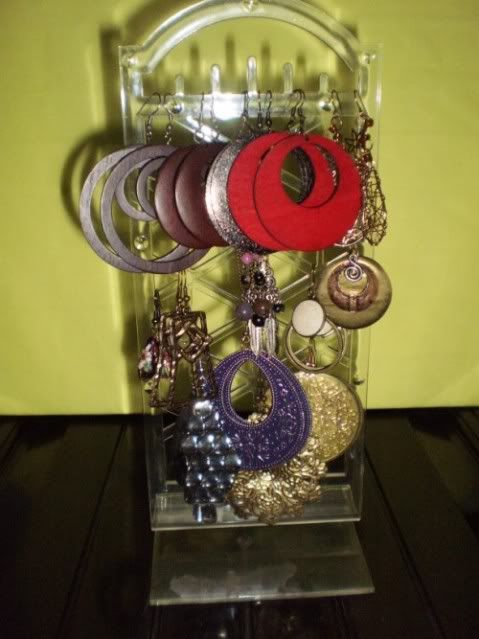 Most-often worn earrings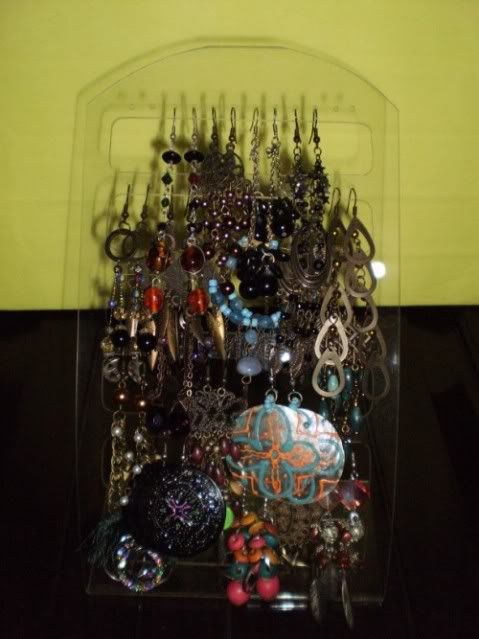 Another group of old earrings, but still wearable
DIY stuff
Then there is this plastic chest of mini drawers.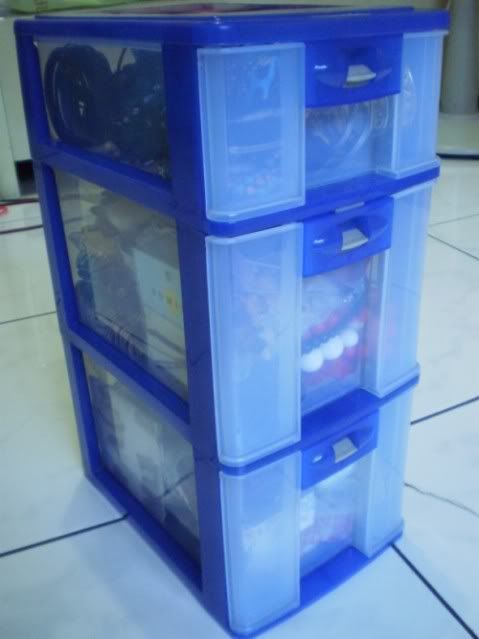 The first drawer is for various kinds of bracelets and bangles.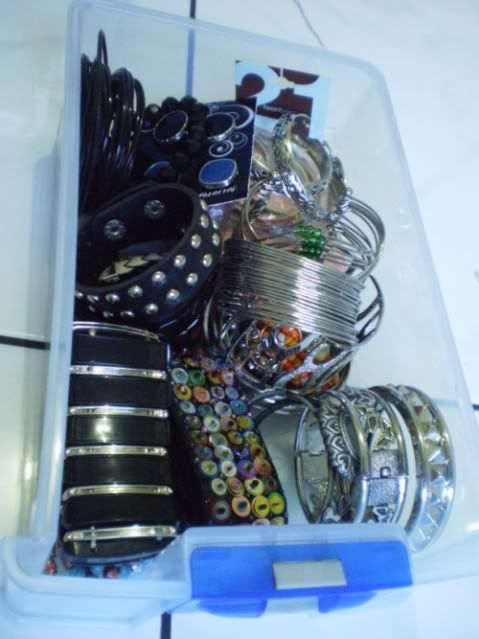 The second drawer is for various types of scrunchies, hair pins, hair ornaments, hair clips, I don't know, you just name it.
When my hair was long back then, I loved buying different hair accessories. I still keep them, cause who knows I might grow my hair long again next time around.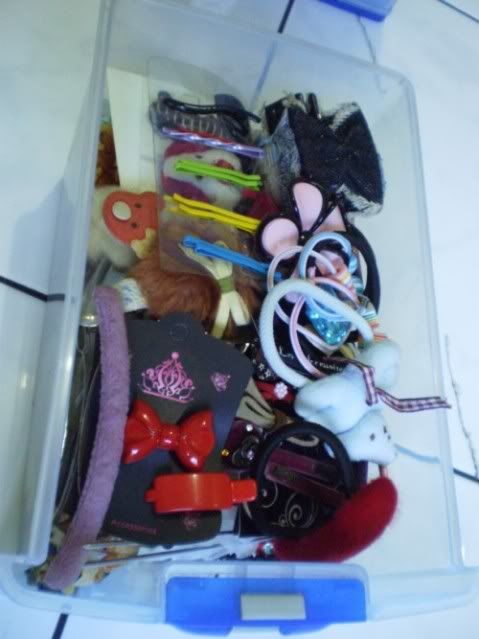 The third drawer is also for storing hair accessories.
This drawer is especially for those with crystals, diamentes or those made of vulnerable material. I wrap them each in a separate plastic wrapper to keep the ornaments from falling apart.
This red Pucca rack is an even mini-er version of mini drawers.
One of my students gave it to me as a birthday present a few years ago.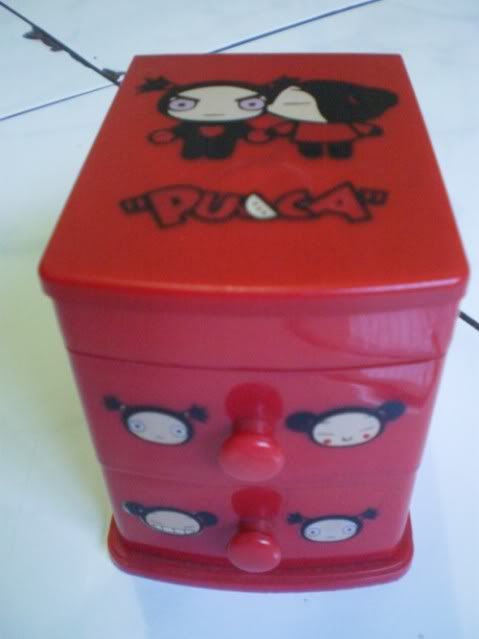 Inside the drawers are earrings (again), but most of them are loop earrings.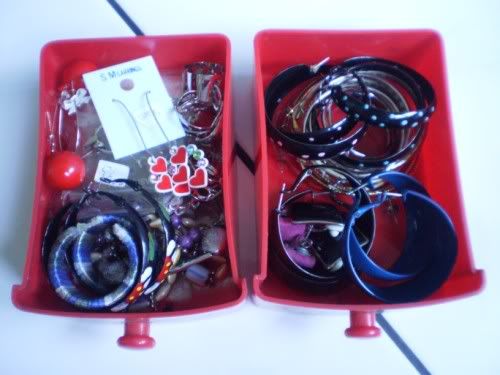 The top part is a flap, with a mini mirror, for rings and small studded earrings.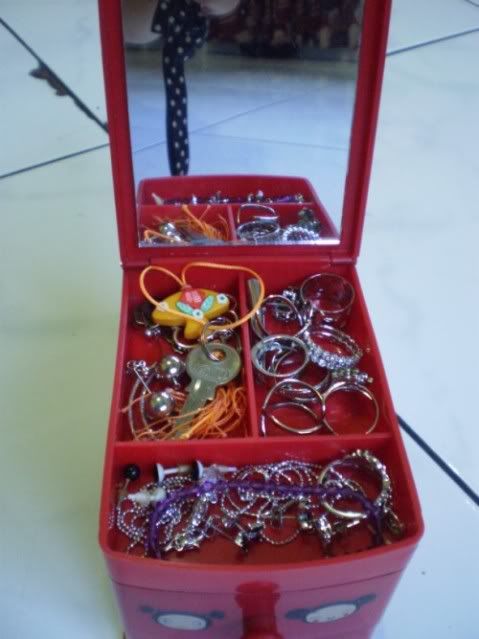 Now this two are for accessories I seldom (or no longer) wear.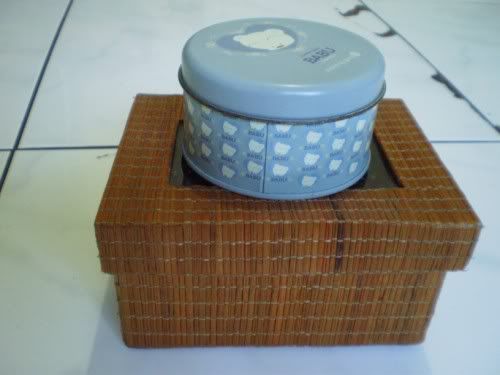 This is for oldies necklaces, wrapped individually to prevent them for aging. Crazy.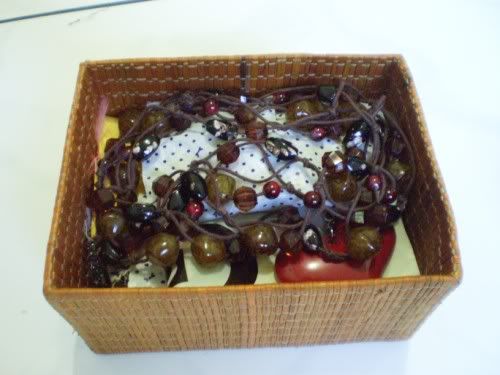 This is for vintage bracelets. Plaited, beaded and the likes.
This baby blue container comes with adjustable spaces. There are mini plates for the purpose as you can see in the picture.
The original function is meant for storing stationery like paper clips, pins and the likes. Instead, I use it for storing the bling-bling ( fake ones of course) accessories.
I'm not really fond of this type of accessories. Too many bling shouts "fake" too loudly.
However, they are very useful when attending formal parties that require elegant lady-like dress codes. Although they are not real diamonds (Korean products), but they sparkle under spotlights.
Imagine what real diamonds can do.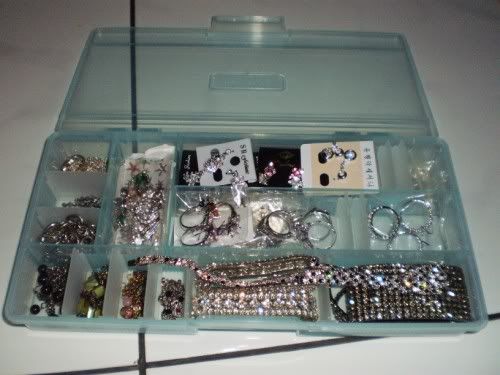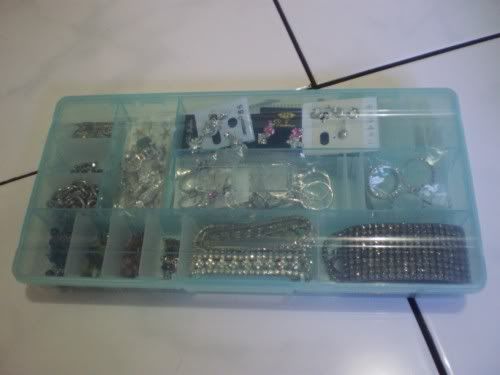 There was a time I was really crazy about head bands. I still love head bands, but not as frenzied as I was before. This is where I put them, in a knitted green container (I wonder if it was handmade).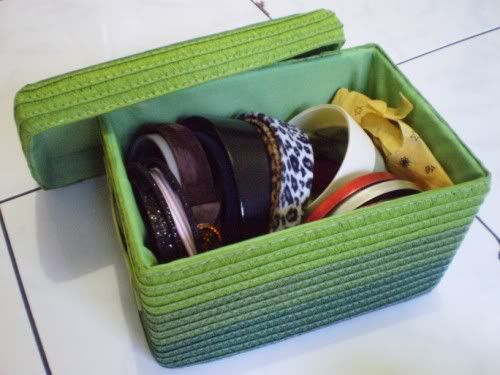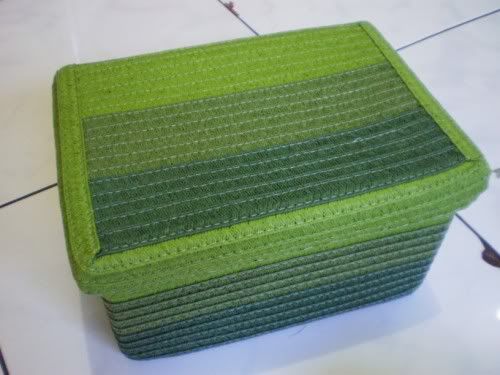 Last but not least ( for accessories department and she is new) is a pink cloth container bought in a nearby traditional market, which comes with separate spaces.
The pink bangle is the first resident. You see, there are still many empty spaces for its upcoming sisters.
OMG I'm insane.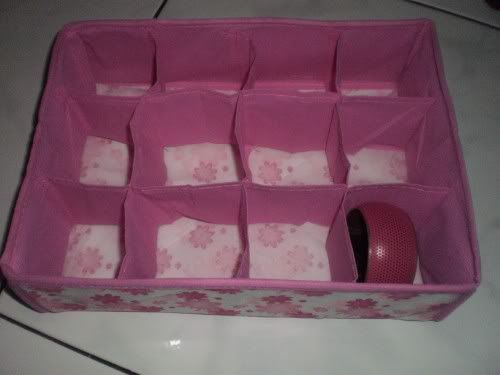 As for my make-up stuff, I throw all of them in this big brown pouch.
The front pocket is for eye shadows, blushers and everything square and round in shape.
The second pocket is for all that come in pencil shape and for brushes.
I don't have as many brushes as Fran. I can't distinguish which brush serves what purpose. I need more tutorial, while Fran is a pro in that department, thanks to youtube online make-up tutorial.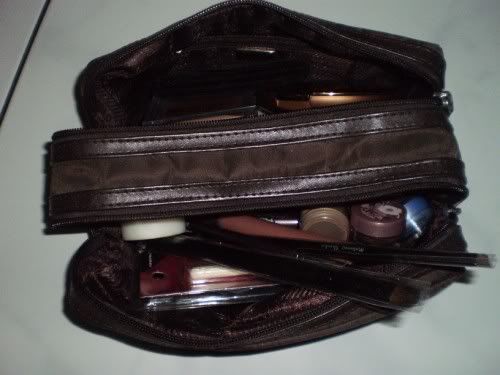 After writing this post, I realize one more other thing : that all the containers are not in harmony. They are like a city full of different races and colors. Hahaha.
Multi racial containers.
In the future, if I were rich, they would have a more decent place to stay in. Something more coordinated and uniform with similar color. A custom-made accessories corner. Even better if I could have my own walk-in closet.
Woohooo.
Just imagining it gives such me a thrill.
The end.
Adios.