Recent hang-outs :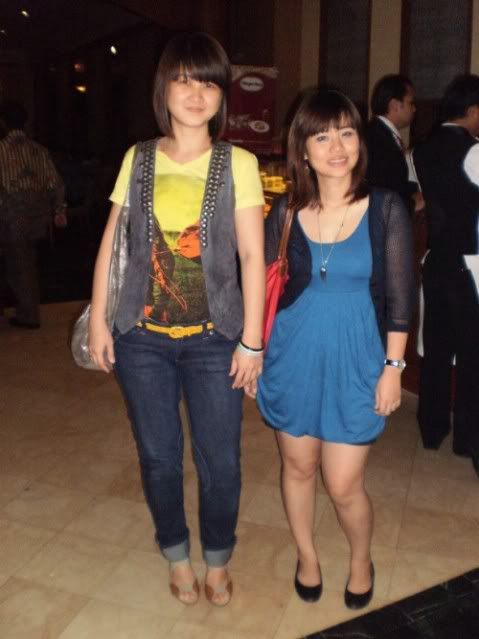 I was wearing yellow t-shirt, with studded vest and MNG skinny jeans. This pair of jeans is my favorite skinny jeans that sometimes I kinda feel reluctant to wear it too often, coz I don't want the color to fade and the fabric to deteriorate.
It's weird, I know.
The color will stay and the fabric won't deteriorate that soon but I have my reasons. This is how I treat my favorite pieces, by keeping them.
Nuts.
Fran was wearing coral blue blouse with MNG cardigans, paired with shorts and brand new flats!!!
Cute ones (ok, I'm gonna name it Cute flats), which I almost bought the day before this picture was taken.
Sometimes it's so funny how similar our tastes are and it's like there's some kind of telepathy going on in our minds.
We definitely see eyes to eyes and we definitely read each other's mind. Hahaha.
Cute coincidence is what I call it.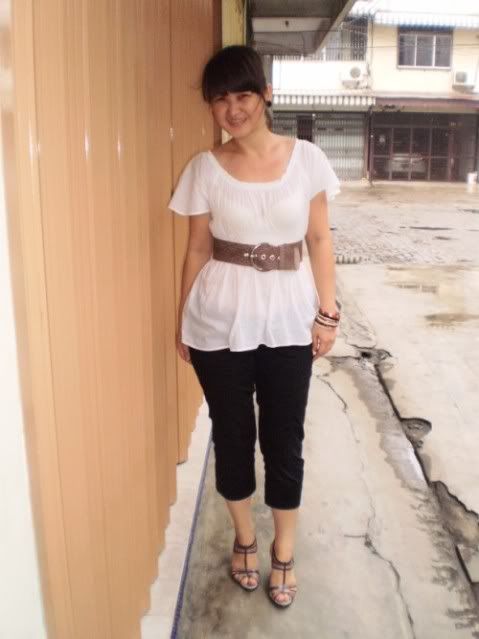 Going out for some grocery shopping with my sister.
White samba dress (this is what Fran and I name this blouse, and yes, she has one too), black cropped pants, brown plaited waist belt and gladiator-like purple heels.
Later at night. To an old friend's wedding, wearing black multi-tiered dress with nude heels.
It's my sister's dress, actually. She has loads of elegant formal dresses which she treasures the way I treasure my shoes.
It's like we complete each other. She has a thing for evening dresses. I have a weak spot for shoes.
"I mean business" evening dresses + "killer" heels = elegance.
Ppl vomit blood all around. Hahaha.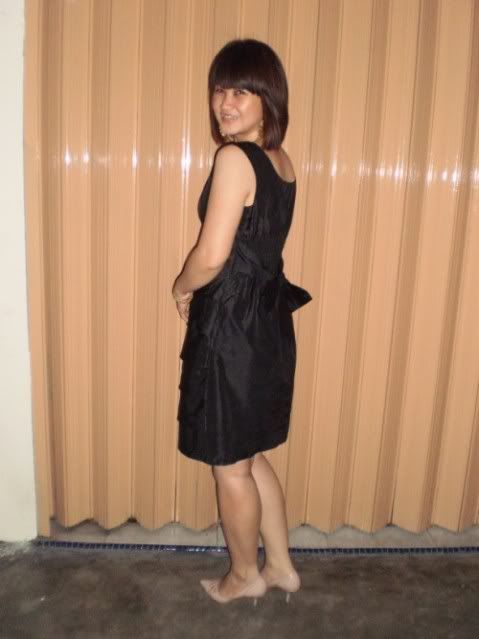 The dress has a bow at the back. The back part is plain without tiers, which is a plus point or else I would look like a walking mother duck with my ass as wide as an ocean.
Tier makes you look wider, you know, from all angles.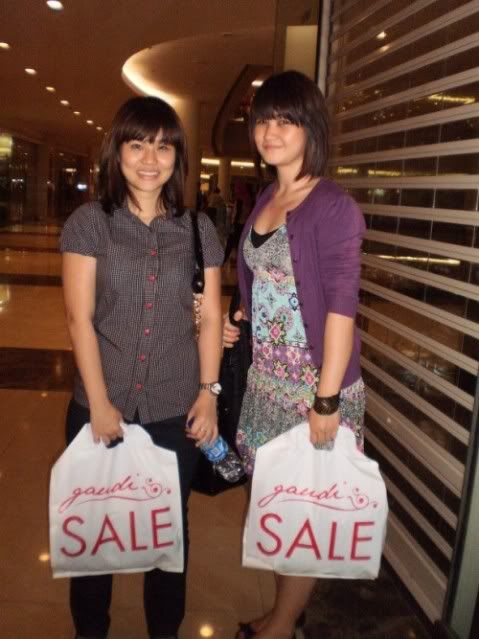 Hahaha...
This is us,out shopping on a happy Friday night. It's been a while since our last shopping session together. Even though it's only for a couple of hours, it's thrilling.
Me : multi color dress, purple cardigan (only 70k rupiahs, purchased in Mangga Dua some years ago) and black flats with bows.
Fran : black and red check shirt, dark blue skinny jeans and Cute flats. The flats are out of sight, too bad.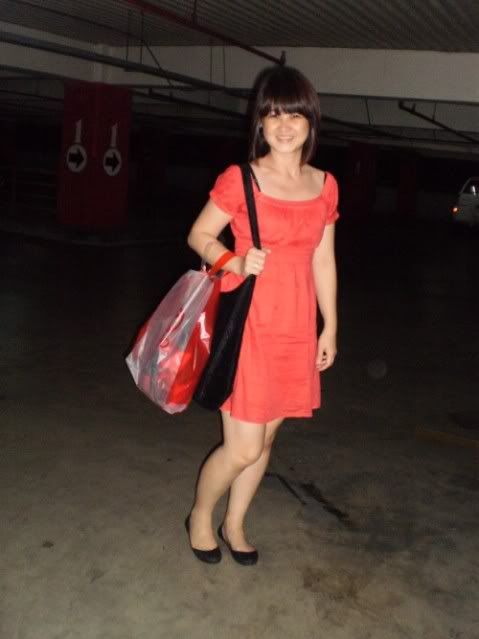 Is this a red dress or not? I keep asking myself this question. The way I see it, it's an orange dress. And I want a red dress so so muchhhh...
.
.
.
.
Anyway, people, the color is orange. Confirmed!!!
I've double checked, so I'm allowed to go on with my quest for a red flirtatious red dress.
(I've told you. A girl is always in a seemingly endless search for new items)
So anyway that night, I was out on a dinner at a mall and then I realized that there was a sale. Some stores were open till midnight and no, I didn't buy anything that night (surprisingly tame). I mean, I didn't buy anything that I want. Inside the shopping bag was new underwear. Shopping for underwear is not counted shopping, ppl. Note that. It's a necessity.
Another dinner.
I don't think I look my best in leggings, but I can't care enough. Hahaha.
This black cardigan has been in my wardrobe for 5 years or more and counting. Black is immortal, really.
My hair needs trimming and restyling so badly. Before I go on that, I think it's the perfect time for headbands or ponytail (err... I mean, tweety bird-tail).
Last night, I left home in this.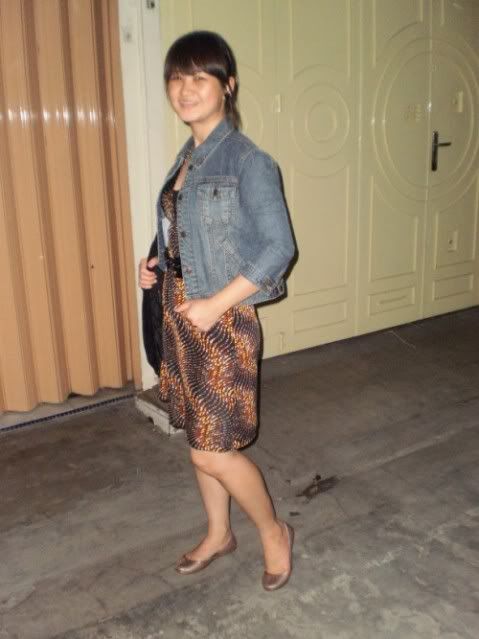 And I came home like this.
The dress is really a bargain. I bought it only for 75k rupiahs. It looks like a batik dress, but actually it's not. If you look at the pattern more closely, you will see that they are actually polkadots all over the dress. My sister said that it's hideous. I can't trust her, because our taste seems to drift apart recently.
However......, I have a faith that she will wear this dress one day later, I know it. It's only a matter of time. Hahaha.
Then, the denim jackets.
My God....
My God!!!!
I finally, finally, finally have it.
It's a gift. A nice gift. I love gifts. Thanks ( you know who you are)!!!