OMG OMG OMG
Stud is everywhere I see. I'm so deeply madly in love with studs.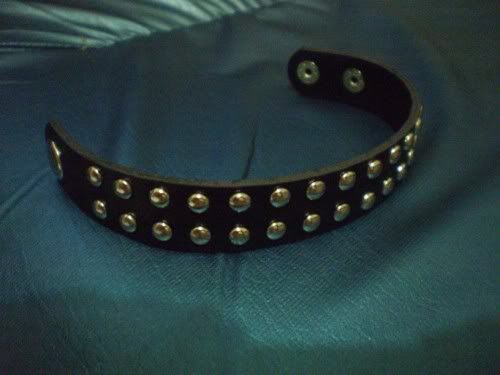 I've got this studded bracelet some months ago at a local accessories store. It was so damn cheap. Rp 20,000. And I thought it was too fierce so I let it stay there in the drawer for quite some time. But now, it's show time!!!! It's time she makes an appearance. Hahaha.
I bought this black stud bracelet along with the previous one. Rp 20,000 too. Bargain price. I wish I had bought the white one and the red one. If only I could turn back time.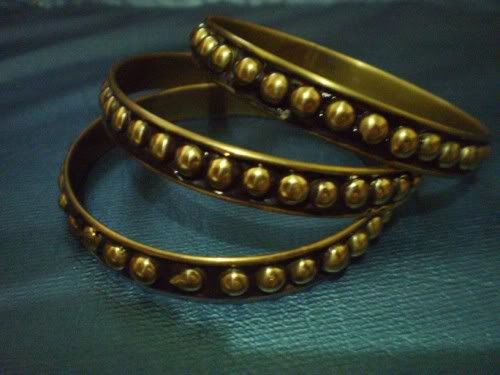 This is the "as if studded" bangles from Gaudi.
I've included them in my last post, but this time they are here together with the other siblings.
And, I've got myself studded belts too.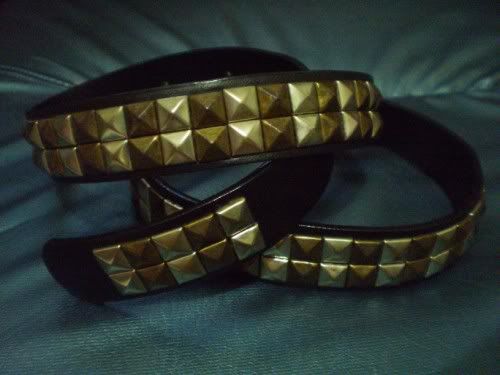 I've got two, in fact!!!
Yayyy... Yayy... Yayyy....
Hahaha
Actually I've been meaning to make my own studded bracelet, but I can't find any shops that sell the studs. Luckily, my boyfriend understands me so much and he got me this:
Next studded belt.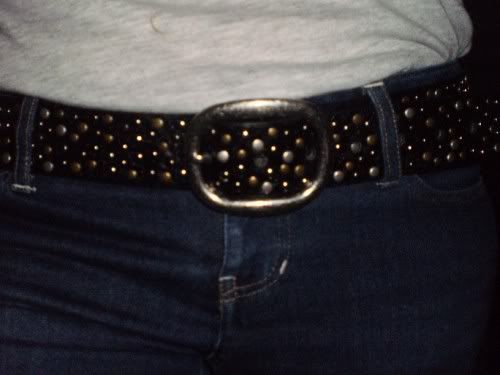 Yayy yayy yaayyy
Then last night on a dinner nite out, Devia came with this :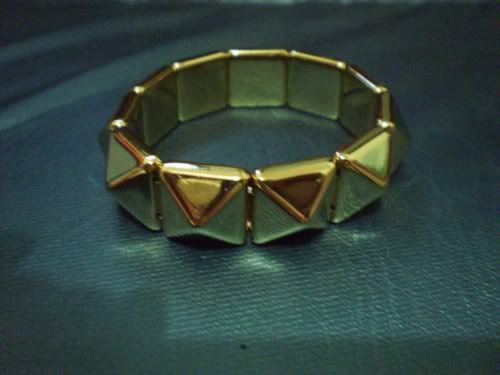 Gold studded (again) bracelet.
I was thinking for like one hour and more, considering whether to take it or not.
And no, I didn't refuse to take it home with me. How could I?
I have a weak spot for studs at the moment. I think I would buy a plate if it's studded too. I mean, you can always alter the plate into something related to fashion right?
Like......
.
.
.
Forget it, I don't even know why I said "plate" just now.
Brain dysfunction.
Now what I haven't got are a pair of studded shoes. Soon, I hope.
I've got another bracelet coming up on the way actually.
-.-' ( I know)
Anyway here are some other "studded" pictures.
Angela's earrings I would kill for. And look at that feather necklace. Yummy!!
Fran's bracelet (the double line studs) I would go on a diet for.
And she got a pair of studded sandals she bought from her recent trip to Kuala Lumpur which I would slave myself for.
I don't have the picture but she will post it later in the next post. (well, actually I do, but the one that I have doesn't do the sandal the justice, so let's just wait for hers)
AND
She also has one, I mean, two studded belts.
Next post, ppl.
P.S. Devia possesses some cool and gorgeous studded items too. I'll have her e-mail me the pics and I'll share them here in the next next post.