Here's another dress-up moment. Almost everybody gathered up last Saturday night.
And girls will always be girls. Not one second is passed without those photo-taking sessions that make the guys can do nothing, but secretly cursing us for the non-stopping taking pictures thing before finally saying, "Let me help you girls out".
That's actually how we get the "amateur" photographers to take our pictures almost all of the time.
I wonder what guys are thinking in their minds when they see us all busy posing, smiling and deciding which angle looks the best.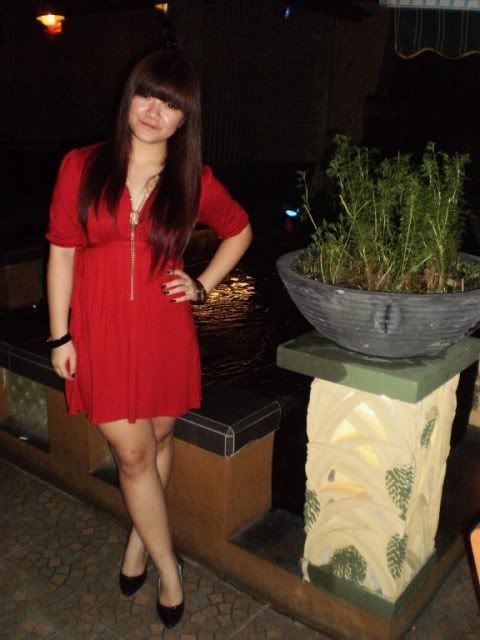 Well.... Shintya Devi.
She hangs out with us every now and then. You'll see her in one or two of our previous blogs.
She wore a simple red dress and black pumps, with a gold necklace that I really really love. I should have taken the picture of the necklace more closely.
And check out her new bang, which I think suits her perfectly.
Actually, I think that the kimmy-doll bang suits almost everyone. No one looks awful sporting that style and in fact, it sheds several years away from our face.
Try it and there........ you'll look much much younger.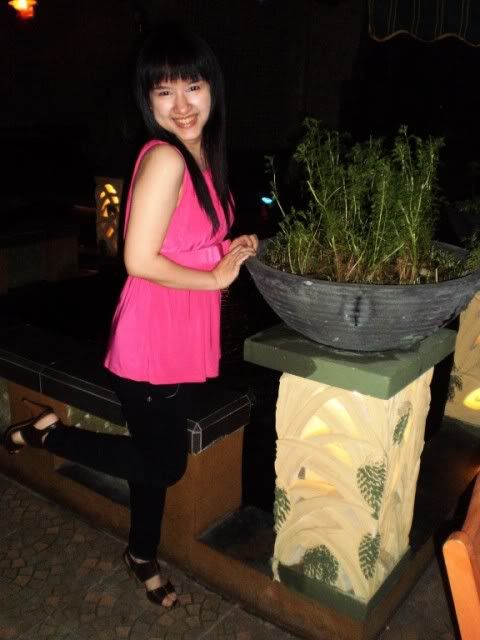 And Efin, in fuschia pink blouse with black pants. Her dark brown shoes come with zipper, btw.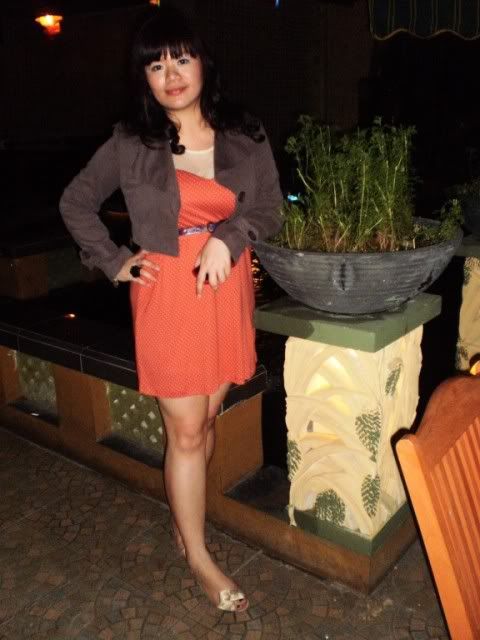 Devia, gorgeous as always.
I love her style. In fact, in every of our hang-out, I'm always very eager to see what she is going to wear. She's unpredictable. And I love it.
She is wearing a dress that I want so bad, but there isn't any in my size anymore. Too bad.
The dress comes with lace on the shoulder part, the reason why I am attracted to it.
Here paired with the dress are brown jacket, waist belt and golden sling back with bows on the front.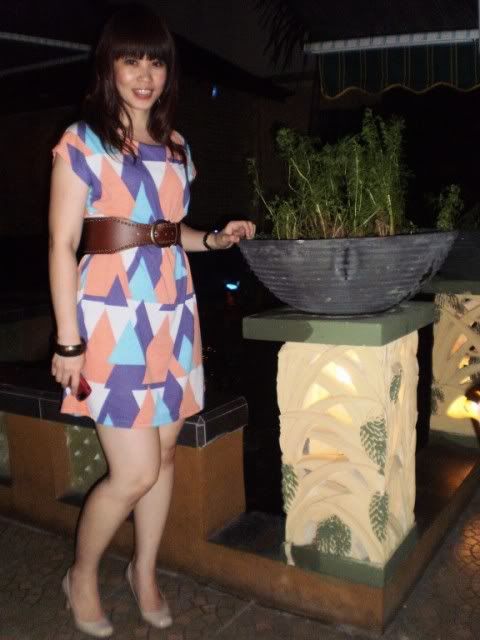 Angel wore a multi color abstract-pattern dress and a brown waist belt with studs trimming (this is to give the slimming silhouette). Without the belt, the dress would look too plain, despite its bright colors, imo.
And she seems to be wearing lots of nude heels recently.
Angel, it's high time you pick some other color and stop abusing my nude heels!!!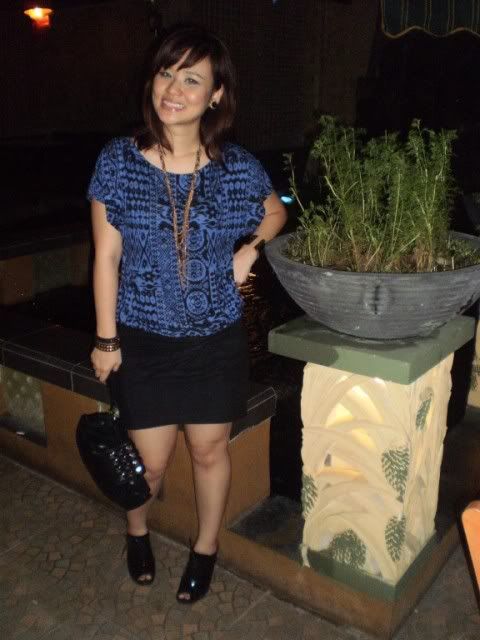 Fran in her electric blue t-shirt and mini skirt, with black peep-toed ankle boots and black studded clutch. She is also wearing some chain necklace (which was posted before here) and of course, studded bracelet.
I can't find a picture of Isabella posing alone like the rest of us, so I pick this one.
She is wearing simple blue dress with a pair of tan strappy wedges I'd kill for.
I really adore that pair she's wearing and it's the best wedges I've ever seen so far.
And I had with me black shorts, dark blue tank-top and white blazer, plus my gorgeous gray shoes (from him, thankss a lott...) with red heels, muahahaha.
It's not a Louboutin, though. I wish I could own one. I know I will, in the future..... (fingers crossed).
And have I mentioned that I really really love this baby?
Closer look.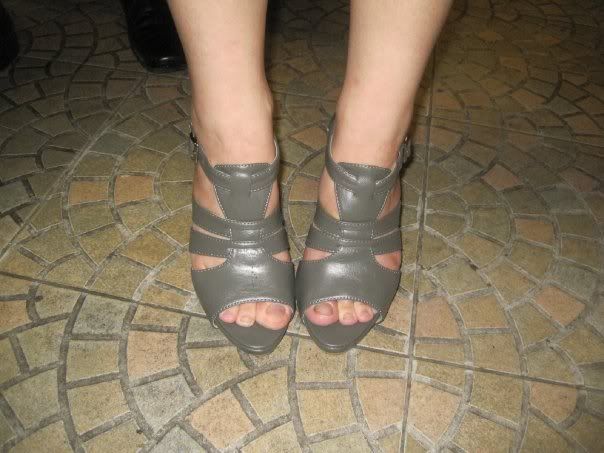 Love love love to the max.
The next day, out on a dinner with my boyfriend at a restaurant, I wore this:
Pink see-through blouse, black shorts (again) and black pumps. That red purse is from him too. Look at its color in the picture, it's so rreeeeddddd.... The actual color is deep red, not that red anyway.
That's for now. I am really looking forward to another hang-out sessions. I love dressing up!!!!!
Every girl does....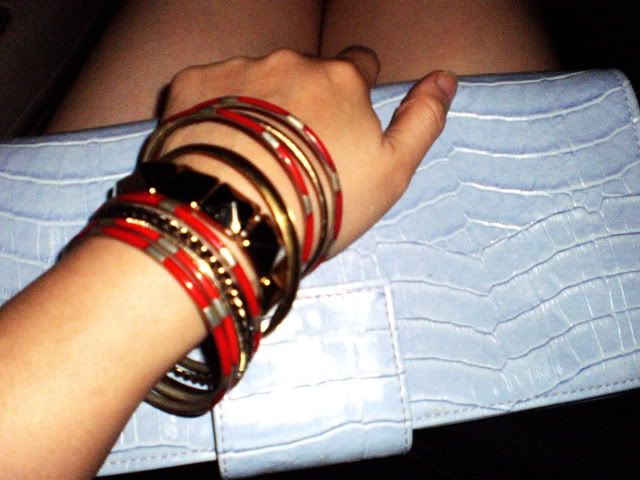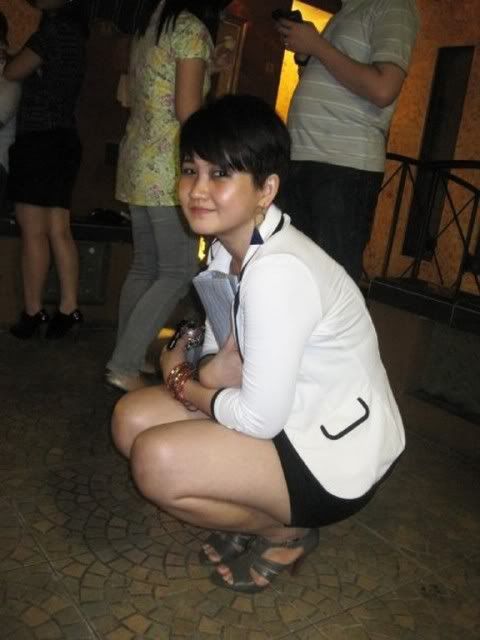 Adioss.... *.^