It seems that tops with exaggerated shoulder are ubiquitous nowadays. Everywhere the head turns ( well, I mean every fashion website these fingers click), you can see models wearing this particular style.
On the second thought, probably not "every", but " mostly".
I just feel the need to exaggerate, since the theme is "exaggerated". You know what I mean.
There!!
Taken from Balmain runway.
Well, I personally think the style is cute and you know, bold, wowww...., but I'm starting to get a bit bored of it already. Perhaps it is because I have seen it too often and I feel like I have had enough of it.
Well, mind the phrase " have had enough of it". It should be "can't get enough of it".
Do I have something like this in my wardrobe? You bet I do!!! Hahaha.
No way I will let go such pretty stuff out of my seemingly evil sprawl.
I haven't worn my top yet. I have it sewed by a local tailor, like some months ago. It is one with big abstract flowers or pattern, very bubbly shoulders and it is supposed to be cute (well, it is cute and I still love it).
She hasn't made her debut yet. She will, later, when the time is right.
Hehehe.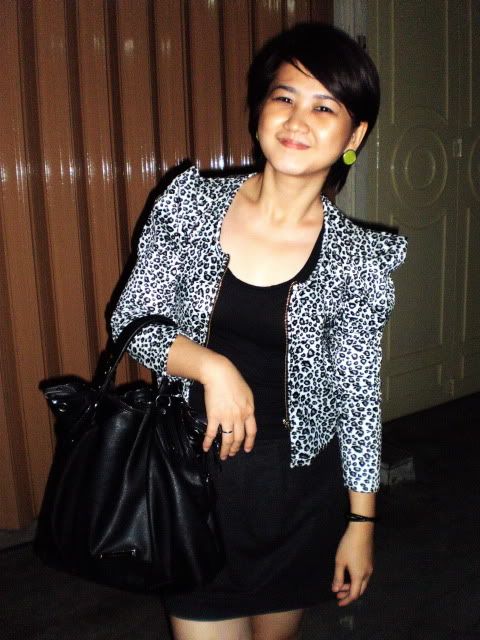 Now, what do you think of this? Leopard motive. Not something you can wear very often, I know, but I am loving prints at the moment. So, yeah, just go for it......
The fabric is velvet, which isn't particularly my favorite.
It is not very pricey, though. You get what you paid for, I guess.
There is actually another navy blazer with pointy shoulders, the one I love more than the leopard one, and also the one that disappoints me the most, because it fails me flat out. Or I fail it? Does it make any difference? I can't wear it. Too tight, damn!!!!
Despite having picked the right size, it turns out that it is NOT the right size for me. The sleeves are as tight as hell.
.
.
.
.
Imagine my disappointment!!
It's like waiting so excitedly for a parcel and when you finally get it, you unwrap it only to learn that your valuable piece is broken.
Or it's like ordering a chicken fettuccine and they make you beef fettuccine instead.
Or more realistically, it's like Fran waiting impatiently for her eye-shadow in *&%$# color and apparently what they send her is an aquarium filter.
And instead of getting exaggerated, my shoulders immediately drop ten levels down and only Balmain military jacket can lift them back up.
What is that thing they call blazer? M size is not that small. M size is not that tight. Everywhere else fits well but the sleeves. I refuse to say that my
fat
arms are too fat. I know they are not toned and in fact, kinda flabby, and that's why I chose M size.
M size = flabby armed-girl. And I am fully aware of that.
You will probably think I am in denial, but I am not.
The prove is, the leopard one fits me alright. Same size. Why not the navy one? Both bought from the same shop. So the only explanation is, the tailor of the navy blazer is a dumb head!!!!
I have to have it altered. If the altering succeeds, I'll post it here. If not, then bye bye navy.
So, back to blazers.
I have small shoulders - thanks my mom- and since it's all about shoulders now, I am involved in deep nasty affair with padded shoulders, bubbly shoulders, pointy shoulders, whatever they call them. This affair is not gonna end anytime soon.
And talking about shoulders, let me introduce you the brand who has it all.
Balmain.
If there was a competition on who is to win the title shoulder master, Balmain would definitely win hands down. I love love love Balmain. I love love loveeee Balmain blazers.
I am having a big fat crush with blazers.
Ting....ting.......tinggg.....tingg......
Time for eye candy!!!
I save these pictures in a folder named "Obsessions".
These are truly expensive dreams. Only god knows when it will come true.
Balmain denim military jacket
Balmain tuxedo
RM silk blouse blazer by Rouland Mouret
RM suit and skirt by Rouland Mouret
Alexander Wang velvet biker jacket
Stella McCartney lace blazer
And these are undoubtedly cheap realities. Hahaha....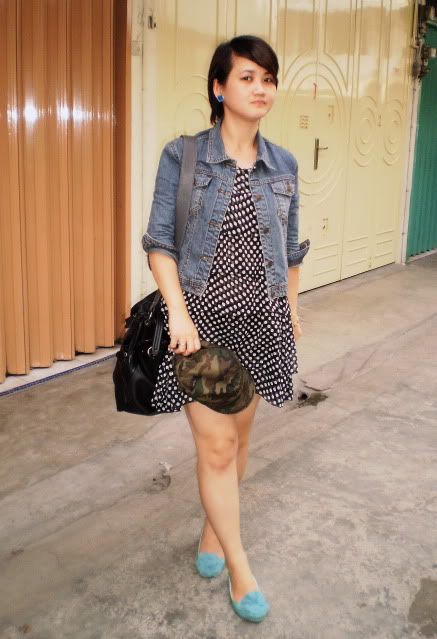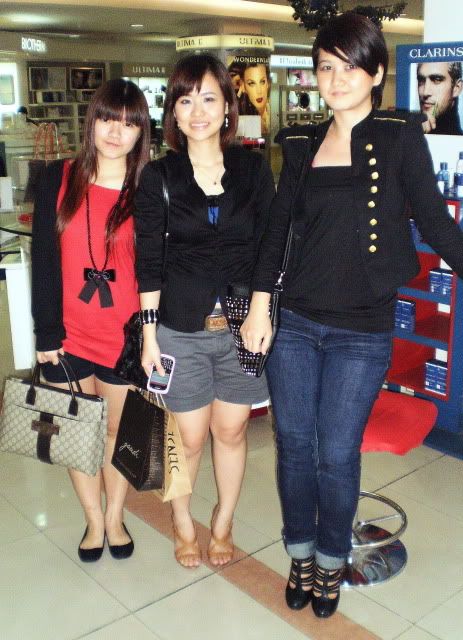 HAHAHA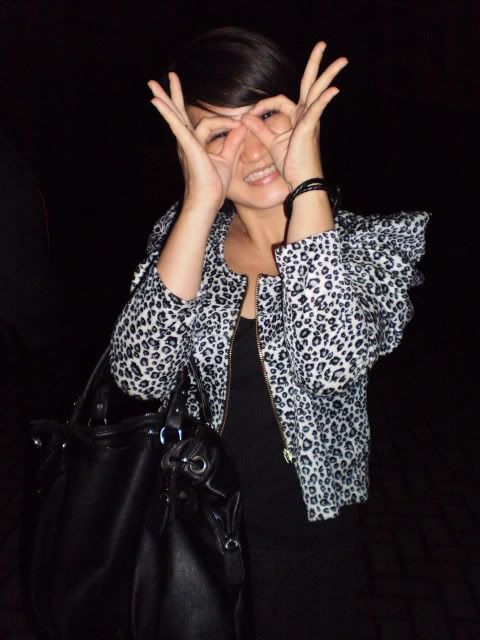 So.....enjoy the last week of 2009. And have a memorable holiday. And, kiss the person you love on new year's eve.
Adios, everyone :)