Hello everyone, welcoming 2010, here I present..... the first post in the said year. :)
So we went to Sabang, a small island, part of Nanggroe Aceh Darussalam province and spent our New Year's countdown there (although we didn't actually do the countdown thing).
I am not so good with using descriptive adjectives and these are all I can think of Sabang : breath-taking, magnificent, splendid, splendid (yes, I use the word twice) and absolutely picturesque. But then, another thought hits me and right now I am wondering, perhaps it is me who hasn't seen much of the world, so once I set my feet on this beautiful island, I was absolutely awed by its beauty. Nonetheless, it is worth visiting.
You should go, people. But..... on the second thought, don't go!!!! Cause if Sabang becomes a popular holiday destination, it is only a matter of time before it turns into another Pantai Cermin, with its cappucino sea and polluted air. Not to mention that everything will be so pricey, starting from the cottage fare to the meal. I will lose my little paradise on earth. Don't go. Let it remain unknown.
Dark clouds blocked the sunset. Fail attempt #1
It was a four-day-three-night trip, so I traveled light and only packed what I really needed there. Everything was stuffed into a red hideous handbag.
Waiting for the boarding call and camwhoring as if we had waited for hours.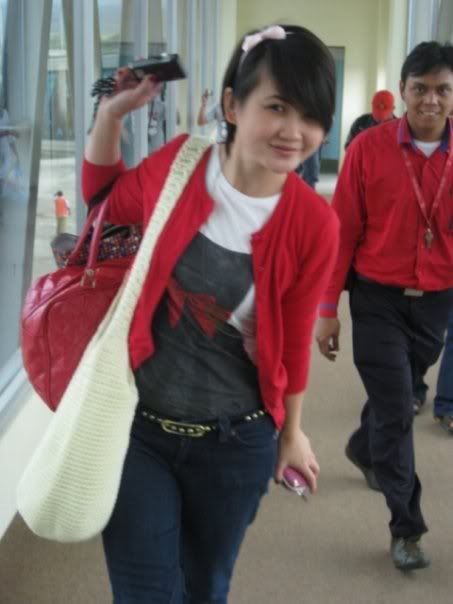 Arriving at NAD airport, Sultan Iskandar Muda. Acting cute and excited.
Now, what the hell did that man do there?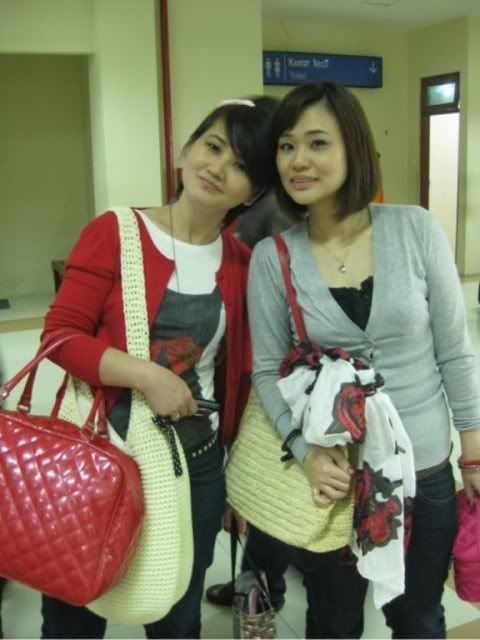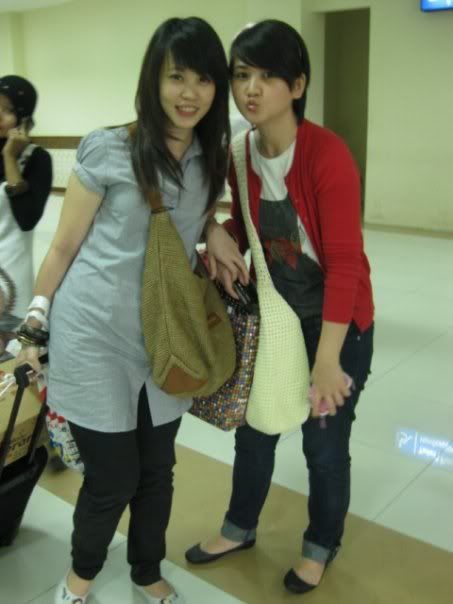 Pose wherever and whenever possible.
Later that night, we had dinner at a downtown small restaurant. I was wearing a pair of black shorts, and one thing to note is, if you don't want to draw too much attention and evoke unusual stares from the locals, do dress modestly. I got the "hey, sexy.." remark while walking along the street. Wtf. I didn't dress to the nines. I didn't show too much skin either. I was as modest as I could be, the only explanation is maybe they are just not used to seeing women in short pants.
Sabang is part of NAD, which has a regulation that bans revealing outfit for the women. So, who's to blame? In this case, the regulation certainly.
It's not my fault I'm hot in shorts. :P
Sabang fair
So, moving on to the second day. We went a place called Km 0, the very West of Indonesia. We went to two beaches. And we went snorkeling!!! Well, actually, Fran and her boyfriend and my sister went snorkeling. While me, I was completely motionless in the water. Just laying there in the shallowest part of the sea like a stupid useless fat log and suffering from a severe headache afterward. What an old chick!!!!
The drunkard Mexican pose
"I don't remember the name" beach
Calender models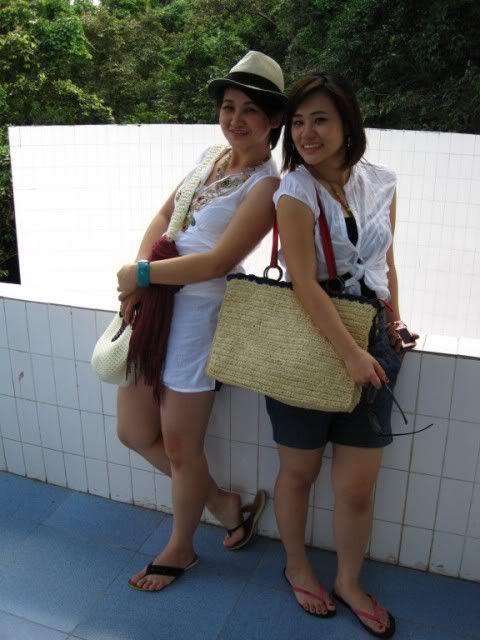 Km 0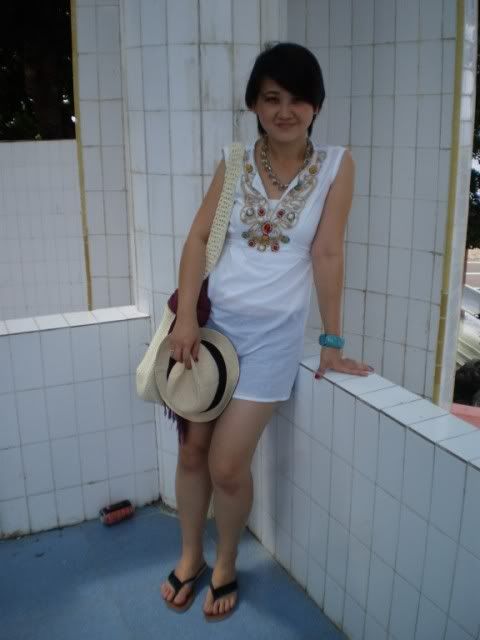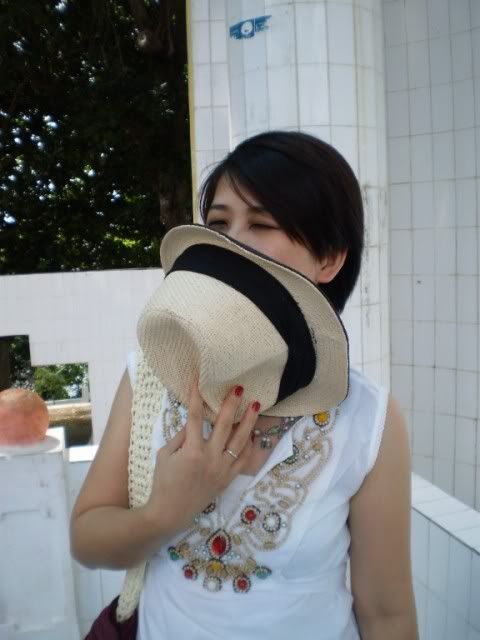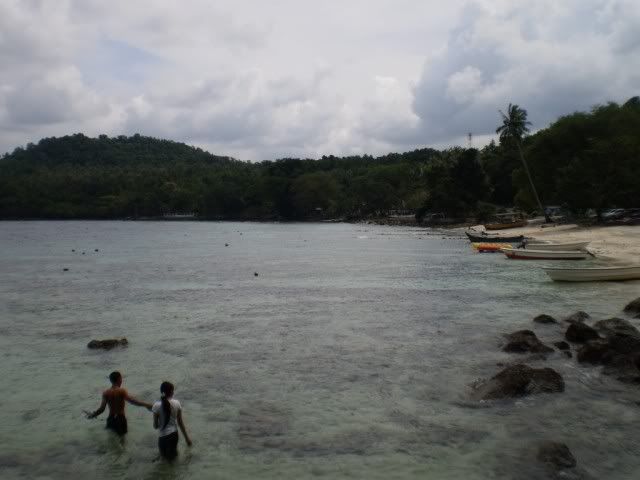 Iboih beach
Shao Nai Nai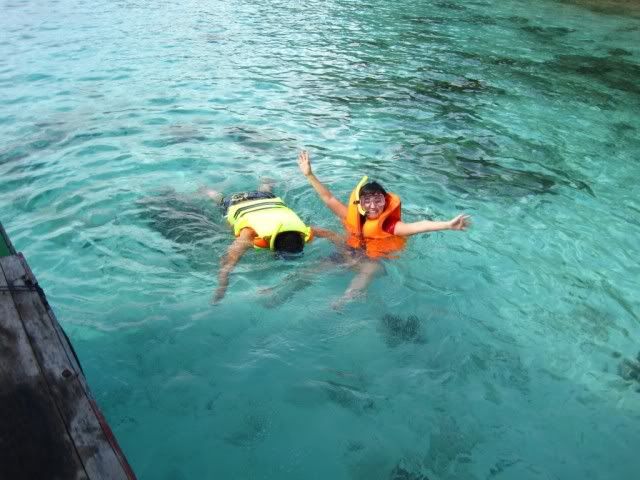 Snorkeling and being thrilled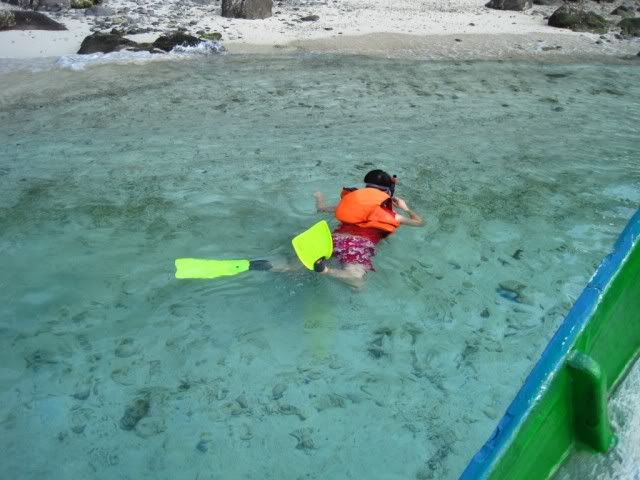 Floating helplessly and being a fat useless log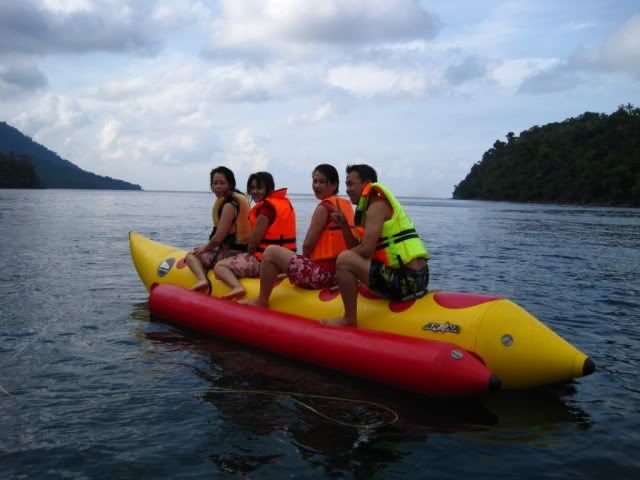 Banana boating!!!!
It was New Year's Eve!!!! And being in a small and remote town, you don't expect to see much. Well ...... guess what!!! They had firework show!!! And again, I -being the person who hasn't been too far around the world or even worse, around Indonesia- find this a new experience to date. Hahaha.
New Year's eve dinner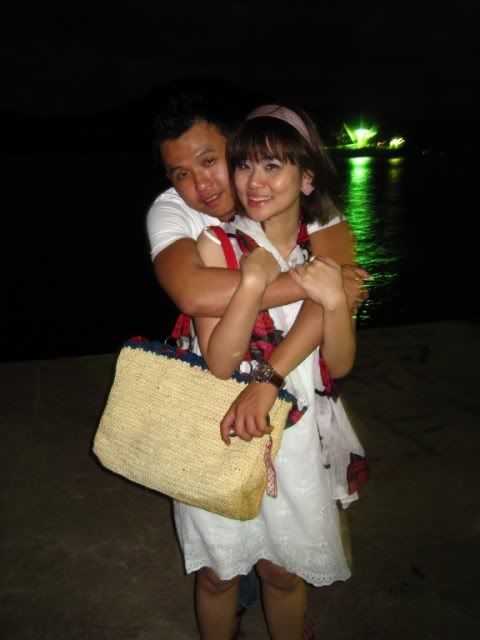 You have no idea how much they're in honeymoon mood.
Smooch smooch.... lubibi......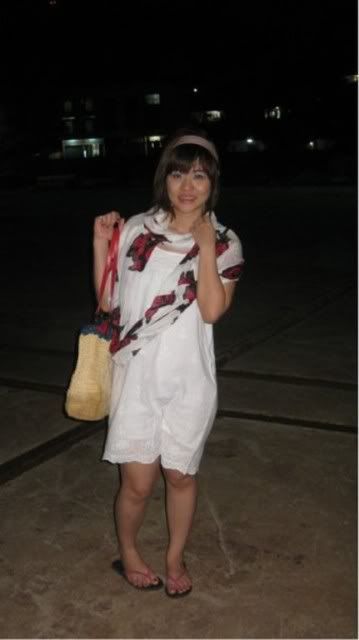 The third day is another beach trip. This is Sumur Tiga Beach. Quoting Bruno, this beach is
uber
pretty!!!! And camwhoring is a necessity, so here goes :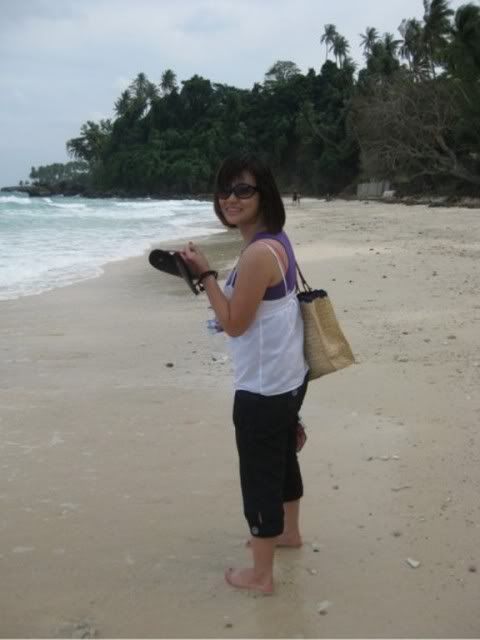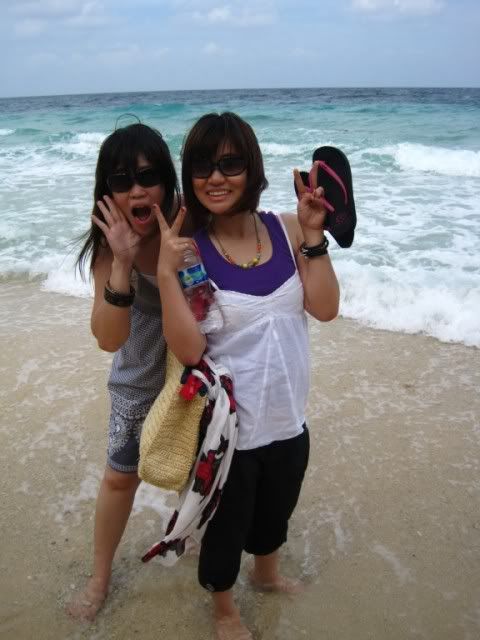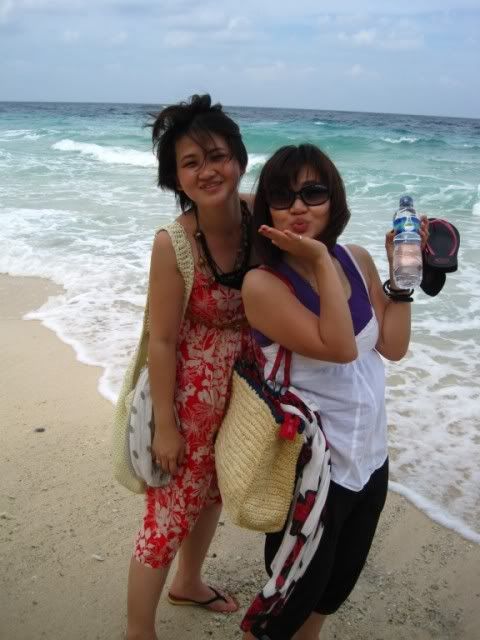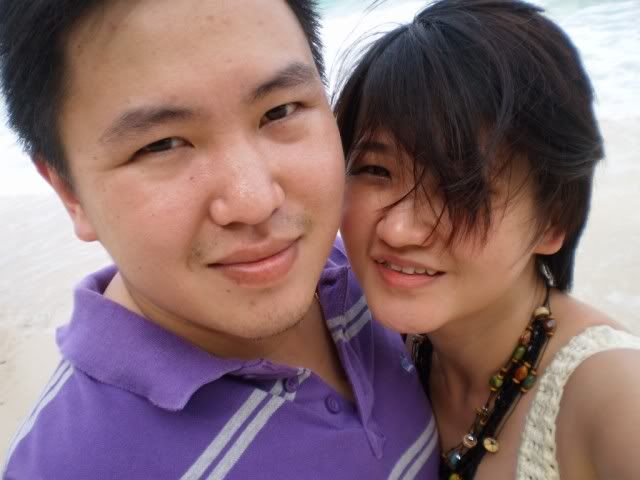 Didn't we shine? literally?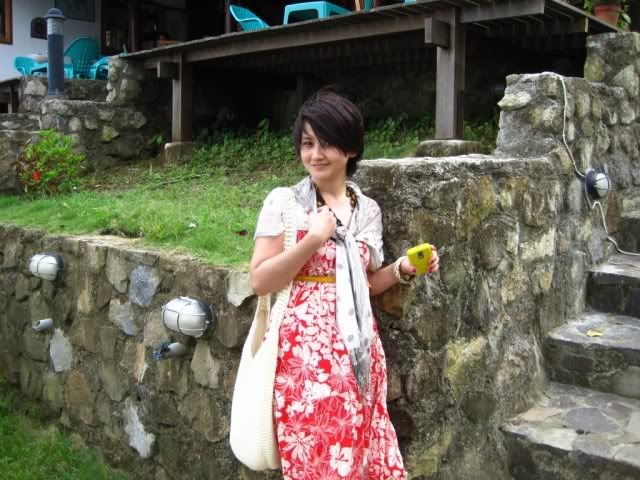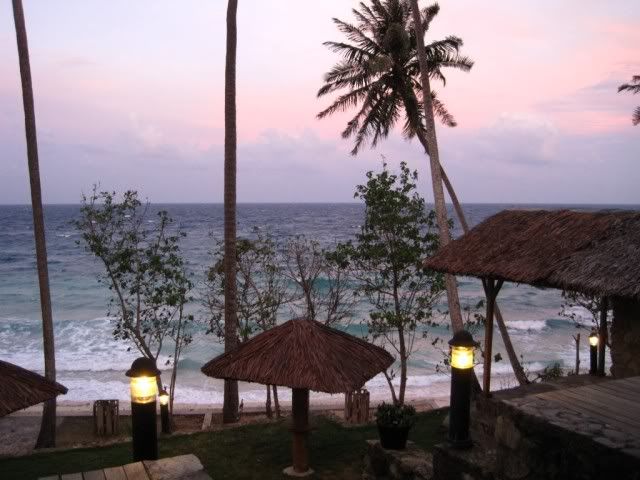 This time the sunset was more well-captured, although it's not perfect.
Not-so-fail attempt #1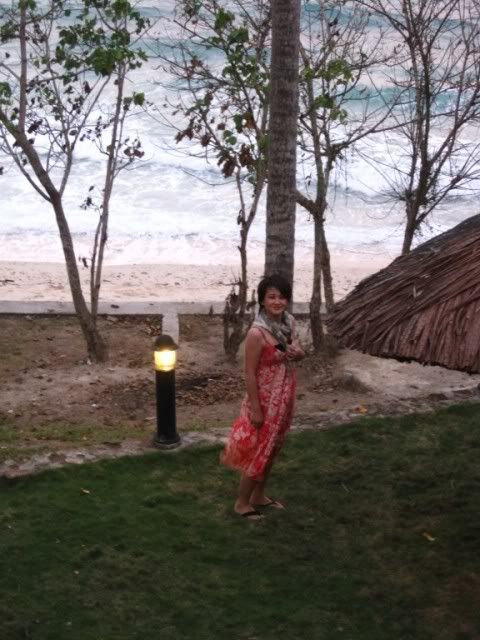 The fourth day, heading back to Medan. Look at us. The so-not-want-to go-home look and outfit. Boring...........
This is not some fancy trip, yet to me, it is a perfect getaway from my boring, monotone, full-of-pressure life. And of course, it is an excellent opportunity to play dollhouse, y'all!!! It is like a themed occasion. I always love events with dress-codes to follow. In this case, the theme is "Tropical Beach"
And read what Fran said the other day after we're back to Medan.
"We only went to Sabang, but look at our outfits. It is as if we were vacationing in Maldieve!!"
HAHAHA.
Well, she said so, not me. I don't think we are Maldieve quality yet, but..yeah...., we did look nice.
In fact, Fran came up with an acronym to the situation.
WWSC, stands for why we so cute.