Why do women shop? Why do we need tons of shoes and wardrobes of outfit?
Simply put, because we are women. But again, why??
I ask myself this question many many times and trust me, till the moment this blog is posted, I still can't figure out why.
What comes out in my mind are other questions.
How do some women resist shopping?
Why don't they shop?
Don't they think that that A dress suits them very much when worn with this pair of B shoes?
Can't they see that this C item shouldn't be missed, cause it is really... really... crucial and vital and it can perk up that particular D purse they have at home?
It is kind of a bless if they don't, anyway.
Cause I start to think that this thinking is a curse, you know what I mean?
Or greed? Or abstract temporary pleasure?
That day, I asked Fran, " What do you think of your "this" shoes? Do you love them?"
She replied," Yeah, I guess they're okay."
I said," That's it? Like no 'yay', 'woohoo' or what?"
She just answered ,"Then, what do you expect?"
Well, I don't really remember what the rest of the conversation was like, but that's the rough illustration. I hope you get what I mean.
We girls shop and shop and shop and we come to a point where we feel no more excitement about it. Cause it has become a part of our lives which we take for granted. We don't value shopping anymore, as it has become so common....... to us.
This is wrong now, because shopping is a sacred ceremony. It is supposed to bring fun and joy and most importantly, excitement.
This ain't an achievement or the likes. Neither is it a pride. The fact is it's more like a shame.
And that's why I told Fran that we are not normal anymore. We have exceeded normal.
B.A.D.
.
.
.
.
.
Close to becoming a shopaholic
.
.
.
.
.
Disaster in the making
Well, I admit one thing, though. I can never give up shopping. I have given it a thought and I know I am not that person who can live with 2 pants, 4 t-shirts and 2 pairs of shoes. The numbers are random pick, so yeah, you can replace it with other figures, cause I don't know what figure is considered normal.
I keep chanting this to myself every time I see a thing or two that I like ," You have to know your limit. You have to know when to stop."
Now, that........ is the hardest part,restraining yourself from reaching out to the rack.
And I know I have improved a bit,even though just......... a tiny bit.
I don't shop as much as I used to. I shop more wisely now, hahaha. I think I do, honestly.
And hey....at least, that's an improvement. You don't expect a machine can work its best without being preceded by many fail attempts , do you?
In this case, I am an infant. I take baby steps, okay....
Well, this is the prove. I only bought one military jacket this month within.
I didn't really buy it, anyway. Cause I sell this in my online store, so technically I didn't buy it, I just took it. So, this isn't regarded shopping, is it?
Err...actually, there are a sling bag and shorts from MANGO end season sale. And a studded purse and a simple statement necklace from an online shop. Hahaha, not that scary I guess.
So I went to a wedding party a few days ago, and I, being a good girl and all, didn't go for a new dress for the occasion.
I wore the old dress I wore to Fudin's wedding. The long gown with bright pattern.
But this time I added the statement necklace I bought and I think the necklace really perked up the dress. :)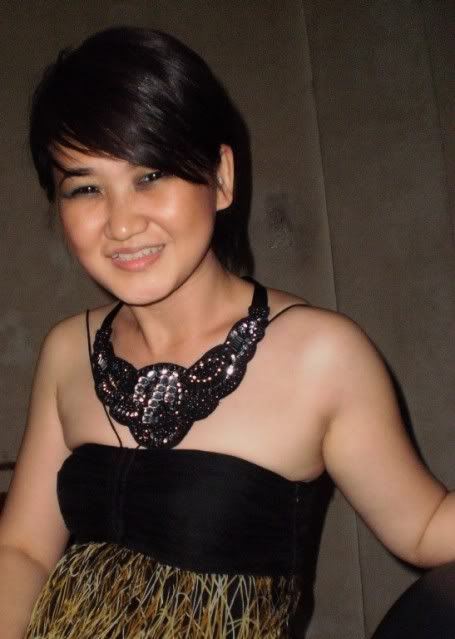 I am actually eye-ing on this one, this embellished necklace, which I totally fall in love with the moment I saw it.
But..................I am tight on budget, so necklace baby, you have to get in line. I need to prioritize.
Sucks big time.
Btw, if you love it, you can order it from my online shop, thechicks" dollhouse :)
These are pictures from last weekend :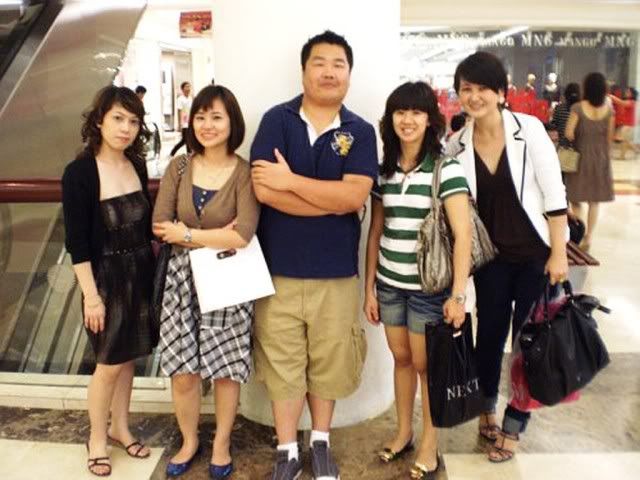 Hanging out with Fran's cousin from San Francisco, Jeff .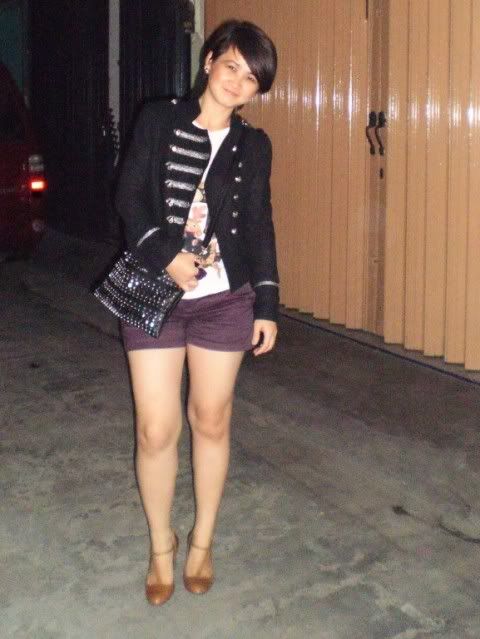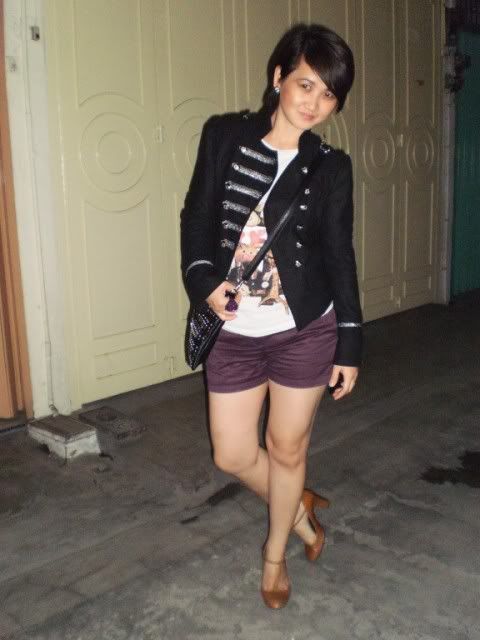 I am deeply in love with military jacket that I post three pics of me wearing it in a row.
Hahaha
And this short polkadot navy scarf I had around my neck is also my new-found love.
I usually wear long and flowing shawl, so I think this is a nice change. I found it weird at first, hesitated a while, but heck... who cares? I like playing dollhouse.
And I have watched Avatar!!! It's a great movie. A perfect film choice to end 2009, cause it's so beautiful and won't leave you feel miserable about life, no matter how suck your life is.
Hahaha.
I am going to watch it the second time. Yes...it is that good, imo.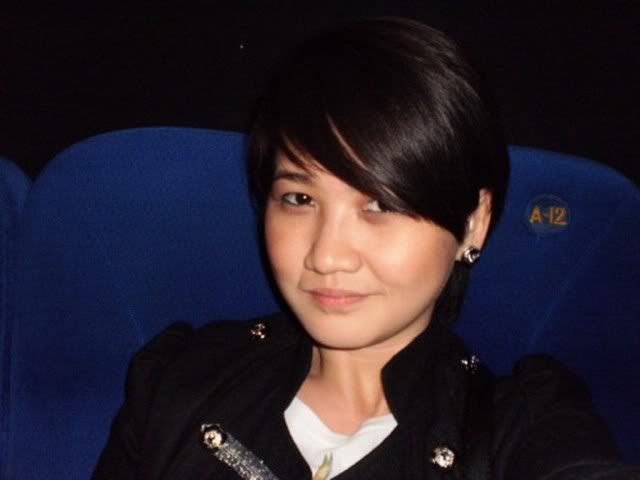 Me in the cinema, taking pictures to record the sacred "Avatar" moment. Too bad I didn't get the chance to capture picture of us wearing the 3D glasses.
I know......I know...... I am starting to sound like those commoners who take picture of themselves wearing a 3D glasses because come on........ when else do you get to wear one? I think everyone think they look cool in those stupid glasses. Hahaha, sarcastic me.
(Honestly, I did take a picture of me and my sister wearing the glasses, but it is in my BB, so hahaha.........who's talking about who now?)
And in fact, why do most people think that they will look cool or in fact, do look cool wearing sunglasses? Sunglasses fans (sighhh....). Lives are too boring, Iguess, that they feel OTT in just wearing a rayban, which to some others ( the real people) ,it is merely just another glasses. Poor them. And yeah, again... sarcastic me.
Now, that has nothing to do with the content of this post. Just a random thought.
Well, holiday is coming and this is one of many moments of the year that I really enjoy.
Although I don't celebrate Christmas, I love the snowy peaceful atmosphere, like that in Christmas movies, u know. So let me wish you guys all.......... a merry Christmas and a prosperous new year.
Adios.........^.*