Ladies and gents, i present you...... my favorite skirt at the moment, a custom-made skirt..... THE floral skirt.
It's said custom-made for some reasons (who knows you might think there's nothing oh so special with the skirt). First, I picked the fabric. Then, I picked the model (though there's nothing special with the model) and it is really my size, so the conclusion is it is perfect to the detail. For those reasons, I think it deserves to be called a custom-made skirt, you know, as if it was THAT special. No, not as if, cause it IS that special.
Yeah, whatever....
I seldom find a skirt which fits me perfectly well. If it is not the waist, being too loose, then it is the hips, being too tight.
So it is sort of flowery or abstract, I'm not quite sure, and the only color that popped up my mind to pair it with is white. Well, it is a safe choice, I know. I have no cute tops. Actually, I was thinking that a polkadot top would look absolutely nice with the skirt, but I have no such top, so ..... back to basic : white. You can never go wrong with white.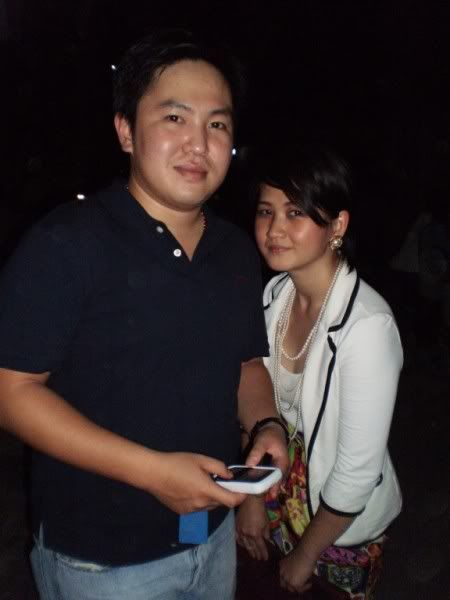 I am so into motif lately. My wardrobe hunting recently is all about motif and pattern and bold colors. I bought this faux-snake skin over-sized clutch last month on MNG sale. I love the snake skin, the color and the size. And since Fran also thinks that snake skin is cute, plus I had been weighing whether to buy this clutch or not for quite some time, imagine my excitement when I found out that it was on sale. Woo...hooo.....
Now of that, I certainly didn't need to think twice. So, home she went with me.
The pearl necklace is from my online shop. :)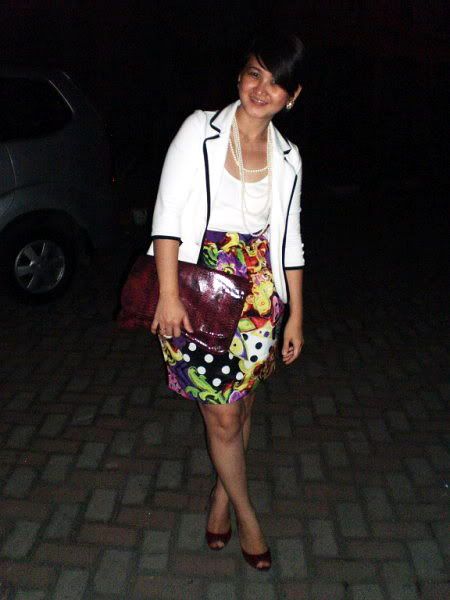 She gets along quite well with the skirt, I guess. :) :) :)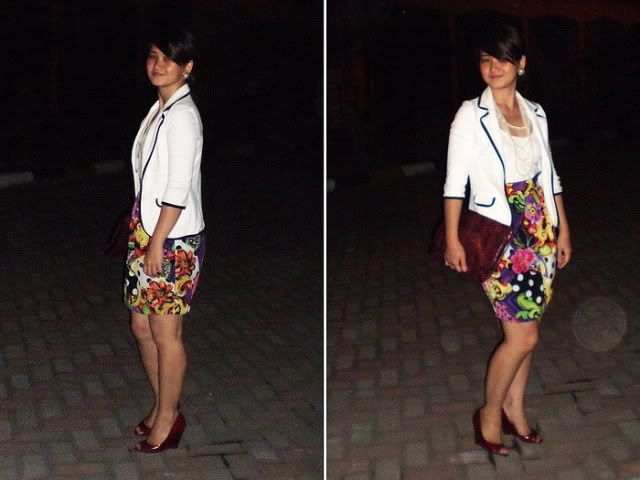 Fran said this was "Ibu Pejabat" look.
Anyway, look at the beautiful background. This was taken at an international franchised coffee shop located in a local mall juxtaposed to a not so local hotel, which is beautifully decorated to welcome Chinese New Year.
Ohh... I just love this festive season. Just a random thought, though.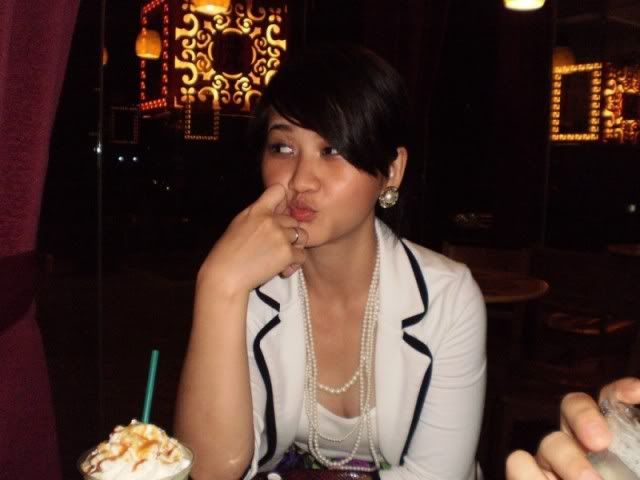 Let you look one more time at the decoration. You have to look closely, and use your imagination. The ornament is red with a touch of gold. I know it's not too clear, but...... considered seen and acknowledgment gained. The decoration is pretty.....!!!!!
Chinese New Year is often associated with red and gold colors with all its hustle activities and preparations, not to mention the loudness, but somehow I just enjoy the spirit.
So, yippee...... It's only two days away.
:D :D :D
So everyone, have a prosperous CNY and may you are all showered with lots and lots and I mean, LOTS of red pockets with at least six-digit nominal. :D
Adios .....