I'm thinking about how else I can wear this glitter top, without looking too much. Hm......
The idea will pop up my mind anyway. It always does.
So, here below, the glitter top looked kinda formal. Well, I was going to a friend's wedding, so the purpose was to look formal.
I tried the top on, I put the skirt on, I stood in front of the mirror. Not bad. Then I accessorized with sequined necklace and bracelet, I grabbed my clutch "of the month", the red snake skin one. Then I stood for a while in front of my shoe rack, weighing between red patent wedges or black patent pumps (meanwhile thinking how perfect it would be if i had a pair of sequined shoes) before finally decided on the wedges and stormed out of the house.
I do realize that people don't wear two pieces to formal parties. So, I was thinking, have I committed a fashion crime?
Well..... well.......you decide, but you'd better say "no"!!!
I had nothing formal or elegant enough for the reception that night, I lacked the preparation like I always do, so that's why I decided to come out like this. Besides, it looked okay, I think. If I aim to dress all out, I can do a million times better that the others .
(Oh, you should trust me ppl, I am good in that department. Not bragging, but hell yeah, I am just that good!!!)
Hahaha, I'm kidding.
So, what can you call this look? Well, I name it "semi formal gothic chic".
:D :D :D
It is kinda formal at least. I can't care less.
Combos for the night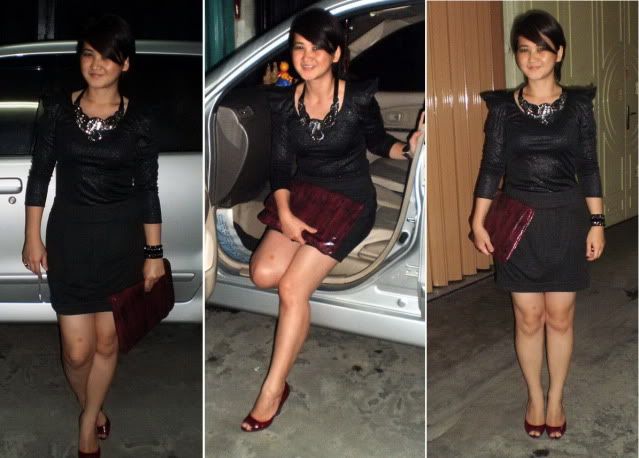 :D :D :D
Adios....... :X