Do you happen to know that the word "denim" was actually derived from a name of town in France, de Nimes,which was the place where this fabric was first made and worn? It was later shortened into "denim".
It's kinda funy, I think.
So,I'm almost sure that everyone owns at least one pair of denim pants and nothing is more comfy than wearing a pair of good jeans. Well, I think in the history of denim, we all owe big thanks to Levi Strauss, the pioneer in blue jeans industries.
I rarely wear jeans on weekends because I already have my jeans moments during the weekdays. However, since these pairs of jeans are still new, I guess they should be given the honor.
I love weekends a lot, and everything that I wear on weekends are stuff that I consider special. My weekdays perfumes and weekend ones are different, too. I don't know what kind of mindset that is, but I just love............ weekends and holidays.
Please excuse the lame editing. I am so sleepy at the moment.
So, talking about Levi Strauss, the dark blue jeans I was wearing is from Levi's ladies. It is affordable, and it is really really comfortable. It costs less than 400,000 IDR. I know it is not very cheap, but for a pair of jeans this comfortable, it's worth the money.
A good pair of jeans will last for as long as you want them to last. Plus, it is a good investment, on something that can last like some 10 years or more. This saying is often heard but rarely done. So, start now, ppl!!! Invest!!!!!
Talking about good jeans, Levi's is like a household brand. It is affordable, sturdy, comfy and never goes out of date, especially if you opt for Levi's 501. This particular type has a unique story behind it, but I am too lazy to describe.
You know what you should do? Google it. Get back to me with the answer and I will give you a second hand Levi's pants.
You are not such a fool to believe me, are you?
But the unique story part is true, anw. Search for it!!!! Function your fingers!!!!
The other brand I usually wear is MNG jeans. The price ranges from average to expensive. Personally, I love this brand. However, some girls think that the design and the color are a bit turn-off. Well, as for me, I am particularly interested in their design and cutting. Nothing fits my huge hippo bottoms as good as MNG jeans. The only downside is its sizing, which is a bit inaccurate because it is different for every design. I guess, somehow they forgot to set a standard sizing to all their manufacturers.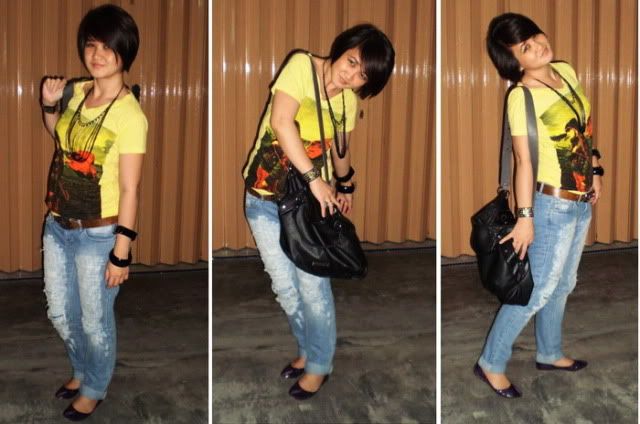 Take this shredded light blue jeans, for example. My sister picked the usual size and when we tried it on, we were aware that it was a bit loose. But since it was the last piece and moreover, she was madly in love with shredded jeans, she decided to just go on with it. True enough, it is really really lose on her. Well on me, it is quite loose and although I have to wear a belt to keep them in place, I don't mind. It's better for an outfit being too loose than too tight. Well, I don't think my sister will ever wear it for the third time. The jeans will soon be mine. Yay.....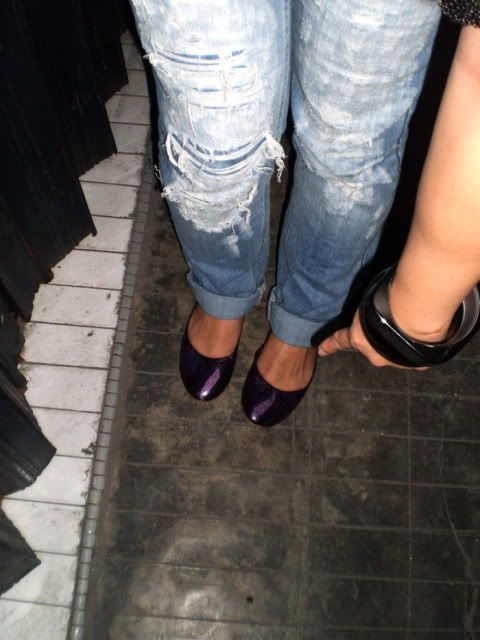 The shredded front part is my favorite part. And look at my snake skin purple flat. Cute, no?
Thank you!!!!
The snake skin motif is not very clear here, though.
And here's my sister. She complained that I seldom feature her in this blog. Haahaha.
Here goes your poses, sis.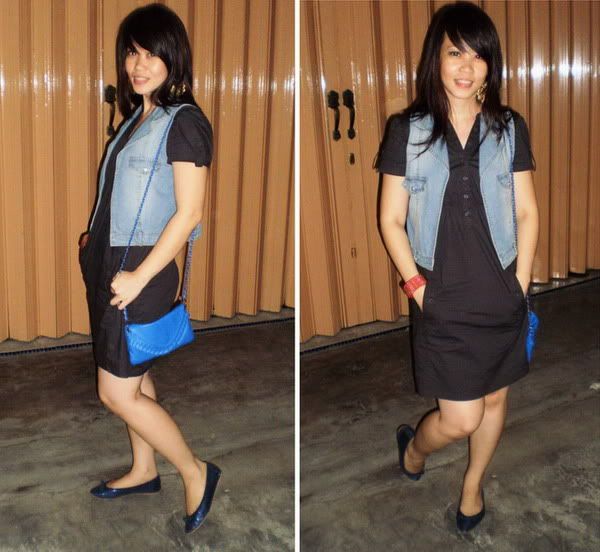 There are still lots of good brands out there. Really really expensive jeans and by expensive, I mean literally, expensive.
My advice is find a brand whose cutting suits your body the best and stick to it your whole life. Jeans has become a necessity in one's wardrobe. You can never go wrong with a pair of jeans. True?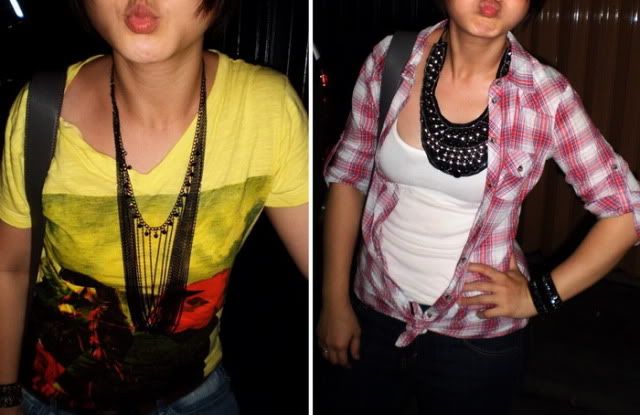 That's it for now and good morning everyone, cause it is one a.m in the morning. I am insane, I know. I am officially a fugly night owl.
I am working on the next post. Till then, adios ppl.