A couple of weeks ago was our 7th anniversary. It is a long way to go, huh?
Every year it always feels like it's just last year we started seeing each other. Perhaps this is because big portion of the seven years was in the form of a long-distance relationship. And this year is actually the third year of the seven years that we are together in the same city. It is a long way to go. I didn't realize that we are that 'old' already.
My mom said,"If you were married then, you'd be a happy mother of one or two kids now."
Oh, plee...asee....!! That saying is so ancient. I dread marriage, for whatever reasons. Period.
Anw, we went out for dinner. Here we are :
With an intruder tagging along. :D :D :D.
Here she is :
Cute!!!!!
It is a modest dinner with loads of food, fattening food.
Never gonna miss a chance to pose, of course.
I thought I can never suit a front-frilled dress with extra tier on the hem line, but this one suits me alright. I have to wear an outer though, cause my arms are way too fat to be exposed. Well, when I say "fat", I mean "fat" literally. I always mean what I say.
I forgot to zoom in on my black pumps. They are from my online shop, the best pumps so far, I think. A good black patent 5-inch platform. Will take a close-up picture later on.
You might notice that my latest obsession is necklace. I can't seem to get enough of necklaces. And the one I was wearing that night is by far the best chunky-but-light necklace ever. The other chunky necklaces I have are mostly very heavy and they kinda limit my movement, if you know what I mean.
Well, I guess that's all for now. Got a lot of stuff to do and I am actually skipping giving a tuition now just to write this post. :)
Gotta nap now.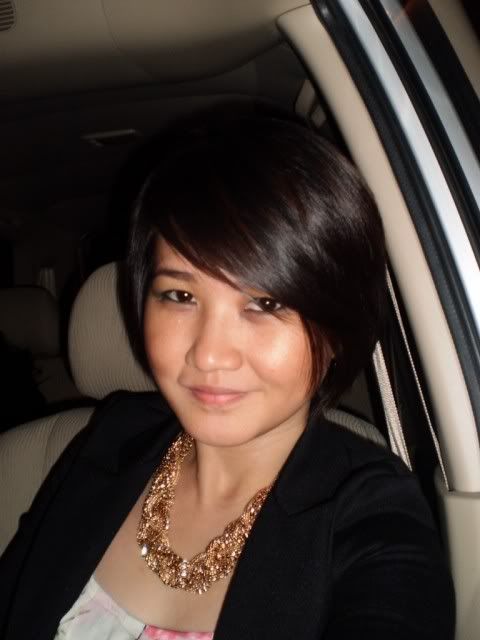 A.D.I.O.S