Let me introduce you to Minty :
My boyfriend said, "The color is a bit strange."
Hahaha.
Well, I know that my color preference is a bit weird and I'm constantly attracted to unusual colors, bright ones especially. This pair of shoes is, again, from my online shop, and they come in black and beige, but I particularly love the mint ones.
I don't have any favorite color, fyi. I love colors and the more unusual they are, the more attracted I will be to them. It might be tough to find what other hues to pair this mint green with. Nevertheless, life is supposed to be colorful, isn't it? And so is your wardrobe, imo. :D
Here are options which I think might suit to pair with this shade of green :
# Deep purple mini dress
It might be a bold choice to pair mint green with purple, and some might think," Hey... a walking lollipop", but given the right occasion and - of course - attitude, the combo purple - mint green is not a bad choice. Deep purple knee-length mini dress, mint green footwear (leave the stockings or leggings, though),with accessories. Cute!!!!
Remember to keep everything simple!!! Don't overdo.
# White loose top with black or gray stone-washed skinny jeans.
With the right attitude, needless to say this is going to be so effortlessly cool. You know it is hard to pull effortless look, cause people will either come out "trying too hard" or "lacking the X factor". Since this look is quite simple, remember to accessorize. Chunky pieces with unique designs are recommended.
# Floral dress with denim jacket.
I am thinking of darker hues like black or deep blue, with a splash of indy pink or nude colors. And since the pattern has dominated the whole look, just pick the simplest accessories.
# Navy top with beige bottoms (shorts or skirts).
With beige alone, the whole look will appear washed-out. When paired with navy tops, attention will be drawn to the combo of navy and mint green and beige simply acts as a cute accent while balancing the whole look.
Playing Polyvore is such a fun. Been a while since I last logged in to the website.
I wore the shoes with this latex cropped jacket and floral dress. The dress is mint tone with dark red flowers. You can guess where this dress is from and I guess you all are already so sick of me saying "my online shop bla bla yadda yadda'. Pardon me.
Hahaha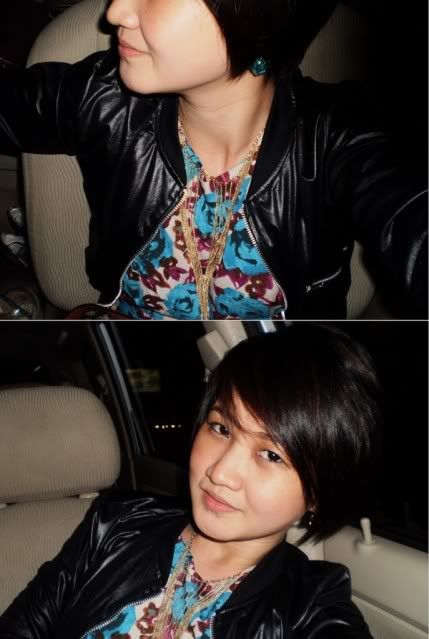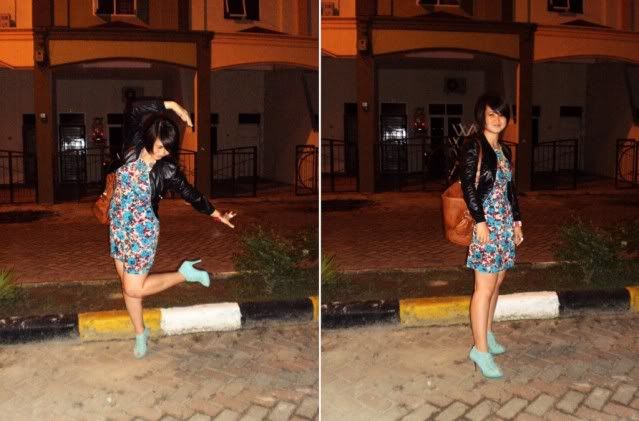 Playing goofy pose. :D
That's all for now. Adios.... Ta ta!!!!