Apparently it is denim fever I am having at the moment, besides prints and vintage looks.
This denim look-alike round necked loose top I am wearing here is just as comfy as it looks. Seriously.
The red wedges are from my online shop, too. :D
Forgot to take a closer pic of them.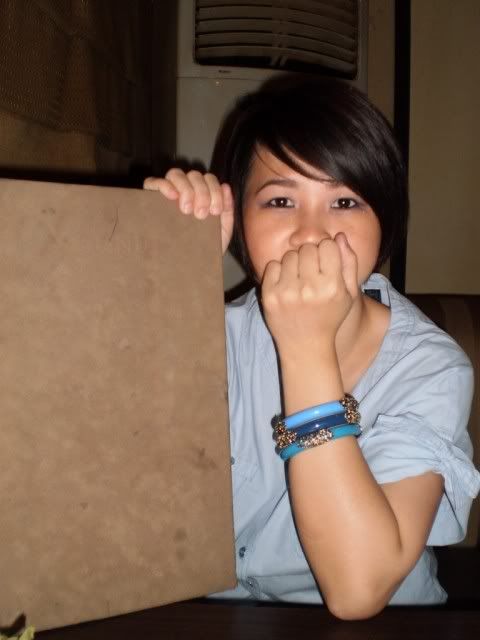 On a movie night, Angelic snatched my new denim bolero. I am speechless.
And below is me playing faces again. The top I was wearing is aother denim look-alike t-shirt. Actually it is made of cotton with a small pocket on the chest, imitating the famous Kain t-shirt design. I didn't have the chance to take a full length picture of it.
The multi colored beads necklace is to make up for the overall casual look.
And another look I am trying to achieve at the moment is the vintage look. It isn't easy to come out total vintage-like and effortless. A key to the ultimate vintage is wearing the real vintage, not the faux vintage. So I decided to aim for flea markets that sell old pretty stuff.
And I have been browsing a lot lately to look for online shops that sell second hand stuff, and up to this moment, only few satisfy me. Maybe it is not a habit for us Medanese to wear second hand stuff, due to some health-related reasons, which I can perfectly understand, for I am a psycho when it comes to public accommodation or universal stuff. My worst fear are door handles, door knobs, water taps and cinema seats where thousands of millions of bacterias are dancing on those stuff!!!!! Yucks!!!!!! (Shudder....)
Okay back to the vintage topic now. So I went to a boutique and flipped over their second hand rack and I found this amazing dress at a very amazingly low price, 65,000 IDR. I was doubtful for a moment before I finally bought it. When I wore it, my mum said, " Hey this is a 70's dress."
HAHAHA. Awesome!!!!
They are blurry because I think my camera has reached its expiration date. It happens not once but several times already. On the other hand, I think it kinda gives more vintage feel to the dress. Hahaha.
What I love from this dress is certainly the color, the print and the sewing. It is very very neat and very very detailed. Why don't modern tailors sew like this anymore? Modern outfits are all lacking in detail and neatness imo.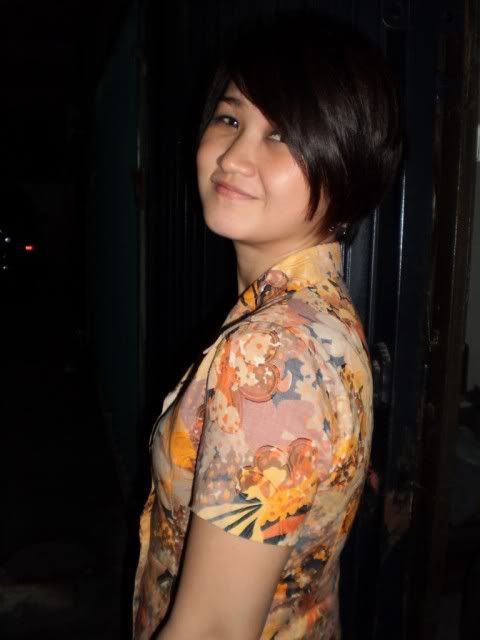 A closer look on the dress. The color is semi faded and the collars are so 70's.
I managed to get two more vintage tops, but this time they are not second hand ones. You will see it when you see it, on this blog, of course. :)
Vintage look is hard to pull, so pardon me if I turn out to be a faux vintage-r. I am still learning. :) :) :)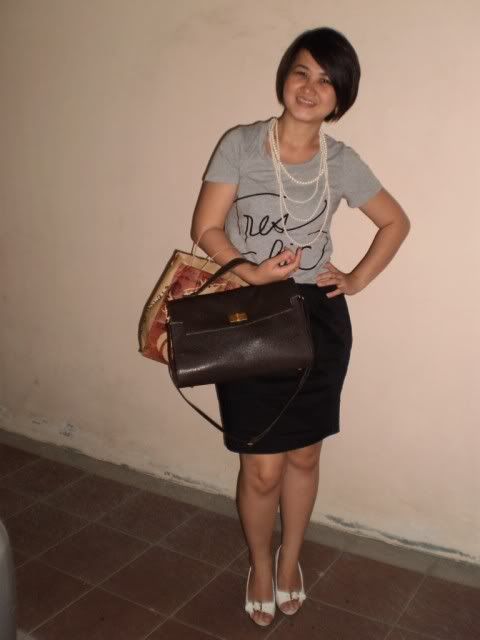 Adios, ppl.