Nowadays it's all about Korea Fever! The country, the demure luxurious fashion items, the boys yum!, the musics, and everything!
These 2 days I'm all about Korean girl bands! Let's check their style!
I can't believe my sister memorizes the whole steps to the Nobody dance.
Anyway, they seem to put front a lot of retro classic 60's look in their "Nobody" single. Very old-school Von Teese glam! Loves!
I especially love the leader, Min Sun Ye. Her face is a classic doe-eyed beauty. Life is not fair I tell you!
Sun Ye
#2. So Nyuh Shi Dae
aka
Girl's Generation
There are all 9 of them! Their theme is girly and cutesy with rainbow sprinkle on top haha.
At this point, I can't really care for their names -__-
SDSN for Etude.
My fave : White cap girl on the right. The leader I think?
Kinda hate the black beret on the left.
Youth in form of 9 deliciously long-legged beauties. envy!
#3. 4Minute
4Minute's style is mix and match with loud neon colors, lots of torn leggings and crazy baggies.
Somehow I think that this style works to the advantage to only two of the girls ( both in purple bottoms pictured above) as the rest of the three have very sweet girly face.
The most eye-catching personnel is again the leader Ji Hyun, in the middle here. Followed by the cool girl in shades, she has very pretty eyes! Why all the hiding?
cool leggings!
Love their album!
#4. 2NE1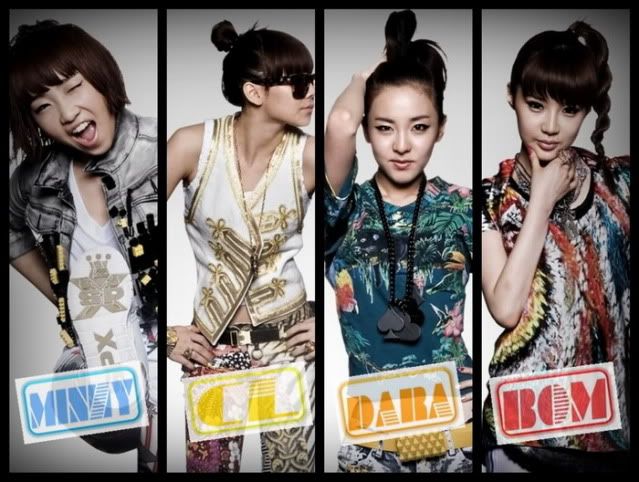 This group of 4 girls is the shit! Excuse the language, it's because I was hoping that their coolness rubs off on me.
Their style can only be summed up into one word : ICECOOLNESS! They rarely do cutesy looks.
All four of them is significantly different but somehow share the equal inyourface awesomeness.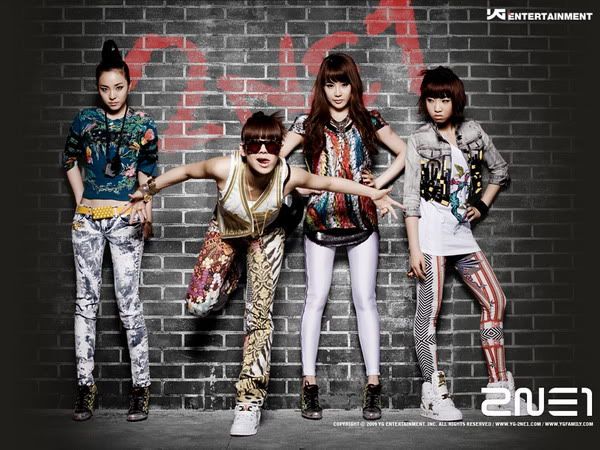 Left to Right:
Sandara Park - the PRETTIEST ONE! with the most copied eye make up.
CL - the leader, 19 and perfoming like nobody's business. Ice cool max!
Park Bom - her voice kills, well among them four at least.
Minzy - so coolcute. 16 year old.
2NE1 for Fila
I'm even loving their make-up less look! For a make-up whore like me, that's saying a lot.
Bad! The good kind!:D
#5 KARA
This group is decent enough as few of their songs are quite good. But I sort of lost track now of who is who.

Anyway, few pics of Kara. You'll see they are fronting the same girl-band theme " cute/cool"

My fave is the girls in red stripes. Very pretty face features!

#6. T-ARA
It's read Tee-ara, as in Tiara and not Kara. As if it's not confusing enough! lol.
They are not half bad actually. I think every entertainer in Korean pop business is drilled, trained and pushed to the max by their labels or record companies. Tough business while looking cute and cool.
#7. Brown Eyed Girl- B.E.G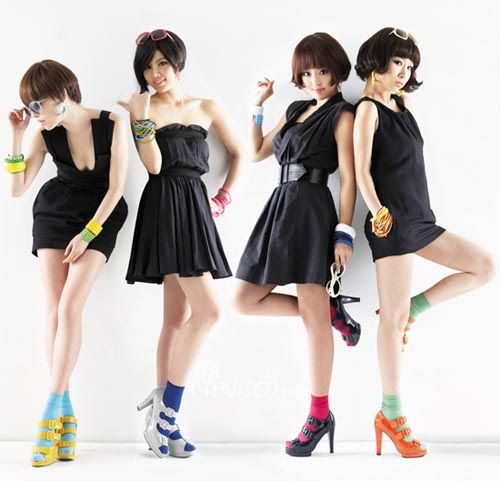 mad heels
They do gothic look quite often. So I guess that's their trademark.
#8. Jewelry
This group has been around since 2001 with few changes of the members.



#9. Lacatha
I don't know much about them, weird name for the group though. Anyway, their style is still worth to take a peek at.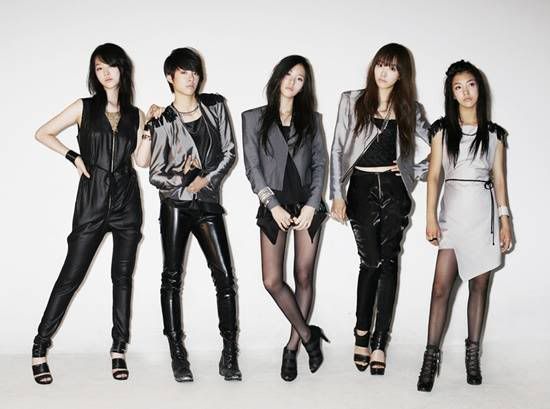 I think Korean girl bands all agree on busy pattern leggings, loud colors, cool shades, quirky accessories and crazy heels.
And when they do simple, it's all about effortlessness. Light and breezy.
Well, I guess that's it then. I'm off to more youtube-ing. No prize for guessing what I'm gonna ogle for the rest of working hour .
Toodles :D
photos credit to various sources on google image