First, I need to say several things:
1.The image quality sucks ball and super crappy. Something must have been in wrong settings all my pictures look grainy fuckmylife.
2. NONE , and I mean NONE of my colleagues take good outfit shot. So whenever I see fullsize length mirror, I had to camwhore.
3. The irony which is my boots : made in Taiwan, sold and bought in Medan, only to be taken to Taiwan. I know "why not buy in Taiwan then?" , well it's just a risk I couldn't take! What if I could only buy a pair like in the 3rd day of my visit?! Too risky.
4. There is a zit on top of my nose, I know. It might not be very visible in the pics that's because I concealed it, but for the life of me I'm too lazy to photoshop it.
Okay, ground rules established. Commence photos :)
Day #1. Flew to KL, passed through HK and landed in Taipei
That's my fave colleague! :) and this pic is from HER camera fuckit

Day #2.
First day in Taiwan was not as cold as we expected. But dressing as planned was more of a priority so I wore one quite thick sweater! Much to the awe of my friends. Sorry my priorities are whack.
I BORROWED this lovely turtleneck from Hai's aunt. It's the prettiest blue and of the best wool quality. I adore it.
Btw, I TOTALLY LOVE MY INNER TOP! the lace made all the difference. From my sis' online store lol. Carrie n Belle in Facebook!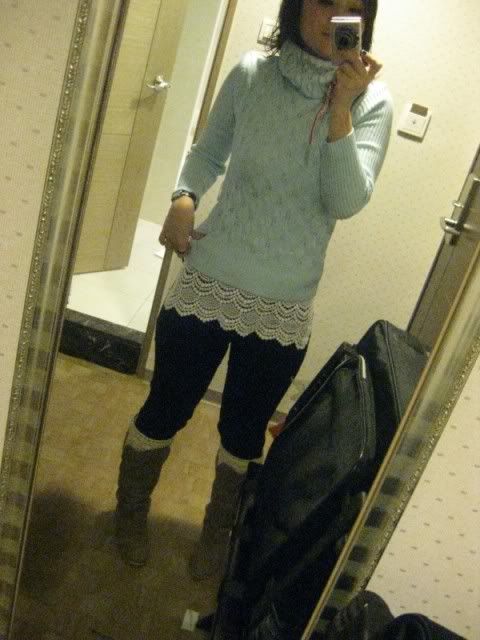 Day #3.
This is the same cardigan I wore in Bandung and it's from Lind's online shop. Ok check hers out too :)
Another sweater from Carrie n Belle.
Day #5
I think I love this look the most. But of course fuck it NO GOOD PIC TO REMEMBER IT BY!
And it was the day c-c-c-cold temperature set in, so we got to wear our jacket woohooo!
Day #6.
Super lousy pics. Just a so so day. A blah outfit.
Day #7.
Heading back in long haul of flights so I was wearing comfy clothes. Top from cotton ink and legging is from Lind's personal purchase hehe.
forgive the size of continent that is my thigh

Well, till next post, my zit and I bid you goodbye.