You know there are lots of online shops offering shoe making service recently.
It's like gambling, if you're lucky enough, your shoe request will pretty much meet your expectation.
Like this pair, it copied the model of YSL tribute. I can say that I neither love nor hate the result. The heels aren't shaky and overall it's acceptable for a 200,000 something IDR shoes. :D
And most importantly, they are not fake shoes. In my opinion, it's just like Topshop copying Givenchy's chiffon wedges or other high street brands copying other designers' stuff, you know what I mean.
And you can see that the result is way way way different in many ways from the authentic ones, especially when craftsmanship is the subject. You know one thing is never wrong : Price never lies.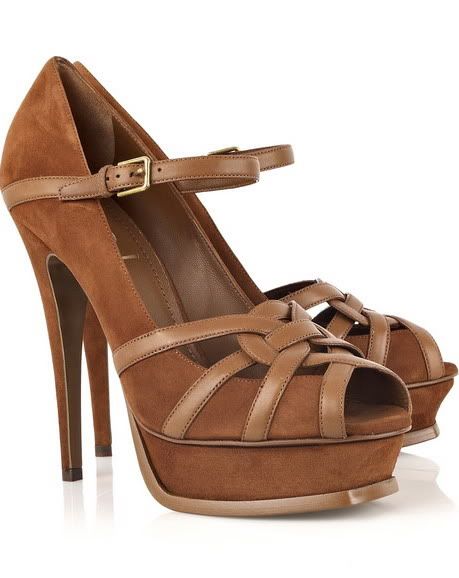 YSL Tribute Suede Sandals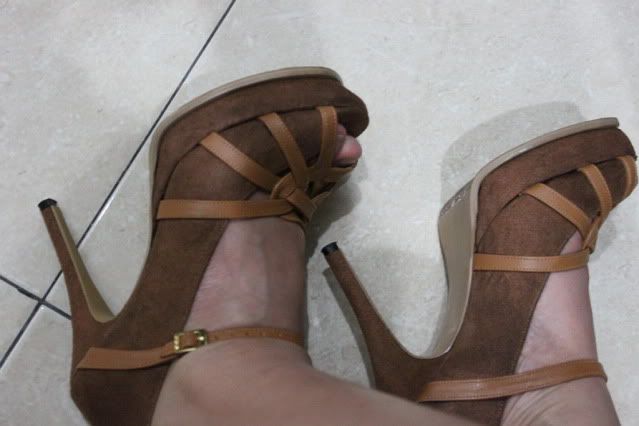 Online shop's creation LOL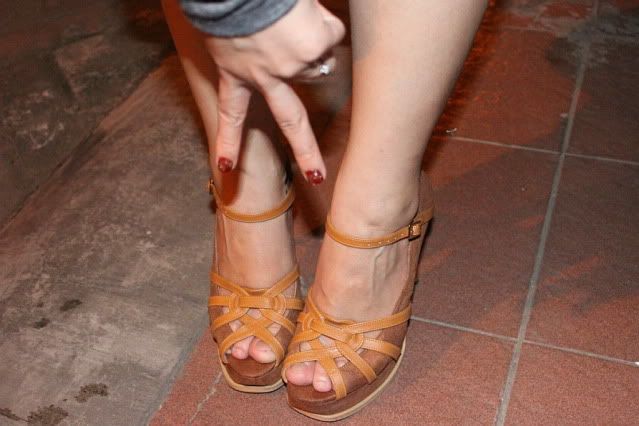 Not bad, except that I hate the straps, the color is too contrast from the fake suede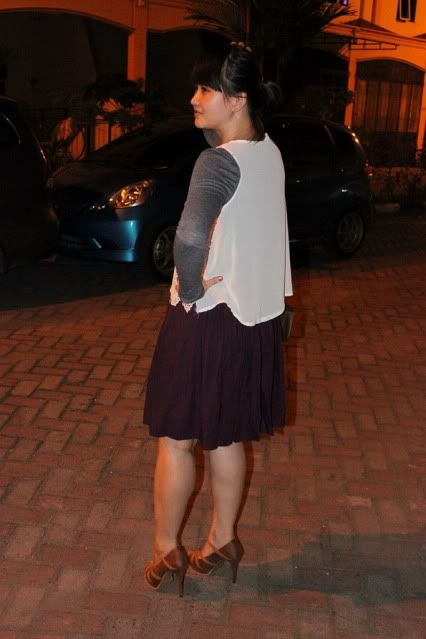 Actually there is one other pair which I ordered from a different online shop which made this pair, but the result is too hideous, so hideous that I can't lay my eyes on it for the second time.
Was expecting a girly fringe strappy suede heels, instead what came wasn't even close to fringes, but resembling thick creme rice noodles (and it took two months to make such horrible pair of shoes). I'm super disappointed and don't even bother to text her to complain.
Didn't take the picture because my camera will suffer from malfunction capturing such horrified object.
So, if you like, you can visit Myhobbyshop on Facebook to order some shoes you like. They provide various shoe models for you to choose. However, I recommend you not to order from ShoeVettish Shop cause you might end up receiving rice noodle shop like I did.
Talking about shopping online, Fran and I are truly avid lovers. Honestly, we never get people who DON'T love online shopping because IT IS SO FREAKIN' FUN.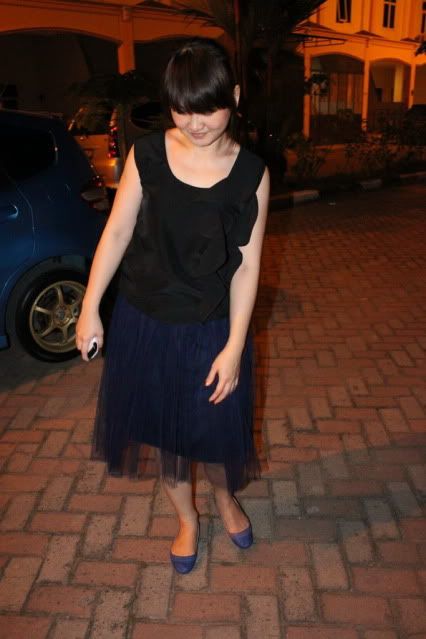 This navy tulle skirt and ruffle sleeveless top is from one online shop "I Forget The Name".
Not bad for a 100,000 something IDR stuff.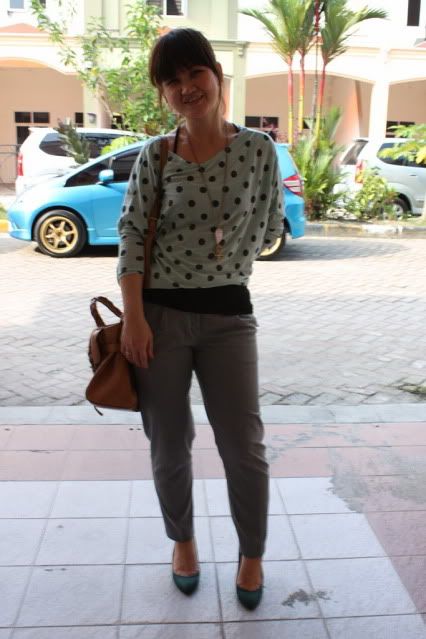 The mint green polkadot loose tops is from Fran, and she got it from Just Wanderlust. She's a sweetie pie. Buy from her please, visit her online shop.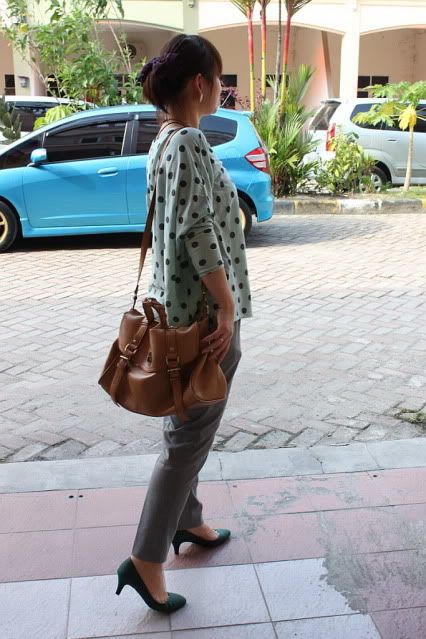 The shoes are from my online shop. REALLY NOT BAD I TELL YOU PEOPLE.
You visit my online shop (Thechicks' Dollhouse) too!!!!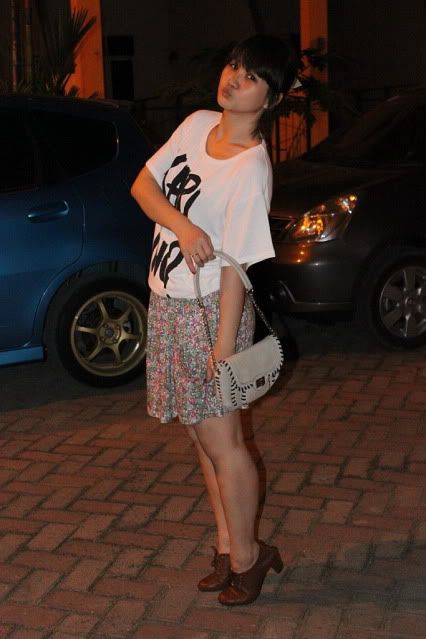 And the "Karl Who" top is also from my online shop.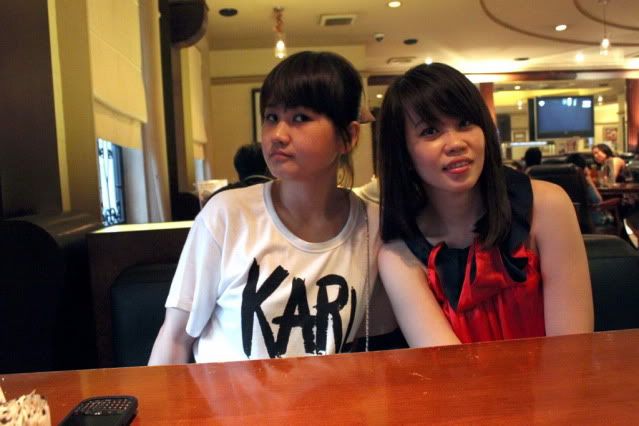 Lotsa love from online shop lover here. :D :D :D